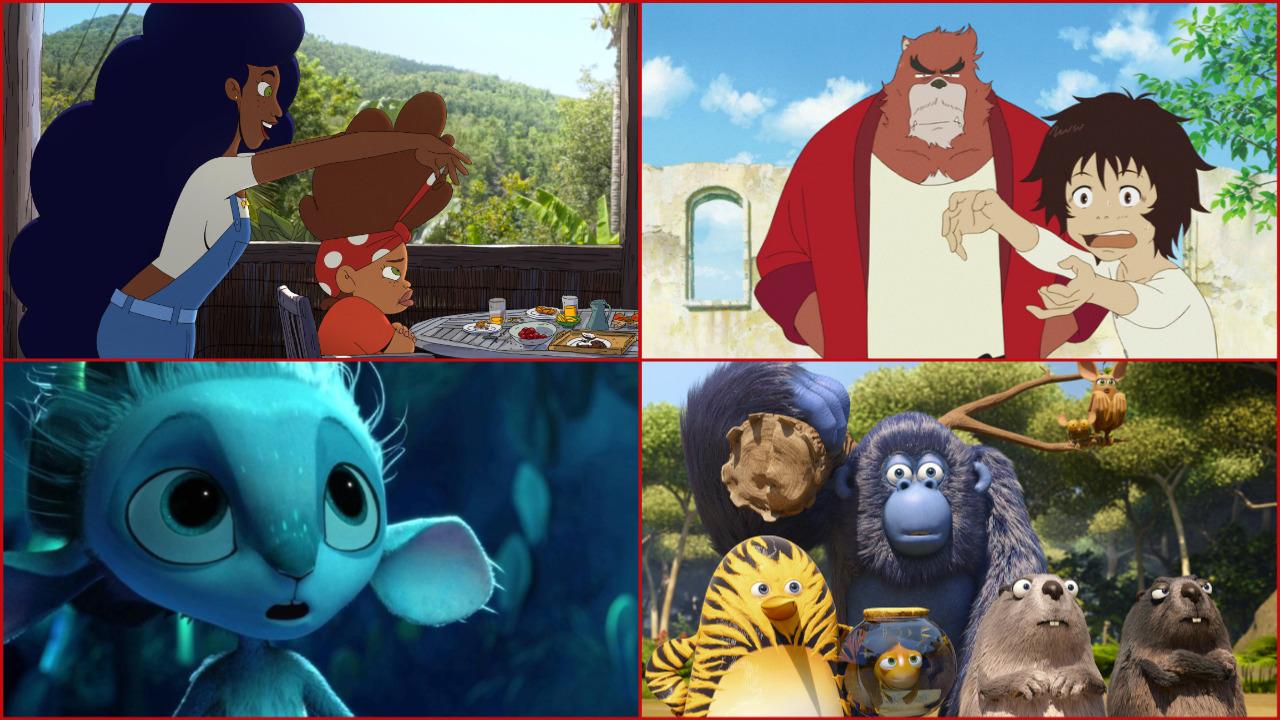 Mune the Guardian of the Moon, Castle Life, The Aces of the Jungle, The Boy and the Beast …
Good news for all animation film lovers, whether young or old: France 4 announces a special program as part of the 60th anniversary of the Annecy festival, the new edition of which will take place from June 14 to 19. The broadcasts will be from 13 to 20. Here are the details, interspersed with some reviews of First, because among the films selected, there are several favorites from the editorial staff.
More info in our special file Annecy international animated film festival
On France 4, the special animation programming will begin as soon as Sunday June 13 with the screening of two short films of 26 minutes each: Vanilla, the story of a little Parisian girl who has just arrived in Guadeloupe, who is going to live a crazy adventure, at 3.10 p.m., and The good life, at 5 p.m., following an orphan girl who cannot stand having to live with her uncle in Versailles. These two films will be interspersed with the feature film Mune: Guardian of the Moon, at 3.35 p.m., that First advises you for its poetry and original drawings.
Mune: the Guardian of the Moon shines with his daring [critique]
Wednesday June 16, France 4 will broadcast another 26-minute short film at noon, The Tiger who invited himself for tea, by Robin Shaw, where the young Sophie and her mother attend dumbfounded at the arrival of a mysterious feline very greedy in their living room at snack time. Then the 52-minute medium-length film One tale can hide another, adapted from Roald Dahl's book, will have fun from 3 p.m. reinventing fairy tales with humor: Let's imagine that Little Red Riding Hood and Snow White are old friends … They would make an alliance to get rid of hungry predators or a murderous mother-in-law. And what would Jacques (the beanstalker) do if he had Cinderella for a charming neighbor? A dandy-like wolf tells us …
Sunday, June 20, finally, France 4 will offer along The Boy and the Beast, a nice Japanese success from 2010, at 12:50. The story ? Shibuya, the world of humans, and Jutengai, the world of Beasts … It's the story of a lonely boy and a lonely Beast, each living in two separate worlds. One day, the boy gets lost in the world of Beasts where he becomes the disciple of the Beast Kumatetsu who gives him the name of Kyuta. This chance encounter is the beginning of an adventure that goes beyond the imagination …
The Boy and the Beast is a free and abundant film [critique]
The same day at 2:50 p.m., there is an animated film very popular with young children: Aces of the Jungle, which reunites with the famous characters from the animated series for an adventure full of twists and turns. This classic will be followed at 4:20 p.m. by a 26-minute short La Foire agricole, by Vincent Patar and Stéphane Aubier, the directors of Panique au village. The pitch? Indian and Cowboy passed their school exams brilliantly. As a reward, Cheval bought them VIP tickets for the agricultural fair. But, after a bad fall, Cheval remains amnesiac and forgets where the tickets are stored. Indian and Cowboy remain determined to make it to the fair …
Les Aces de la Jungle: The cinema version is crazy, colorful and above all very funny [critique]
Note that all these films are intended for children, from 6 or 7 years old, or even younger for The Tiger who invited himself for tea, recommended from 3 years old, and Vanilla, from 5 years old. To see animated works for adults, visit the France Télévisions website, France.tv/Cinema, which will offer six short films from Sunday. Here are the details :
Sweet Madness, Hard Madness
18 minutes
A film by Marine LACLOTTE
Soft madness, Hard madness is a stroll through the daily life of several psychiatric institutions. From waking up to going to bed, the film meets extraordinary people who let us into their privacy. The richness, humor and sensitivity of these people make this trip unforgettable …
A LARDUX FILMS and FOLIMAGE production
The extraordinary day
14 minutes
A film by Joanna Lurie
" It's time !" The time for the villagers to embark at sea for the funeral procession. They cross expanses of water as vast as they are perilous, to accompany their deaths to their destination … where the sea and the sky meet.
When do we leave the world of the living?
I Gotta Look Good for the Apocalypse (in competition at Annecy 2021)
6 minutes
A film by Ayce Kartal
March 2020, after China, the entire planet is locked in itself. Our so-called real world is then emptied of what made its substance and digital life forms multiply, like these couples whose avatars share a common life at a distance in a virtual universe. What if the crisis we were really experiencing was not a pandemic, but an accelerated derealization of our lives?
Production Les Valseurs
Maalbeek (in competition Annecy 2021)
16 minutes
A film by Ismaël Joffroy Chandoutis
Survivor but with amnesia of the attack at Maalbeek metro station on March 22, 2016 in Brussels, Sabine seeks the missing image of an over-publicized event of which she has no memory.
FILMS GRAND HUIT production
Genius Loci
16 minutes – nominated for the 2021 Oscars – special jury award Annecy 2020
A film by Adrien Mérigeau and Nicolas Pleskof
One night, Reine, a solitary young person, sees in the urban chaos a living and brilliant movement, a sort of guide.
A KAZAK PRODUCTIONS – FOLIMAGE production
Sister
8 minutes
A film by Siqi Song
A man talks about his childhood memories alongside an unbearable little sister in 1990s China. What would his life have been like if things had taken a different turn?
A Calarts – California Institute of the Arts production
The Annecy animation festival unveils its hybrid program