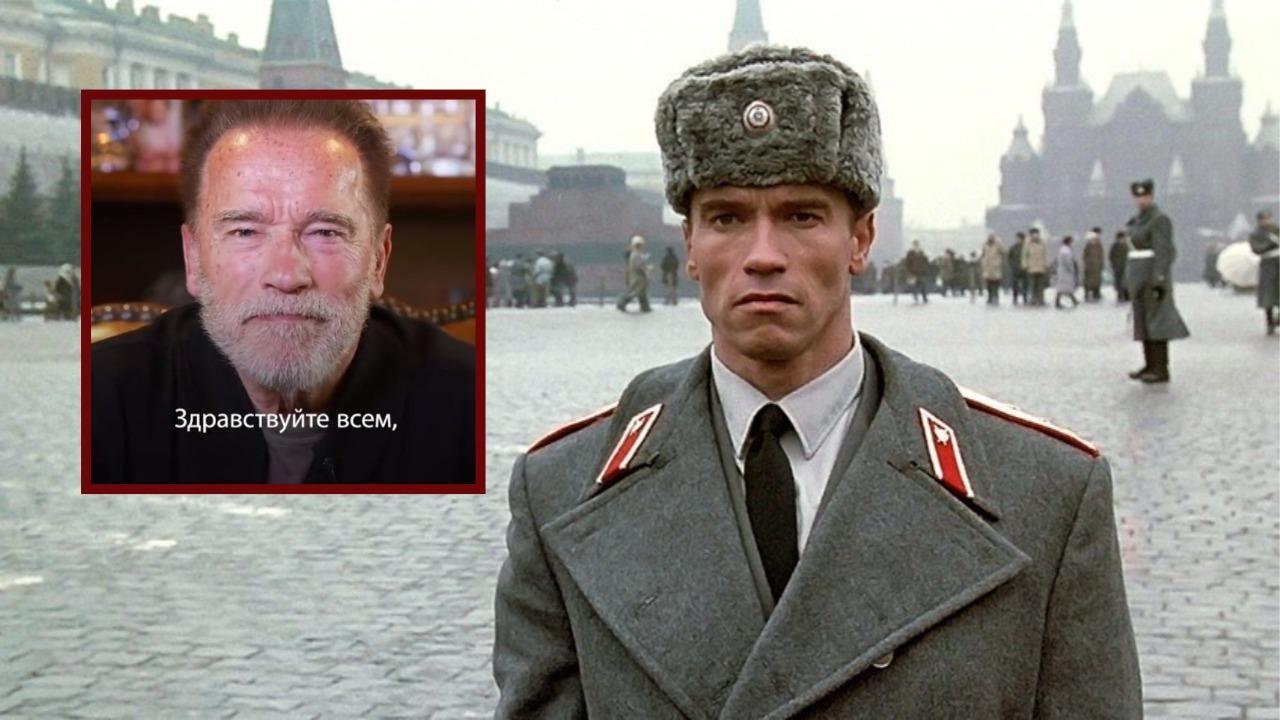 "You started this war. You are leading this war. You can stop this war."
Arnold Schwarzenegger posted a 9-minute video on social media directly addressing the Russian people. Hoping that his worldwide notoriety will allow him to be heard in the country of Vladimir Putin, which recently invaded Ukraine, he explains that he recorded this message in an attempt to be heard by the inhabitants, who are currently undergoing significant propaganda from State: the information disseminated in Russia is directly controlled by the Kremlin, and the slightest demonstration by Russian citizens against the directives of the President against Ukraine is punishable by imprisonment.
Very active on social networks, where he has for example openly criticized former US President Donald Trump and defended the vaccine to fight against the Covid-19 epidemic, this time he is addressing the Russian people, in a video subtitled in English and Cyrillic.
I love the Russian people. That is why I have to tell you the truth. Please watch and share. pic.twitter.com/6gyVRhgpFV

—Arnold (@Schwarzenegger) March 17, 2022
Sergeï Loznitsa: "Ukraine has become a gigantic place of massacre…"
"I love the Russian people, thus begins the star of Terminators. That's why I have to tell the truth. Watch, and share, please. I send this message through different media, in order to reach my dear Russian friends, as well as the soldiers who are currently serving in Ukraine. I speak to you because there are things happening in the world that are hidden from you. Terrible things you should know about. Let me tell you the truth about the war in Ukraine." Arnold Schwarzenegger then lists several directives imposed by Vladimir Putin on his army since the invasion of the country: the bombardment of numerous buildings gathering civilians, for example, or the large number of deaths within the Russian army. "This war is considered illegal by 141 countries, he continues. The world has turned its back on Russia because of all these actions in Ukraine. The destruction wrought by Russian bombs now raining down on innocent civilians has outraged the world, which is imposing the greatest economic sanctions ever seen against your country. This is not the war to defend Russia, like the one your grandfather or great-grandfather fought for. This is an illegal war!"
The actor and politician continues by taking a very personal example: his own father had been drafted into the Nazi army during the Second World War, and he was wounded during the battle of Leningrad, in Russia. "The Nazi army of which he was a part participated in deeply wounding this beautiful city and its brave people. When my father arrived in Leningrad, he was motivated by all the lies of his government. When he left Leningrad, he was destroyed , both physically and mentally. He spent the rest of his life in pain, from his back which was broken, but also from seeing his knife, which reminded him of all those terrible years and all the pain and guilt he felt So to all the soldiers listening to this message: you already know a good part of the truth that I am telling you today. You have seen it with your own eyes. I don't want you to be broken like my father. "
Arnold Schwarzenegger concludes by directly addressing the power in place in Russia: "To those who run the Kremlin, I have a question: 'Why are you sacrificing these young men for your own ambition?' And to President Putin, I say: 'You started this war. You are leading this war. You can stop this war.'"
Four films by Sergei Loznitsa to better understand the war in Ukraine