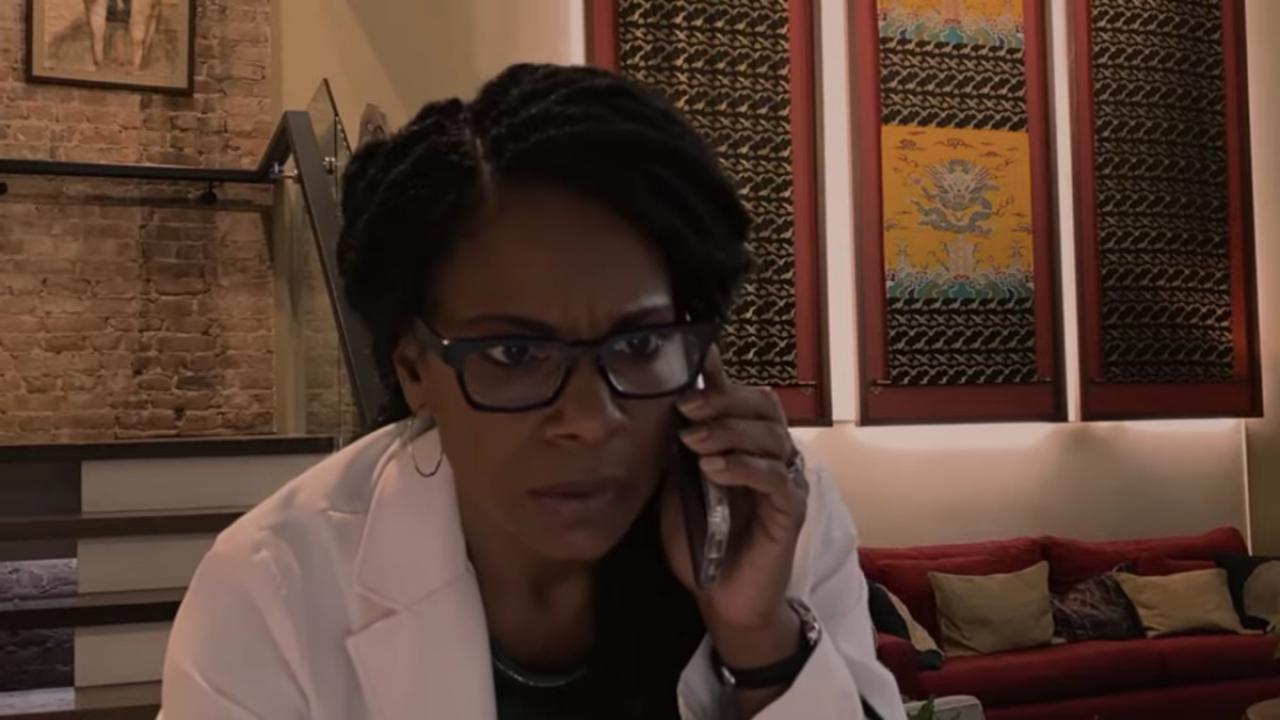 Guest of honor at the Séries Mania 2021 festival, the actress tells us about her new series, The Bite, but also about Julian Fellowes' new creation, The Gilded Age, and of course The Good Fight.
You collaborated with Robert and Michelle King once again for The Bite (unpublished in France), presented this week at Séries Mania, a series where COVID ends up turning people into zombies! How did this crazy project come about?
Audra McDonald: I have worked with the Kings for quite a few years. Since Liz, my character in The Good Fight, first appeared in The Good Wife. During the pandemic, in full containment, they called me to present this completely crazy idea to me. We did a little zoom test. We filmed a 10-minute sequence that they edited. We saw that we could make it work. So we decided to put together this series on COVID, with technicians and actors from the New York scene. Broadway workers who had been unemployed because of the crisis for months, and who were totally losing their health insurance because of it all. We were able to make them work …
Was there a cathartic aspect for you to talk about COVID in a series like that, in such a wacky way?
Yes because we were able to rebound, film in New York, and of course talk about the crisis directly. And then we were filming during the tense period of the (American) elections and the January 6 uprising on Capitol Hill that followed. The world was falling apart around us. So being able to scream, cry out against the virus, slice arms or stick knives in brains, that has greatly contributed to my sanity …
Season 5 of The Good Fight is currently being broadcast in the USA (soon on Amazon in France). But so many departures have punctuated the series in recent years. Do you have the feeling that it is coming to an end?
Not at all. Because Robert and Michelle King still have so much to say about the world around us. It must be remembered that when The Good Fight started filming his first season, it was just before the election of Donald Trump. We all thought Hillary Clinton was going to win. And then finally, it was Trump who came through, so Robert and Michelle had to change their minds very quickly. They knew how to adjust the series. They changed the meaning of the show. They have this talent to follow the Zeigeist, the trend of the world, and change history accordingly. So even when Delroy Lindo and Cush Jumbo decided to leave, I wasn't scared for a second. We are not at all at the end of The Good Fight. I know the Kings will continue to follow this path and comment on the world in their own way.
We will see you soon in The Gilded Age, the new historic series from the creator of Downton abbey. What will it look like?
What's crazy is that I'm going to meet Christine Baranski there. If so, she's the one secretly hiring me everywhere (laughs). In any case, it will be a very beautiful period series, very accurate, on this period in the history of New York (in the 1880s, editor's note). Usually, the black community is largely erased from this story. There are even uneducated people who get annoyed by saying that there were no blacks at that time. It's incredible. The black community has always been there (laughs). What's great is that Julian Fellowes was able to include African-American culture and history in New York at that time. So I can't wait for the world to discover this sublime costume drama. As he discovered England in the early twentieth century in Downton abbey, The Gilded Age will show another side of the story, how different cultures collided and mingled in the beautiful city of New York. But it's still very fresh … We finished filming only two months ago.