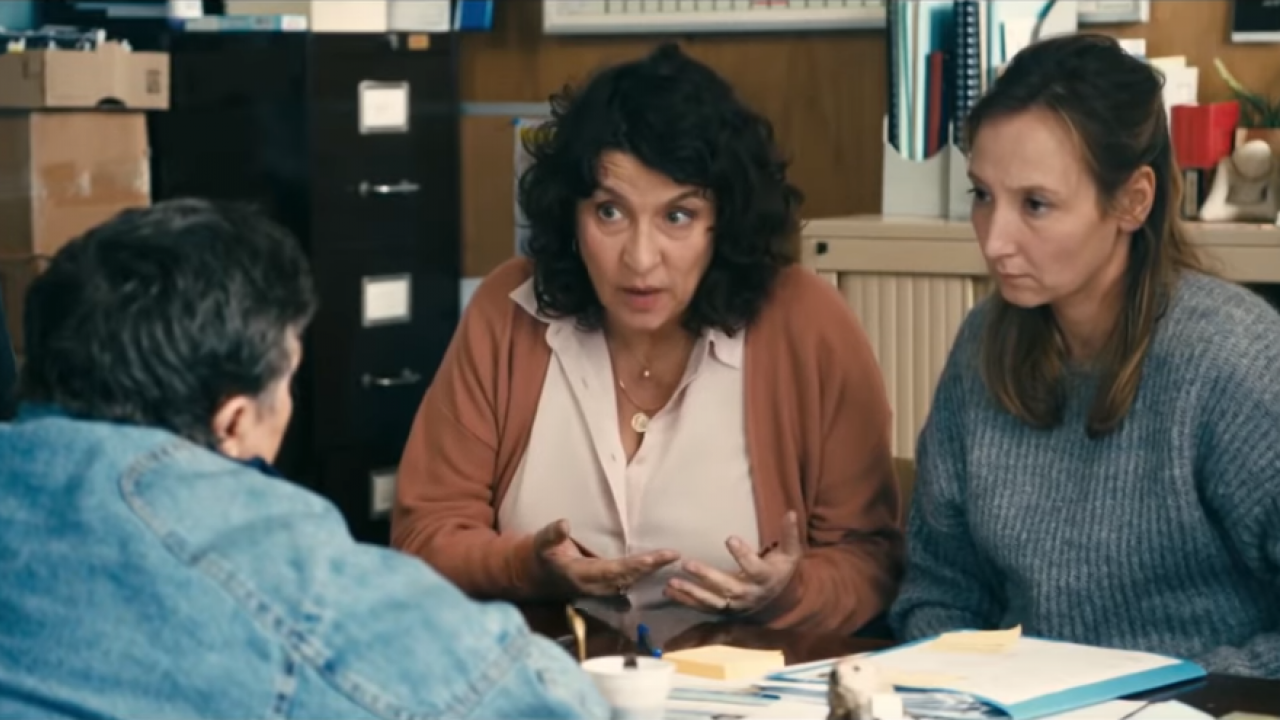 Both actresses are excellent in Les Invisibles.
After having explored the world of mass distribution (discount2015) and occupational medicine (Carol Matthew2016), Louis Julien Petit sets up her camera in a shelter for homeless women. The Invisiblesreleased in early 2019 at the cinema and scheduled this Sunday on France 2, features social workers doing everything possible to reintegrate these marginalized women into the professional world. Audrey Lamy and Noemie Lvovsky tell us about this social comedy that shows the off-screen of society.
You're both pretty used to comedies. What did you like about this darker story?
Audrey : I fell in love with Louis-Julien Petit and his screenplay! He has a way of approaching people, of proposing solutions without imposing anything, of opening doors by giving everyone the possibility of pushing them in or not, which I find really clever. Humor and self-mockery are the best way to reach a large audience and get a message across.
Noemie : I loved it discount, the penultimate film by Louis-Julien Petit. I really liked the script invisible and I wanted to enter his world.
A world less light than what the trailer reveals. Is the balance between comedy and drama difficult to find?
Audrey : The director didn't inject comedy into this situation to make the audience laugh, it's the tone there is in these centers that is funny – even if some of these women have extremely painful journeys. We don't laugh at the women we see, we laugh with them. The situation of Chantal's character isn't funny – she killed her husband because he beat her – but it gets funny because Chantal can't help telling everyone about it, explaining that she learned to work in prison after butting her husband – while she is looking for work! Adolpha, who plays Chantal, says it bluntly: life is a fight and it's better to laugh about it.
Noemie : These women laugh too. They want to laugh and make their friends laugh. Every day on the set, very funny things happened, despite the not always very comfortable shooting conditions. I remember one day when an actress explained to us how to do the "helicopter". She was very surprised that I did not know this sexual position at my age! It was hilarious!
How did you approach this precarious universe?
Audrey : We went to a reception center to document ourselves. We were apprehensive about meeting these women because we didn't know how to dress, how to ask them questions, or how far we could go. Louis-Julien reassured us by telling us that once through the door of the center, we would immediately realize that humor is an integral part of their daily lives. Humor is like a shield for these women, without it they crumble, it's the only thing they have left.
Nadine Labaki will adapt Les Invisibles for Netflix
Did the actresses in the film really experience this precarious situation?
Audrey : Adolpha, who plays the character of Chantal, really killed her husband because he beat her and she wanted to defend herself.
Noemie : Even if they are now "stabilized" as they say in the middle, these women have indeed experienced great precariousness. The cinema very rarely shows their faces and their bodies, because they are considered to be too fat, their teeth are not great, because they are over thirty and their skin is not niquel … Louis-Julien Petit looks at these women as if he were filming movie stars! He gives them all the room and I find that wonderful.
Audrey : He is interested in women who do not fit into the boxes. It feels good to see new faces, faces that we are not used to seeing! The actresses with whom we worked are mind-blowing, they are demented in their acting and their personality, in what they give off, who they are and what they brought to the film.
So much so that they eclipse the rare male characters in the film.
Audrey : They are not present all the time, but they have great roles and they move the story forward. Louis-Julien often says that, in this film, the men have the role of first lady: they put themselves aside to make the other shine. What is beautiful is that all the characters – even the smallest – exist and manage to find their place in this film. In front of Louis-Julien's camera, all the characters, even if they are scratched, remain luminous.
After Discount, Les Invisibles: Louis-Julien Petit imposes citizen cinema [critique]