On the eve of the release of Batman v Superman, interview with a director who in a few years has become the guardian of the DC Comics temple in cinema.
On the occasion of the rebroadcast of Batman v Superman on TF1 this Sunday, we share our interviews with the film crew of Zack Snyderwho had been on the cover of First in March/April 2016 (n°469/470). After those of Ben Affleckthe interpreter of Batman, and by Henry Cavillwho plays Superman, we continue this Saturday with that of the director.
First: It took a long time to bring Batman and Superman together in the cinema, yet this duo seems to be the very logic.
Zack Snyder: The stars finally aligned. Everyone has seen the posters in I Am Legend and it's been under discussion for at least that long. It seemed inevitable but at the same time it was very complex. These two icons had to be given the respect they deserve.
Can we consider Batman v Superman as a sequence of man of steel ?
It's not quite a sequel. After man of steel, we had established the character of Superman. The idea of ​​introducing Batman has been around for a long time, obviously. When we were still thinking Man of Steel 2someone came up with the idea: "Maybe at the end of the movie, Bruce Wayne gets some kryptonite delivered. And that would be the last scene…Or maybe Batman and Superman fight at some point…". And there it was screwed, we had to do it! In theory they can't fight… and yet that's what happens in the film. You had to think about all the checks that lead to this fight. One could destroy the other by blowing on them. So what's the secret? That's the fun of it. It's easy to put them in conflict because they are morally very distant. Superman has a very precise vision of what is good and what is bad. He has absolute faith in the system. Batman has a different idea of ​​justice. What is interesting is to blow on embers and see what happens.
Interview with Ben Affleck: "Batman is a bit of a broken guy"
Justice, morality… All that echoes a lot of things in the real world. Is it a coincidence or a real desire to deal with current events through fiction?
Chris Terrio (the co-screenwriter, editor's note) is a smart guy. He is very aware of the constant evolution of morals in society. Beyond the fun aspect of this kind of film, I think he really wanted to give several levels of reading.
And the film seems to unfold a world where it is no longer really clear who is good and who is bad.
Not entirely. The challenge is to show points of view in a sufficiently detailed way so that we no longer really know which side we want to be on. I like to think that Batman and Superman are both right, which makes their conflict all the more tragic.
Henry Cavill: "In the Justice League, the real asshole is Batman"
What made you go for Ben Affleck, whose last experience in a superhero movie was rather disastrous?
I wanted Ben from the start. I needed an older Batman, with wrinkles and white hair. Let us feel that he has been Batman for more than 20 years. It offers an even more striking contrast with Superman, who has not yet lost his innocence. And I wanted a tall, physically imposing Batman, not a short guy. Ben Affleck is perfect for that: with the boots, he's over 98 meters. Henry Cavill is 1.85 meters. And I always thought that Batman must be taller than Superman, that he looks down on him, because he doesn't have any superpowers.
And as usual, everyone had an opinion when this new Batman was announced, even before seeing him in the role.
I understand that very well. I was totally against Michael Keaton at the time! I was disgusted. He was too small to be Batman! But I liked him in the movie. Same for Heath Ledger in Joker, I didn't like it at all. Then you see the movie and it's obvious. Think what you want of Ben Affleck, but look at him! He looks like Batman, for me he's the best ever. In my head, if the Dark Knight grabs your arm, he breaks it. And Ben gives the impression that he could do it without batting an eyelid.
He's a Batman close to retirement, who has to put the costume back on anyway?
No, it's not like in the comic book The Dark Knight Returns. He is 45 years old, he is doing his thing and is on top, but the fatigue is starting to be felt. He's seen it all, done it all. Batman has somewhat adopted the methods of those he fights against and is confident that he made the right choices. At this point in his life, he's gotten so far into the vigilante side that he has a bit of a biased view of Superman and his power.
You were criticized a lot at the end of man of steel, when Superman breaks Zod's neck. You seem to go even further here. Are DC Comics movies getting darker and darker?
I am often told that. You haven't seen all three movies Batman of Christopher Nolan or what? (laughs) This is nothing new. We didn't wake up one morning thinking we were going to make a super dark universe. It was Nolan who set the tone for the DC Comics Universe. Afterwards, here is what I think of the criticisms that are made of me: in man of steel, he kills Zod. People said it didn't make sense, whereas he does in the comics. I didn't invent anything. The general public is catching up on the mythology and ultimately very contemporary nature of these characters. The more time passes, the more subtle the relationship between the public and superhero movies becomes… I'm a fan, I've been there. But I believe any character can do almost anything, because I've seen it in the comics. And the movies aren't there yet. The thing is, the Batman persona can be used to make Superman a bit darker, but not the other way around. It would be a big mistake, nobody wants to see that! Batman v Superman is not a more violent or serious film than others of its kind. On the other hand, he has a real point of view and lays the groundwork for the Justice League. I'm not saying the tone is going to get lighter in the future, but with characters like Aquaman or Flash, you're bound to have to expand the spectrum a bit.
You have already started. Wonder Woman, Doomsday, Lex Luthor… You set up an extended universe. Is the method very different from that used by Marvel Studios?
When we started working on the film, I immediately thought that we needed to integrate more characters into the story. Whether it's cameos, a clue that they exist in this world…I'm a fan of Expanded Universes and want to see the Justice League reunited on the big screen. From the first conversation, it was about making it believable. With Man of Steel, we installed the plumbing. There, we open the tap. I don't know how Marvel technically tackled this, but for us it all came down to our love of people. By paying attention to them, without showing them too much from the start. It's pretty easy with Batman and Superman because they're iconic, but a character like Cyborg… You have to gently explain that to the audience. I think we've found the right balance between the new characters and the encounter between Batman and Superman.
The big "coup" of the cast is Jesse Eisenberg as the villain. No one was expecting him on this ground.
We were still writing the script when he auditioned for a role other than Lex Luthor.
Which ?
I won't tell! But he left the room and I thought he was so great he could play Lex. He's a very difficult character to cast. Name any actor, I'm sure it's been talked about. The studio thought it was a great idea to hire Jesse and it was done right away. He knew how to mix his own qualities with the character of Lex. He is stunning.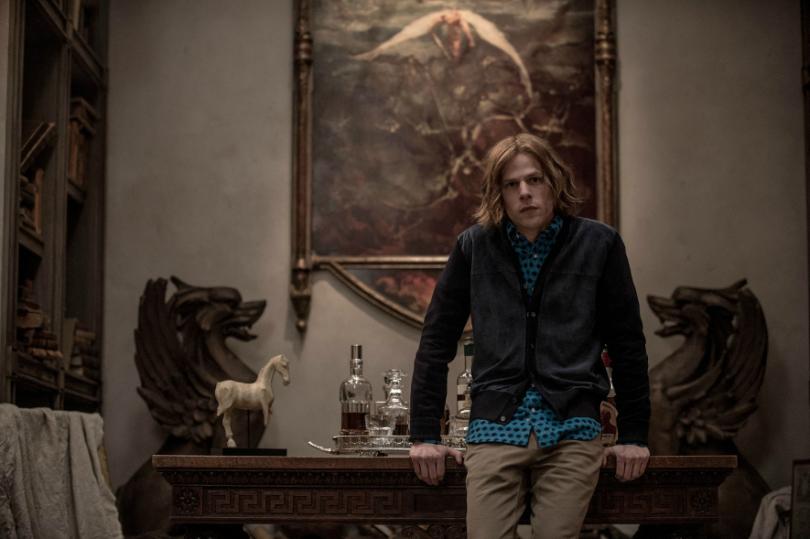 You have a coordinating role on these films, even if you are not always behind the camera. How do you work with the other directors?
Due to Justice League, I have to be aware of everything, without being the bastard who prevents them from doing what they want. But all these stories have to make sense. As long as the characters get to where they need to be at the end of their movies, I have no problem. That doesn't stop me from raving about certain scenarios!
Is Man of Steel 2 still has a place in this universe?
I'm not sure of it. We brainstormed but does his story get absorbed into that of others, or will he have solo adventures? It could be either one.
The trailer indicates that Batman has already encountered the Joker. What will be its place in relation to Suicide Squadwhere it seems very present?
He is present in a much more sibylline way in Batman v Superman. David Ayer and I discussed a lot about what he would be in Suicide Squad and I had a clear idea of ​​what I wanted for my film. We came to an agreement very quickly without encroaching on the territory of the other. I sowed clues on how Suicide Squad will fit into this universe.
Henry Cavill told me a few months ago that you compose your plans like paintings. That improvisation is minimal on set because you have a very precise idea of ​​the setting.
It's true. And I draw all the storyboards myself. It took me five months for this film. I'm drawing Justice League at the moment: it's the costume I want for Flash, that's how he made it… As soon as I don't draw, it makes me terribly anxious. And I have endless meetings every night with my stunt team to develop fights and that kind of stuff. I'm very strict about what the characters can and can't do. Flash, for example, we've been talking about it every day for three months. Sometimes I am offered things that I think are impossible. It's important to limit the characters, otherwise they could do anything: "And there it looks like he would go through a wall!". I like the challenge it imposes. I like to imagine comics as texts written 2,000 years ago and to which we would only have access. As if we were scribes, copyist monks!
Interview by François Léger
Zack Snyder's Batman V Superman: Dawn of Justice Review [critique]