Weakened by throat cancer, the actor of Top Gun and The Doors delivers himself in Val, a shameless and unique self-portrait.
We hoped Top Gun 2 at Cannes film festival, but it was ultimately Maverick's best enemy who landed: Iceman, aka Val Kilmer, hero of Val, scotching documentary which wiped the plasters of the new section "Cannes Première". And it is also behind the scenes of Top Gun, in 1985, that the film begins: Val Kilmer, 25 years old, shirtless, physique of Apollo, show-off and bravache, struts with his fellow actors in front of the camera: " We want more women, more wine, more drugs, more herpes, more fun and… less Tom Cruise! "
Flash-forward 35 years later. Kilmer, tired, slowed down, torpedoed by throat cancer, expressing painfully in a robotic voice after a tracheotomy, now maintains his faded legend by sealing in signing sessions for Batman fans, or during screenings in open air Tombstone, deep in the desert. Sometimes he does that to the point of exhaustion, to the point of almost falling apart, to the point of throwing up in a trash can in the aisles of Comic Con. He is no more than the shadow of the cranial idol he was in the 80s. Definitely the anti-Tom Cruise.
If we can see these incredible images today, it is because Val Kilmer has the particularity of having spent his life filming himself, from an early age, driven by a sort of scopic and narcissistic drive. Armed with a camera, he documented EVERYTHING of his life: his games with his two brothers when they were kids and dreamed of cinema, his first steps as an apprentice actor at the Julliard School in New York, his debut in the theater (where we meet Sean Penn and Kevin Bacon, other young firsts eighties, in a fabulous snapshot of our VHS years), his family life, his walks around the world, the demo tapes shot to convince Kubrick or Scorsese to hire him, the filming of fame (Willow, The Doors, Batman Forever…) and those of the lose (The Island of Dr. Moreau).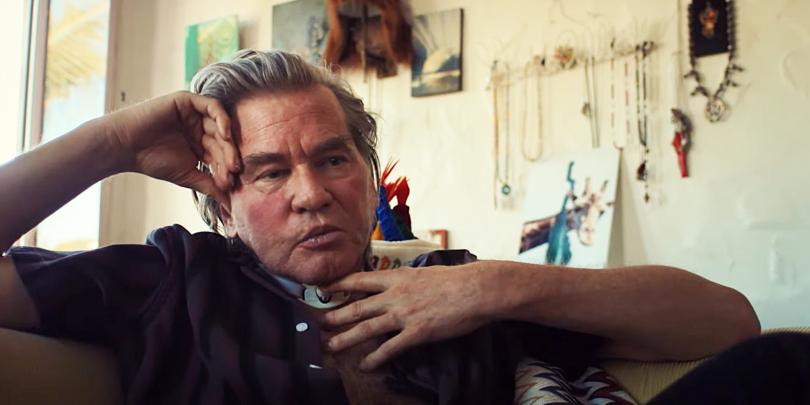 Sleeping for years in a warehouse, these maddening archives have been entrusted to directors Leo Scott and Ting Poo, who interweave them with images of today's Val Kilmer. This offers here a full access to his memories, his joys and his regrets, telling the story of a " magical life Damaged by illness, a painful divorce, and quite a few errors of judgment – the actor had, in the 90s, the reputation of being one of the most candy-busting divas of the American cinema. Kilmer is now damaged, out of circuit, but nevertheless proves to be flamboyant, incredibly charming, in his super flashy neo-hippie outfits, making scrapbooks on the floor of his living room, supported by his children, who seem to be there. adoring – his son Jack lends his voice so that Val can tell his life story off-site in first person, in a rather overwhelming generational passing of the baton.
We feel the directors sometimes almost overwhelmed by Kilmer's crazy audacity and shamelessness, seeking a center of gravity in this incredible human and emotional matter, hesitating between the hagiography of a survivor, the empathetic home movie and the document hallucinated cinephile. Their model, we imagine, is Jim & Andy, which mixed a meditative portrait of a washed-up Jim Carrey and a stroll through the nutty rushes of Man on the moon.
But if Val (the film) is imperfect, Val (the man) is sublime: here affirming his nature as an actor and an absolute bohemian, entertainer to the tips of his nails, life member of the great Hollywood circus, reminding the world that he was Iceman, Batman, Doc Holliday, Jim Morrison, offering for posterity his shattered body to the god Entertainment. Maybe Tom Cruise, deep down, understands it better than anyone.
Val, by Leo Scott and Ting Poo. With Val Kilmer, Jack Kilmer… Trailer: