Every morning, between the film, the interview and the star of the day, the hot spot live from the 74th Cannes film festival.
The film of the day: Titane by Julia Ducournau (in competition)
Great return to Cannes by the French filmmaker, five years later Serious and its global buzz. With Titanium, Julia Ducournau is aiming for the Palme this time without losing any of its radicalism or its style. This is the story of Alexia (the revelation Agathe Rousselle), a damaged stripper caught in a murderous madness. This will find a form of appeasement (!) In contact with a man (Lindon bodybuilder) who will welcome him like his own missing child. Ducournau wonders once again about the way in which you have to deal with your own body in order to impose yourself on the world. Titanium is the story of a perpetual metamorphosis all in crumpled sheet metal and swollen skin, it is above all one of the shocks of this 2021 vintage. Titanium in solid gold!
The star of the day: Valérie Lemercier
By coming to present Aline, her true-false biopic of Celine Dion, out of competition, Valérie Lemercier invests the spot of the French feel-good film which offers an all-smile recreation to Cannes festival-goers – a box inaugurated by Le Grand Bain by Gilles Lellouche in 2018, and reinvested the following year by La Belle Epoque by Nicolas Bedos. But Lemercier also arrives out of competition a few days after Todd Haynes' documentary on the Velvet Underground. And we say to ourselves that his film, basically, has as much to do with the cinema of Todd Haynes as with that of Gilles Lellouche: like I'm not there or Velvet Goldmine, Aline is the film by a filmmaker who plays dolls with her characters, a postmodern pastiche who claims her taste for the bizarre beauty. All punctuated not by underground anthems, but by some of the most famous songs in the galaxy. Or how to reconcile the freaks and the general public, the margins and the mainstream. In a way, it's unheard of. Definitely out of competition.
Interview of the day: Louis Garrel and Laetitia Casta for La Croisade (presented in the section "Cinema for the climate")
The revelation: François Creton, tattooed in The heroics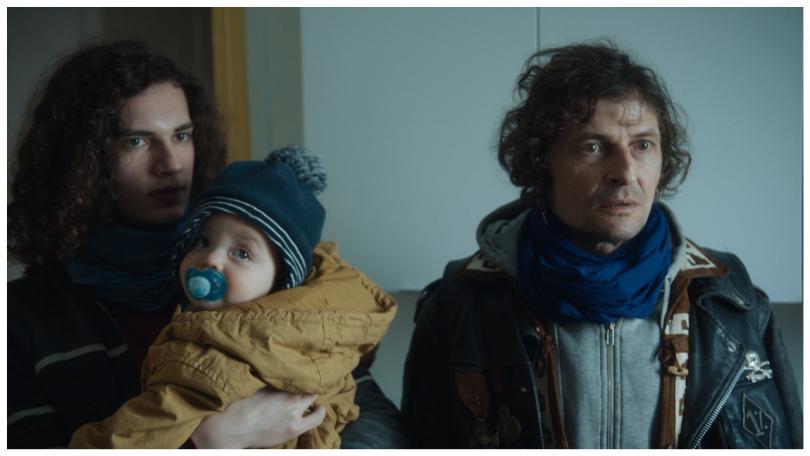 For a first feature, The Heroics – in official selection side special screenings – will certainly not upset the landscape of French cinema and even less the world (an ex-junkie struggles with his ex, his two children, his dying father played by Bohringer and his addictions) but director Maxime Roy has revealed an amazing movie character: François Créton, an actor mainly active in video game and anime dubbing, who is said to have co-wrote the script from his own life. Creton thus embodies Michel, a skinny biker wearing his tattoos as well as his patched leather "zonblou". Because Michel speaks half in verlan ("ça va chémar, meuf", "put your oid in your chebou") with a childish fragility, like a rocker cousin of Serge the mytho (the family is growing, the latest was Béatrice Dalle in Lux Aeterna by Noé) who would be in full rehabilitation from thirty years of excess. A voice, a body, a silhouette, a verb: a superb character, therefore, and a revelation, a real one, a (not so) hard, a tattooed one.
Hot shot of the day: the Olympiad trailer
Émilie meets Camille who is attracted to Nora who herself crosses paths with Amber. Three girls, one boy and how many possibilities? After the crumpled sheets of Julia Ducourneau yesterday, it is Jacques Audiard's turn to enter the competition. He films a story of love and desire, a modern love story in the 13th arrondissement. Silky black & white, sexy actors: exactly what we needed. It's going to be very, very hot in the Lumière amphitheater this evening …
Quote of the day: Fiachra Gibbons AFP journalist at the Bac Nord press conference

We are in an election year. I saw that with the eye of a stranger and I say to myself: maybe I'll vote Le Pen after that
Lamb of the day: Lamb by Valdimar Jóhannsson (Un Certain regard)
Debut film by Valdimar Jóhannsson, Lamb is in line with Ratboy (at least for the basic principle): the story of María (Noomi Rapace) and Ingvar (Hilmir Snær Guðnason), couple of sheep farmers reclusive on a farm in Iceland. When they discover a mysterious half-man, half-lamb newborn, they decide to keep him and raise him as their child … Good. Super lamb, eh, the best of the festival right up there.