And also: Claire Denis for Stars at noon, L'Innocent by Louis Garrel and La Montagne by Thomas Salvador.
The star of the day: Austin Butler (Elvisout of competition)
This ninth day of the festival will remain like that of the royal audience. At 10 a.m., in a palace in Cannes, First had a date with King Elvis. His interpreter, at least, the one who resurrects him in Baz Luhrmann's extravagant biopic, namely Austin Butler. Austin who? But if, you know, the follower of Charles Manson who threatened to kill Brad Pitt at the end of Once upon a time… in Hollywood. " I'm the devil and I'm here to do the devil's business. "Before that, we had met him as well at Jim Jarmusch (The Dead don't die) that in Hannah Montana. And here he is suddenly, in flesh and blood, in the suite where he is about to give interviews to the channel. In black from the head to the boots, the hair slicked back like in 56, the gaze that electrifies you and never lets go, a crazy charisma, a rockabilly angel beauty, a crooner's voice that fills the room and bounces off the walls. This man, obviously, has decided to become a star. It speaks superbly of the various sides of Elvis, of what this one meant for America and of what it could well still mean thanks to this film. He reminds us that he worked with two filmmakers who imagined Presley as a ghost, or as an appearance (Jarmusch in Mystery TrainTarantino in true romance), as if to suggest that everything was written in advance. We know that he plays a little comedy, of course, so that the journalists have a nice piece of paper to write, so that they can tell that he is still in-character, that the spirit of the King still lives within him. But damn it, does he play well. Austin who? No panic. By the next Academy Awards, you should hand it over.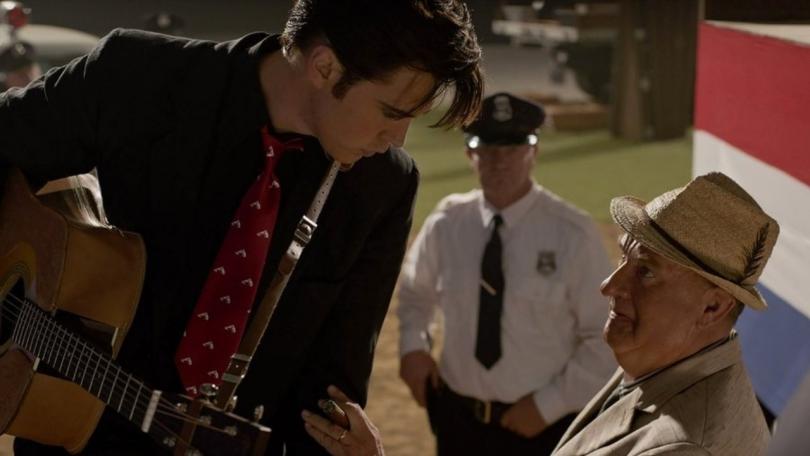 Interview of the day: Claire Denis, director of Stars at noon (in competition)
A few months after winning the Silver Bear for Best Director in Berlin with With love and determinationClaire Denis is in competition for the Palme d'Or with a new film, Stars at noonlove story against the backdrop of political unrest in Nicaragua, starring Margaret Qualley and Joe Alwyn.
What film made you want to work with Margaret Qualley?
Once upon a time… in Hollywood, which I discovered in Cannes three years ago. It's been a long time since Denis Johnson's book, stars at noon, had crashed into my life and that I wanted to adapt it. Seeing her in the Tarantino, I said to myself: "It's her". It was crisp and clear.
She has again in Stars at noon that hippie look she had in OUATIH and, like Tarantino, you seem to love filming his feet…
I love Margaret's ballerina feet. But that hippie side is really her, you know. She comes from a hippie family. His father lived for fifteen years on a beach in Panama, in a house he built himself.
You hadn't competed in Cannes since Chocolatein 1988. Being in competition, out of competition, not in competition, at Un certain regard… What importance do you attach to it?
Deep down, I always knew I was a bit off the national road. Rather departmental road, what. It didn't surprise me, or hurt me, that Trouble Every Day be screened in midnight screenings, because you couldn't show things that were too violent in competition at the time – anyway, it was better that way. I never felt like a racehorse.
This year, the president of the jury, Vincent Lindon, is an actor with whom you have just made a film…
It's atrocious! We can't even talk to each other! When I was president of the Un Certain Regard jury, it was hard to give the prize to Hong Sang-soo, because he is my friend. He arrived drunk, moreover, he was angry with me. But Vincent is above pettiness. He will do what he wants
Video of the day: Charlotte Le Bon, director of Falcon Lake (Directors' Fortnight)
With this first film as a director, the Quebec actress adapts a comic by Bastien Vivès and recounts the awakening to sexuality of two teenagers by flirting with fantasy and ghost films. Meet.
The setting of the day: the mountain in The mountain (Directors' Fortnight)
Really clever, Thomas Salvador: his film takes place in the mountains, well he calls it The mountain. Hyper connection, nothing to say. Jokes aside, this second feature from the director of Vincent has no scales will not leave us with an imperishable memory (the story of a Parisian who slams everything to set up a bivouac at altitude and never go back down. A great idea for a rather interminable film), but impossible to forget its main setting, the Aiguille du noon. Never really shown in its vertiginous verticality, the mountain is envisaged here both as a transforming landscape and a focus (possibly the only home) unfriendly but truly amazing, fluffy despite its harshness. A nest to fill and above all to explore in its most hidden corners, in its faults unmasked by the melted snow. The character will find there a very strange fantastic element, a kind of intra-uterine life that will allow him to make peace with his inner world. No doubt: the mountain wins you over.
Comedy of the day: The Innocent by Louis Garrel (Out of competition)
It's the kind of film that does a lot of good at the heart of a festival like Cannes where laughter is a rare commodity. A comedy inspired by Louis Garrel by his mother Brigitte Sy who, over the theater lessons she gave in prison, fell under the spell of an inmate who became his companion. Brigitte Sy told this story in 2010 in Hands free. Garrel makes it the basis of a crazy story where the son (Garrel himself), fearing for the safety of this rebellious mother (Anouk Grinberg), begins to spy with his best friend (Noémie Merlant) on this little thug who swears to have hung up (Roschdy Zem). He has no idea that meeting his new stepfather will profoundly change his life. The Innocent is an irresistible film of playfulness, intelligence and class where, while nothing is probable, you want to believe in everything. Exciting screenplay (which Garrel co-signs with writer Tanguy Viel) mixing comedy, romanticism, and heist film, amazing cast and impeccable soundtrack celebrating variety as a major art (ofA another story from Gerard Blanc to I Maschi from Gianna Nannini to the slow of Craig Armstrong, let's go out tonight): it feels like a Lelouch from the 70's The Happy New Year.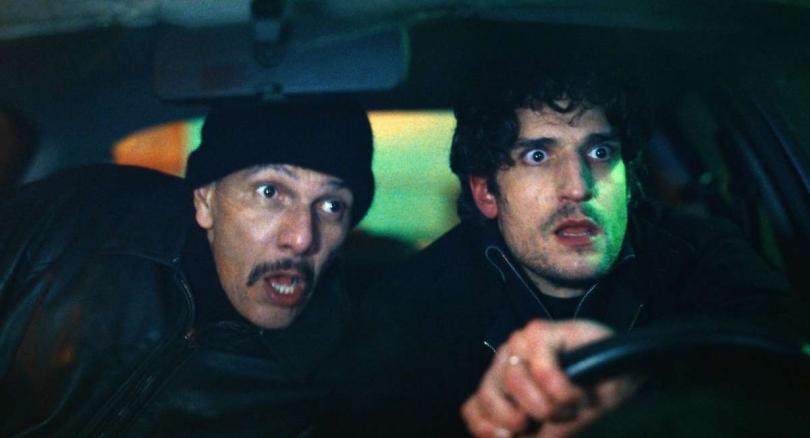 Movie of the day: Leila and her brothers by Saeed Roustayi (in competition)
One year after the shock Tehran Law, the Iranian Saaed Roustayi arrives for the first time in the Cannes competition. The Leila of her title is a woman who tries against all odds to get her family out of bankruptcy where her band of brothers has led her, little schemers who fail in everything they do. She thus finds the good deal capable of putting all this little world afloat and had anticipated everything except the fact that her father will prefer to devote his savings to a donation for the wedding of a cousin of the family and become the patriarch of the clan. A prestigious title which he does not intend to give up for anything in the world, even if it means precipitating the ruin of his family. Inscribed in an Iran strangled by a massive economic crisis, Leila and her brothers looks like a diesel. It takes far too long to start but once this installation has been made, the film takes off with explosive scenes where none of these characters (camped by a flawless cast) intends to let themselves be trodden on and give an inch. ground. There is Awful, dirty and wicked in this family tragedy which more often than not flirts with black comedy and plays effectively with the exhaustion of the spectators. Leila and her brothers never tries to make itself friendly and its appearance in permanent overspeed will cause some to stall over 2:45 which would have benefited from being tightened. But at least Roustayi goes to the end of his bias in a game of massacre of the failings of an Iranian society plagued by the excesses of patriarchy and shenanigans without brilliance at all levels.
>>> Read the full review