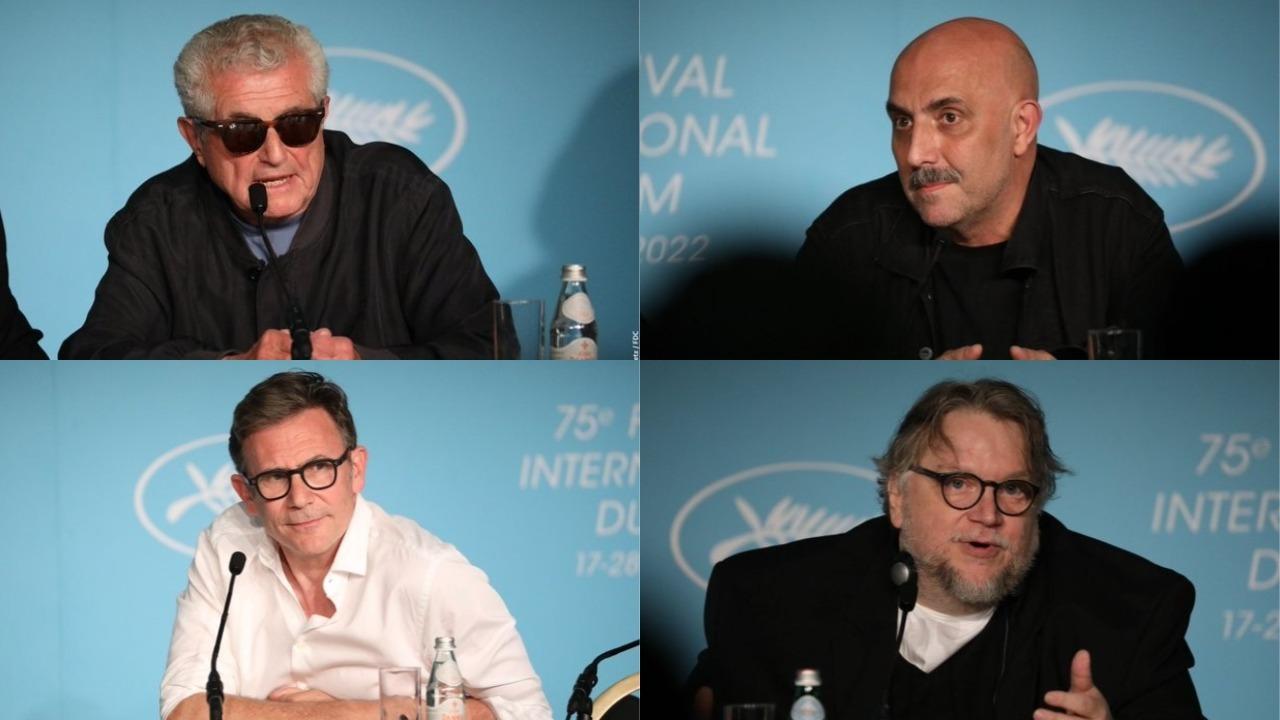 Claude Lelouch, Guillermo del Toro, Michael Hazanavicius, Gaspar Noé, Paolo Sorrentino, Costa-Gavras…
Update with a best-of from the second meeting, organized this afternoon on the Croisette.
Last night, Cannes festival celebrated its 75th birthday. Many film personalities gathered on the red carpet, then on the stage of the great hall of the Palais des Festivals: filmmakers and actors of all nationalities and generations. The most beautiful photos of this evening full of stars are to be seen here.
A few hours earlier, the organizers of the Cannes festival were planning a discussion between directors. Claude Lelouch (A man and a woman), Guillermo del Toro (The Shape of Water), Robin Campillo (120 beats per minute), Michael Hazanavicius (The Artist), Mathieu Kassovitz (Hatred), Gaspar Noe (Irreversible), Paolo Sorrentino (The Big Bellezza) and Costa Gavras (Z) discussed the evolution of their profession. On Cannes Film Festival Twitter account a few quotations taken from this meeting are grouped together. We are sharing them here while waiting for the full video to be uploaded. Note that a second part will be organized this afternoon. In particular, directors are invited Julia Ducournau (Titanium), Rebecca Zlotowski (An easy girl), Agnes Jaoui (The taste of Others), Catherine Corsini (The beautiful season) and Lynne Ramsay (We Need To Talk About Kevin). Nicolas Winding Refn (Drive), Abel Ferrara (bad lieutenant), Pawel Pawlikowski (Cold War), Abderrahmane Sissako (Timbuktu) and Joachim Lafosse (The Intranquilles) also answered the call.
Cannes 2022 – Day 8: the rise of the steps, the return of the Dardenne, November by Jimenez…
Excerpts from the May 24 conversation:
"We are all filmmakers, our eyes are cameras, our ears pick up the sound, the brain does the editing."
Claude Lelouch
"We are experiencing the end of a cycle with the Covid. Everything will be different. The cinema has changed, the spectator too."
Costa Gavras
"In a cinema, we are alone, together."
"Even on an iPhone, a Bresson film remains a Bresson film!"
"We have to do incredible things for people to come to the cinema. It is in our interest to follow our desires, with the idea that we are going to do something else, that we are going to surprise ourselves. ."
Robin Campillo
"It's not the platforms versus the theaters."
"Going to the cinema is the manifestation of a desire, the spectator wants it to work, because he has paid, it is part of the process of any show."
"It's very comforting to talk about the death of cinema, it allows us to talk about something other than war, climate change…"ironic.
Michel Hazanavicius
For Guillermo Del Torothe real question today is: "Are we talking about screen size or idea size?"
"Making mistakes is wonderful, it's very virtuous to make them!"
"You have to push people to understand the past as if it were something alive, something…vibrant."
"I like to scare myself with each new film, do what I've never done before!"
"The obstacle is the way, as the saying goes. This detail that we hate on D-Day on a set is always, in the end, what will contribute to the greatness of a film. There is no bad tools, only badly used tools."
"Animation is a real medium, which will have its place in the future. It will be our duty to take things seriously with cinemas, exhibitors, festivals, because it is a real genre."
Guillermo Del Toro and Gaspar Noé on TV series:
DelToro: "Think of your favorite TV series, there are very few images, moments, that will surprise you."
Noah: "Ah Chernobyl, for example, it's a success, a 4 hour long film!"
"The collective experience, during screenings, disappears… BUT we find it here in Cannes!"
Gaspar Noe
"A good film takes time, it takes two, three years of work, you have to focus on one project at a time. I think we have to go back to the past and allow that time to be allocated to a director."
"People are going to be tired of watching movies at home and they'll be going back to theatres."
"I practiced several mediums, but in the end, what I prefer is to make films as I did them at the beginning. It is only on a big screen that we find all the power of a story ."
"A director's first duty is to tell a story."
Paolo Sorrentino
"Cinema is handmade, in an artisanal way. It's like a very beautiful watch!"
Mathieu Kassovitz declares his love to Guillermo Del Toro seated next to him, in particular to his film Cronos in 1993. "What tricks! Without computer-generated images! CGI, computer-generated images are one of the reasons that kept me away from directing."
Michel Hazanavicus: "The filming of Coupez! was a real playground!"
Excerpts from the May 25 conversation:
"The platforms have been ahead in terms of parity, diversity, they have been able to bring new forms of storytelling… In the cinema, we then have the opportunity to make even bolder proposals!"
"We should force everyone to come to Cannes to see a film in the Grand Théâtre Lumière. Once we've experienced that, we want to come back to the theaters!"
"Of course people chew gum, have bad breath in a cinema, but we share emotions there! It's an incredible moment, to make the younger generations understand, to give them this pleasure again!"
Catherine Corsini
"I don't think it was better before, ever, all progress comes with its share of regressions."
Agnes Jaoui
"If the cinema only shows bodies, only states of mind that are not diverse, it's like a kind of biotope that we are breaking up, while we have a marvelous toy."
Rebecca Zlotowski
"What we have to accept is transformation, change, a resurrection. It's not the end of cinema!"
"Every work of art is political and any subject addressed in a film cannot avoid being political."
"We must not be shy about the platforms, we want to break the machine from the inside, show us what we can do with them. We are troublemakers, rebels, we want to destroy the machine!"
Guillermo del Toro
"A movie theater is sacred, it's not debatable."
"The Covid was a nightmare, because I couldn't go to the cinema, to see in a different way. I am lucky today to be able to go to the cinema every day and am ready to pay the price."
Joachim Lafosse
"If I'm quiet at home watching a movie, I don't want the movie police showing up and ordering me to watch it on the big screen!"
"If people want to see a movie on their mobile, that's fine. And a movie in an empty room is not a movie."
"I've been doing this since I was 16! I was editing Super 8 in my bedroom. The result was… awful! Nothing was like what I imagined! But I still had that feeling to spin freely…"
Abel Ferrara
"Making a film is like doing a puzzle!"
"There will always be obstacles. Necessity is the mother of invention. You shouldn't feel depressed because of difficulties, even if my 7-year-old daughter says to me, 'Mom, don't make movies anymore, you have the look so sad!"
Lynne Ramsay
"I'm afraid of the future, with digitization we are giving up our humanity, we are leaving it in the hands of things unknown. We see it with streaming in cinema."
Pawel Pawlikowski
"If the cinema must die, it will be because many people do not express themselves."
"I don't ask myself if what I shoot should be projected on a small or a big screen. The more we aspire to a big screen, the more we have a growing ego! You have to accept the medium, that it is not a concern."
Abderrahmane Sissako
"We must not ask ourselves what the cinema will be, but rather what the cinema will not be." "For a film to be relevant, it must develop on its own, meet its own challenges."
"The medium that is progressing the most is that of video games. Cinema was that before! It can become so again, you have to face its evolution with a rebel spirit."
"No art form has ever disappeared, things change. Cinema, more than ever, needs people like us to make a lot of noise, new things, fight for children!"
"This discussion on the future of cinema, we will have it for centuries to come."
Nicolas Winding Refn
Guillermo del Toro concludes the meeting on the future of cinema: "Reframing the past so that the future is better."
Claude Lelouch: "I am definitely a man of the present"