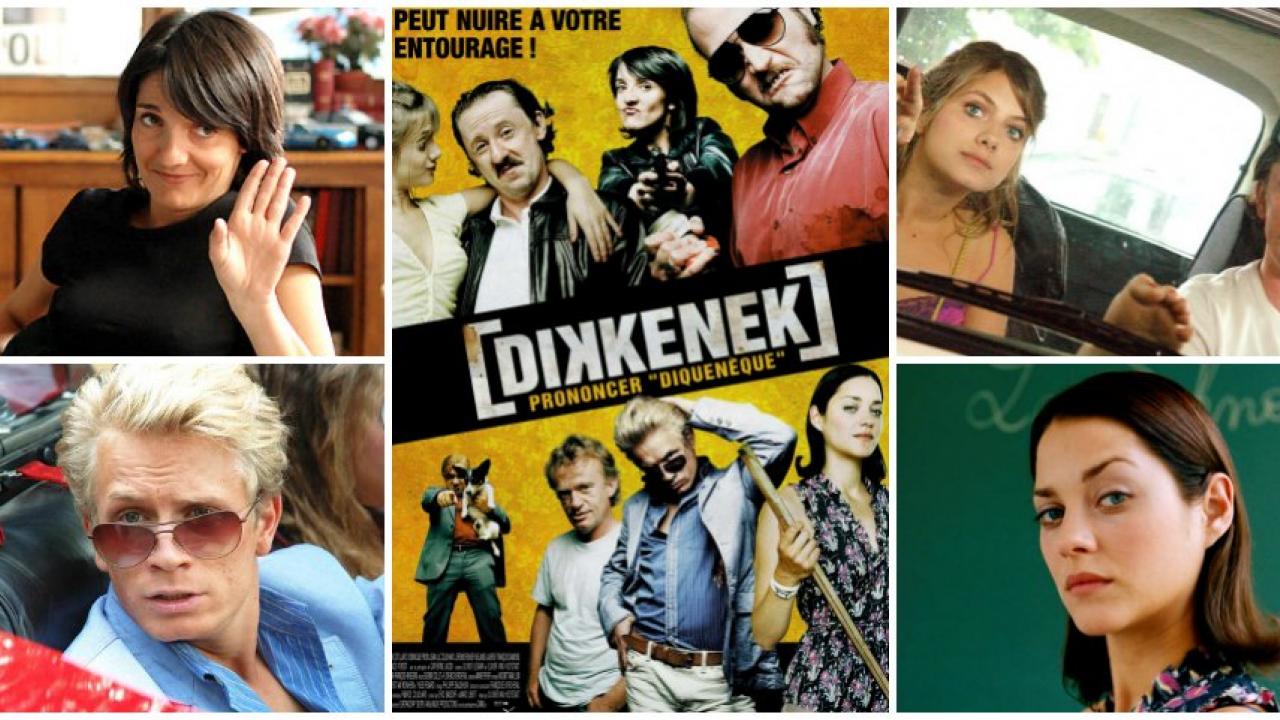 "La Schnouf is (always) a scourge".
Update of December 28, 2021: NRJ12 rebroadcast Dikkenek, tonight at 9:05 p.m. The opportunity to laugh again in front of this wickedly funny Belgian comedy.
News of June 21, 2016: Dikkenek today celebrates its tenth anniversary. Released in a hundred cinemas in France on June 21, 2006, this Belgian comedy byOlivier Van Hoofstadt went unnoticed in the cinema, registering 100,000 admissions in a fortnight. Little by little, however, it acquired cult film status thanks to its murderous lines, said by actors visibly delighted to play the "big mouths"(this is the definition of the title)."Francois Damiens, small sweat on the forehead and injected eye, confirms that he is the funniest thing Belgium has given birth to since Benoît Poelvoorde", judged First at the time. "The rest of the cast are in unison."
His lines were so successful on the web thata soundboard was dedicated to him last year. A "Bible" essential, in which we drew a few tirades, which still make us laugh ten years later. Happy birthday, Dikkenek !
1. "Either you go out, or I go out, eh, but we'll have to make a decision". Claudy (Francois Damiens) calls out Greg (Jeremie renier), the pain-reliever of the film, to enter the telephone booth where he is. Once at the end of the line, he complains to his mother that he has made himself "carjacker " and ask him to come and get him. This is without a doubt the most famous scene in the film:
2. "Don't judge her, you don't know her you've already been judging her ", he moans, still on the phone with his mother. Particularly foul, the character of Damiens raises pigs to cook "fricadelles", and kidnaps young women to satisfy his sexual fantasies ("I'm not stupid, if she's with me it's for my money eh, not for my smell. And that hurts!"), but his scheme will not work as expected with Natacha (Mélanie Laurent). "Don't start playing with my balls!", he also lets go during the film, exasperated. High class.
3. "It's excessively annoying". Speaking of anger, this is JC's favorite line (Jean-Luc Couchard), which released it in particular to Aziz (Mourade Zeguendi) accusing him of "to spit everywhere like a llama", to a woman who eats crisps and to "Greg the step-kid", who had the misfortune to phone the cinema: "He's absolutely crazy, this guy!", he throws at him before hitting him. He does it again a few moments later by slapping him in the hallway of the cinema: "The first is to teach you a little stupid lesson. The second is for the principle. The third is because never two without three!"
4. The cinema scene is filled with tasty exchanges. On the screen, already, the film shown makes fun of current productions ("It changes you huh? Big thighs, big belly, big tits… You don't see that in magazines, do you?"), which is worth this unforgettable reaction from JC: "My hand to cut that it will still revolve around the bullet hole, that's the story! Gender identity! "
5. Following this first assault, Greg the hard-pressed goes to the police station to give his statement to a Florence foresti unleashed. "We say it before the film, to cut the cell phone. I see, when I go to the cinema with my wife, the film starts, the concert too! True or false? Yes or no? Am I right? Ah! "
He will come back to it several times, she will try to make him denounce a colored assailant by showing him CD covers, and will even draw him a robot portrait ("I'm not bad, but I don't draw like Tintin!") and will end up advising him to go see a shrink: "It's a real national determination! I think it is time for you to question yourself. We agree that it would be a little bit your fault."
6. JC is a big mouth, of course, but he still tries to help his friend Stef (Dominique Pinon), not very good at flirting. "I'm going to give you a pretty thorough lesson. Listen carefully. You have to go from point A to point G. Do not try at all costs to be original, your head is already original. You shouldn't overbid, do you understand? ". Another example of motivation for JC: "Come on, get up. Get up. Get up! You have to wake up, old man, looking like a beaten dog, there. You have to stop suffering life, being a victim all the time. the sun rises with or without you, and you don't get up, it doesn't give a fuck! And nobody gives a fuck! "
7. "La Schnouf is a scourge", explains Nadine (Marion Cotillard) to his students, a few scenes after scaring them off during a visit to a museum dedicated to road accident victims. "She died the mastereeeeeeesse", she then yells at the frightened kids. "You know what a windshield is, eh", she also said to a little one. "Eh yes. If today you look more like Albator than Candy, it's because your mom, she flutes! ".
8. "Say, uh, do you know there's a kid with cocker spaniel eyes uh in your trunk there?", asks the mechanic to JC when he finds Natacha. "I didn't know you were riding in a Kinder", he laughs then during the same sequence. Even very secondary characters are entitled to their cult lines.
9. If Natacha is so well brought up, it is in large part thanks to her role model, her aunt played by Catherine jacob. "The more I think about it and the more I tell myself … I think I want to do exactly like you. Well don't give a damn. Like you. In the end, that's the goal in life, isn't it? Succeed in doing nothing ". His auntie pays him back, introducing his niece to Stef as follows: "See who I'm talking about? She's still naked looking for her panties!"
10. "You give me a beer too, please? (…) You will take the opportunity to change the glass too. This one is dripping the soap. I like the mousse, but don't overdo it, eh. You shouldn't take people for idiots ". Alcohol helps to untie the tongues of "big mouths" of Dikkenek, deteriorates relations (especially between the aunt and "Baudouin p'tite bite", played by Guy Staumont), and places certain characters in shameful situations, such as the threesome so regretted by Nadine.