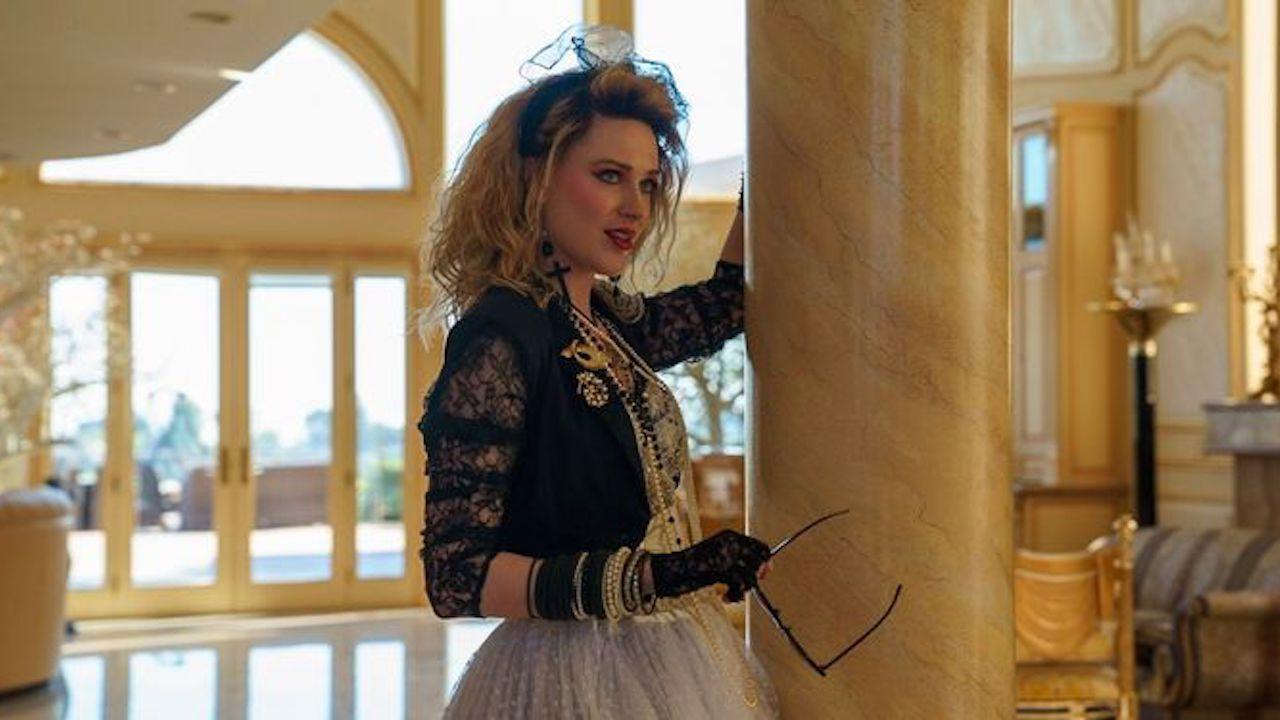 The Westworld actress appears "Like a Virgin" in a first shot from the film. And the musician is embodied by Daniel Radcliffe.
Currently filming, the upcoming biopic about the eccentric musician Weird Al Yankovic entitled Weird: The Al Yankovic Story begins to reveal itself, in particular by revealing a first snapshot ofEvan Rachel Wood in the role of Madonna.
The actress, known for her role in the series Westworldthus embodies in this feature film to come the singer, with whom Yankovic worked during his career, parodying for example his song "Like a Virgin" to make "Like a Surgeon". It is also in an emblematic outfit of this time that Evan Rachel Wood appears in this first shot of the film: gloves and lace dress, many jewels and earrings in the shape of a cross… So many elements that made the success of Madonna in the 1990s.
It's SHOOT DAY #14, my friends, and NOW IT CAN BE TOLD: Daniel Radcliffe's co-stars in #WEIRDTheAlYankovicStory will be Evan Rachel Wood, @rainnwilson, @tobyhussand Julianne Nicholson! @TheRokuChannel pic.twitter.com/rwh1OEIMuD

—Al Yankovic (@alyankovic) March 2, 2022
In parallel with this snapshot, published on Al Yankovic's Twitter account, the musician (and screenwriter of the biopic) also announced new cast members for his film: Julianne Nicholson, Rainn Wilson and Toby Huss join the team whose Daniel Radcliffe holds the lead in the role of Yakovic himself.
SHOOT DAY #13: Here's a special exclusive photo that the paparazzi DIDN'T get… the inside of Daniel Radcliffe's wig! In your face, TMZ!! #WEIRDTheAlYankovicStory @TheRokuChannel pic.twitter.com/i66xsZe7um

—Al Yankovic (@alyankovic) March 1, 2022
This biopic, of which no release date has yet been announced, is written by Yankovic accompanied by Eric Appel, director and executive producer of the feature film. The film is a joint Funny Or Die and Tango production, with Yankovic producing alongside Mike Farah, Joe Farrell and Whitney Hodack for Funny Or Die and Tim Headington, Lia Buman and Max Silva for Tango. Henry Muñoz III of Funny Or Die and Neil Shah of Tango are also executive producers. The biopic will tell the life of Weird Al Yankovic, from his beginnings as a comedian and musician to his fame and his unbridled life.