From The Bride of Chucky (1998) to the new Salto series, the actress retraces the journey of her evil doll, Tiffany.
Salto has just launched the broadcast of series chuckya "legacyquel" of the whole saga imagined by Don Mancini, already in the screenplay of horror films and the staging of three of them since Chucky's Sonin 2004. This show, which handles both humor and gory effects, presents new characters while bringing back the villains or key survivors of the original films, in particular Brad Dourif as serial killer Charles Lee Ray / the bloodthirsty doll chucky and Jennifer Tilly in Tiffany, his girlfriend, whether she is human or herself transformed into a doll. When she's not playing her own part…
We asked the actress, who has become an icon of horror cinema thanks to this role of crazy fiancée, to tell us about her story with Chucky, which started with the fourth film, ten years after the release of child's play.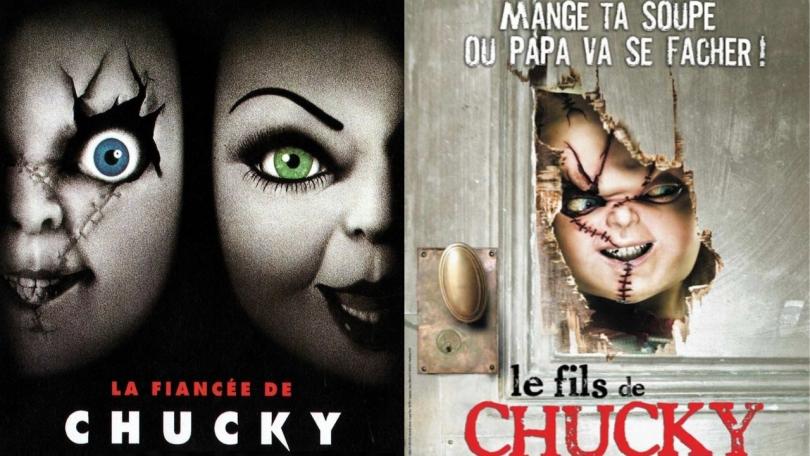 Bride of Chucky (Bride of Chucky) – 1998
"My adventure with Chucky started 25 years ago. What I have always loved in these films is above all their humor. Tiffany is incredible to play. She is feminine, romantic in her own way, since she looking for true love, wants to live with her darling, start a family… And at the same time, she kills people in cold blood! I embodied her in the prime of her life, very sure of herself, comfortable in her body, she had this sexy gothic look.
With Chucky, they develop this very strange relationship, which makes it possible to show things that are little seen in the cinema. For example, we were the first to film a sex scene between dolls. I believe they did it a year after us in South Park, but we were precursors! Plus, we had a lot of fun with Brad, he's a great actor. There was this dialogue around the condom: 'You don't put a piece of plastic?' 'But honey, I'm all plastic!' (laughs) As a result, my Tiff' got pregnant, and given the madness of this couple, it's obviously a disaster."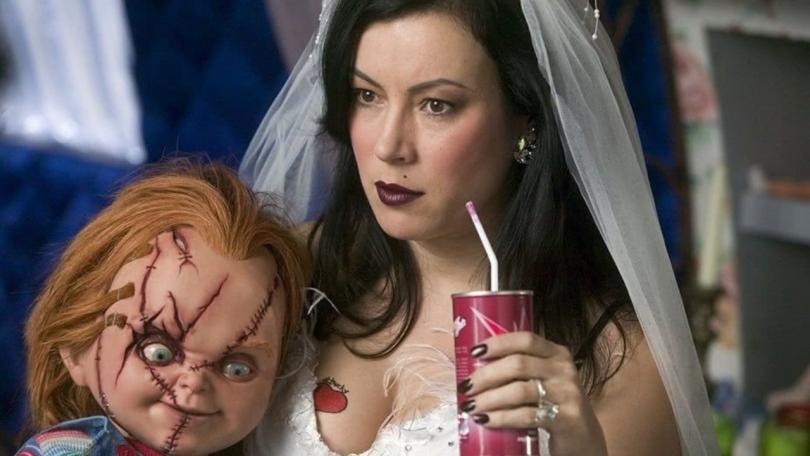 Chucky's Son (Seed of Chucky) – 2004
"So I'm giving birth to our terrifying baby doll, Glen/Glenda: for Chucky it's a boy, for Tiff it's a girl (but the VF decided for "Chucky's Son"editor's note). The joke always goes further. At the same time, this very present humor makes it possible to approach strong subjects, such as homosexuality or transidentity. Or I can throw a feminist jab at Chucky in the middle of one of our bickering.
The originality of this film is that I play Tiffany in it as a doll, as a human and also as 'myself'finally in 'Jennifer Tilly, the moviestar', not quite myself, but who looks like me, wears my wardrobe and has acted in the same films as me. VSimmediately offers a lot of opportunities! Appearance "meta", that we find a lot in the series, was especially born there, when the Tiff' doll could throw something in the face of "Jennifer Tilly, the movie star" while criticizing his questionable career choices. Or take me out with irony: 'I'm your greatest faaaan!'
I was very surprised when they called me back, I was supposed to be dead. I was answered: 'Tiff' is indestructible, he is a supernatural character!' Don also told me that the public loved our duet with Brad, that they couldn't do without me. How to refuse? (laughs)"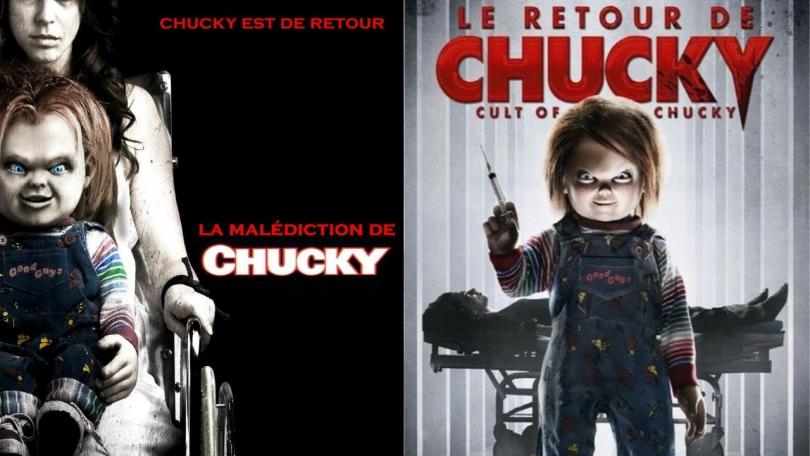 Curse of Chucky (Curse of Chucky) – 2013
"Fiona Dourif arrives in her turn as Chucky. She is first Nica, a young paraplegic girl, whom our terrible doll will take pleasure in handling. Then Chucky, who is played by her own father in real life, will take possession of his personality, it's really twisted, almost incestuous.
This film also marks the return of Alex Vincent as Andy Barclay (Chucky's first victim in the 1988 film, editor's note). When Don called on him, he had hardly shot anything between Chucky 2 (1990) and Curse of Chucky (2013). He was a child actor, but nothing said that he would continue to act as an adult… When he came back, wow! Fans couldn't believe it.
As for me, I'm again a bit like in Bride of Chuckyalways disturbed, and brimming with sex appeal."
Return of Chucky (Cult of Chucky) – 2017
"This sequel is THE film that foreshadows the series. We're all here: Brad and Fiona Dourif, Alex Vincent and me. For this sequel, Don asked me to have a more classic look, à la Tippi Hedren (the star of Birdsby Alfred Hitchcock), with this blond hair, these strict outfits. Tiffany in the body of Jennifer Tilly wants to prove to the outside world that she is a respectable citizen."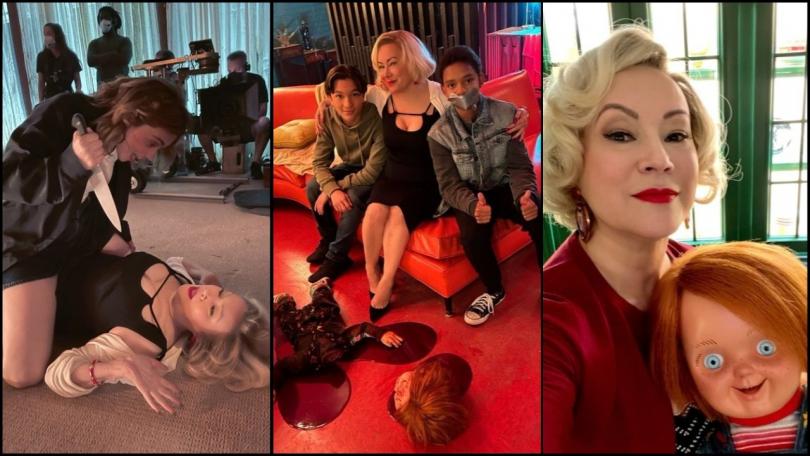 Jennifer Tilly regularly posts behind-the-scenes photos of the Chucky series on his Twitter account.
Chucky – Season 1 (2022)
"My character and Nica/Chucky are therefore in a relationship, as'Tiffany's spirit in Jennifer Tilly's body' and 'spirit of Chucky in Nica's body'. Except during the few moments when the young girl regains the upper hand. Tiff' prefers when she is Nica, it makes her reflect on her love/hate relationship with Chucky, she finally begins to emancipate herself from him. This dynamic is adored by fans of the saga, and by me too. At my age (63 years old), we don't often offer explicit scenes like that anymore. Tiffany returns in all her glory, her figure matters, and it's very exciting to play. When Tiff' feels sexy, so do I!
With this concept 'meta', we can add lots of winks to my own life. Tiffany loves poker (Jennifer Tilly, she is a real champion, editor's note)she makes fun of her weight, her age or throws a valve on Bound, simply because the director is a big fan of this Wachowski film. where I already had a sapphic relationship, it's really an important theme of the show, not just a joke. It's also tackled in a softer way with two of the young heroes, Jack (Zackary Arthur) and Devin (Bjorgvin Arnarson).
Chucky – Season 2 (shortly)
"I love this character, I'm delighted to have signed for season 2. I can already tell you that Tiff' will once again be different from anything we've seen before. By her looks, of course, because as far as she is concerned, it goes hand in hand with her behavior, but not only. It will continue to evolve. Mentally, without spoiler, I think we can say that she is not very well, she has a lot of contradictory feelings to manage. His view of Chucky is changing and this will inevitably impact his choices. Will she be more of a doll or a human? You will see."
Here is the trailer for the series chuckyvisible on Salto: