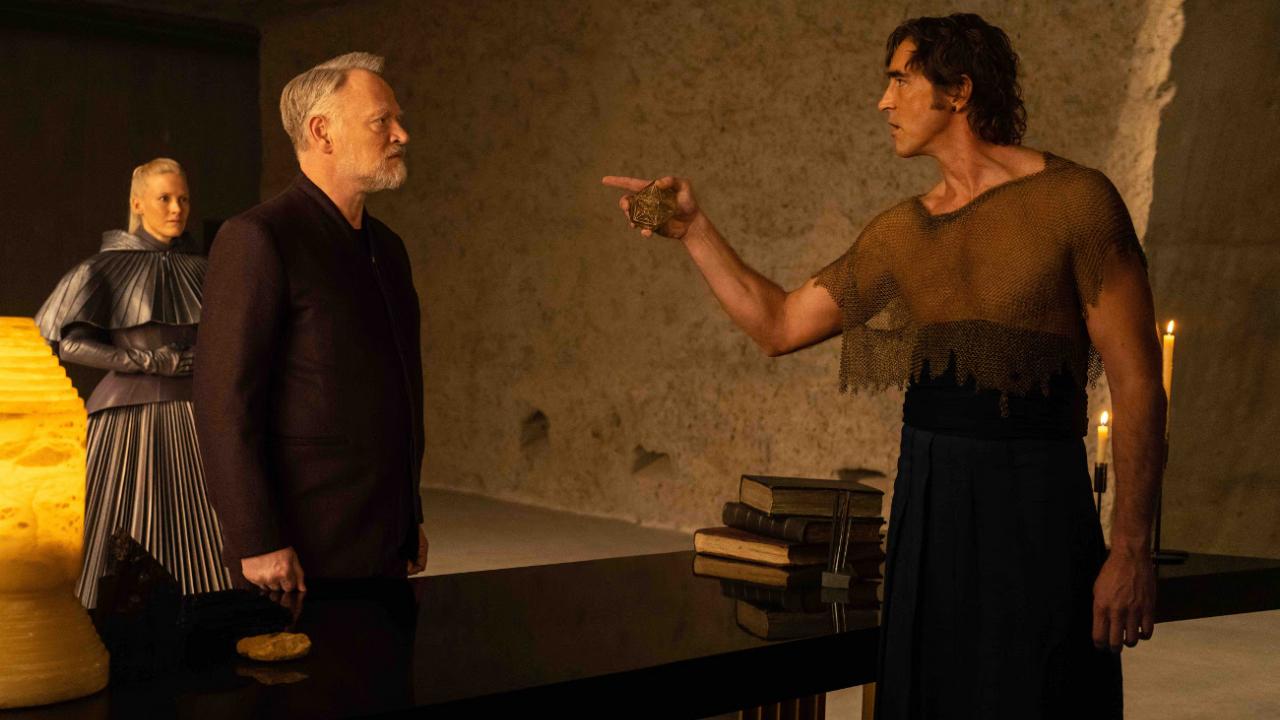 Jared Harris faces Lee Pace for this very first look at the Apple TV+ series.
This was one of the great successes of the 2021 series year: the adaptation of the Foundation by Isaac Asimov by Apple TV+ is already filming for season 2. And the streaming platform is sharing a first image today, which shows a new face to face between Harry Seldon, alias Jared Harris and the Emperor, Lee Pace !
Incidentally, Apple reveals the names of the new cast members.
We learn that Isabella Laughland arrives in the role of 'Brother Constant', a cheerful and confident priestess, whose mission is to evangelize the Church of the Galactic Spirit. Constant is a fervent believer, whose courage and passion make her endearing.
Kulvinder Ghir will play 'Poly Verisof', a member of the high clergy of the Church of the Galactic Spirit. Clever and sarcastic, he's also a drunk—smart enough to figure it out but too cynical to change.
Sandra Yi Sencindiver will take the role of 'Enjoiner Rue', the beautiful adviser to Queen Sareth, particularly skilled in politics. Former courtesan of Cleon XVI, Rue knew how to use her status to become a royal adviser.
Ella-Rae Smith will be the 'Queen Sareth' of Cloud Dominion. Accustomed to being underestimated, Sareth makes it an asset to make a place for herself at the Imperial Palace, armed with her bite, while seeking to satisfy her quest for revenge.
Dimitri Leonidas will play the role of 'Hober Mallow', a business master with a sarcastic personality and questionable morals, summoned to serve a noble cause against his will.
Ben Daniels will portray 'Bel Roise', the last great general of the Superliminal Fleet and aspiring conqueror of the Foundation. Bel is almost too devoted but his allegiance to the Galactic Empire is no longer what it used to be.
Mikael Persbrandt will put himself in the shoes of the 'Warlord of Kalgan', a monstrous man, all of muscles and endowed with a powerful gift of clairvoyance. Driven by hatred, he launches an assault on the galaxy.
Rachel House as 'Tellem Bond', the mysterious leader of the Mentallics.
And above all, the former mindhunter, Holt McCallany, will play 'Warden Jaegger Fount', the Guardian of Terminus who watches over its citizens and protects them from outside threats.
This season 2 of Foundation is still overseen by showrunner David S. Goyer. Release expected before the end of 2022 on Apple TV+.