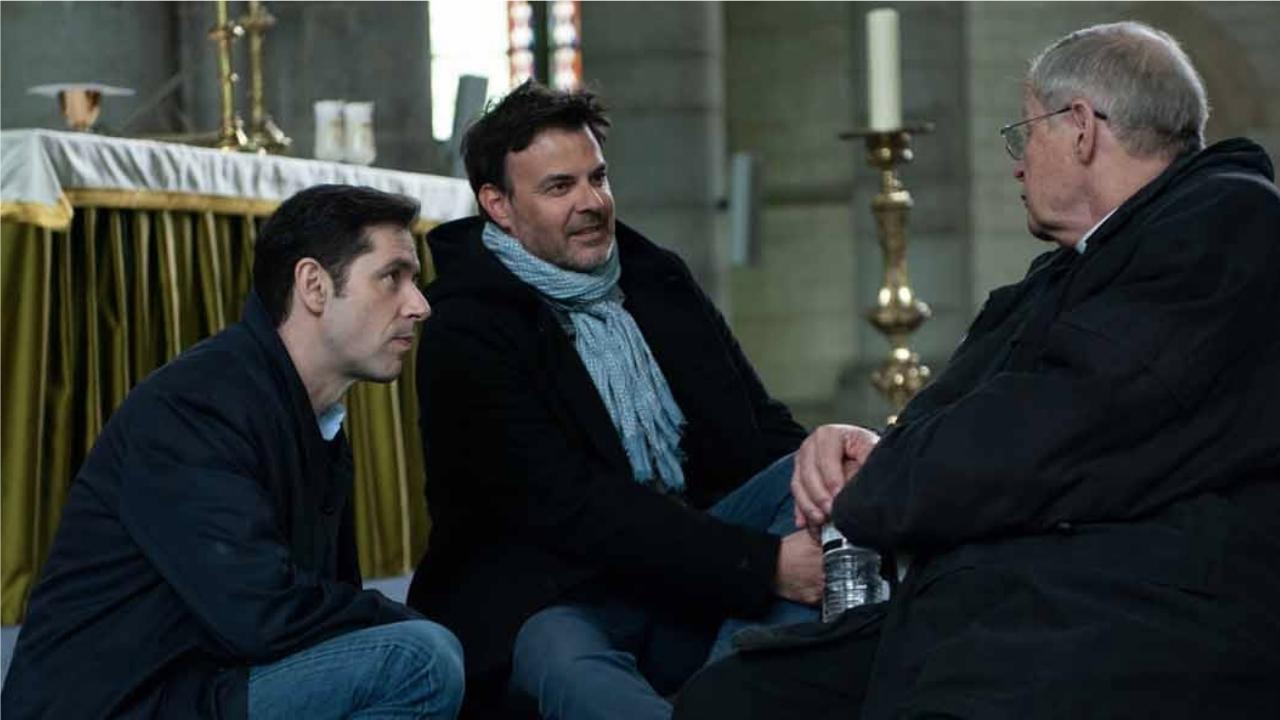 With Grace to God, the filmmaker gives voice to the victims of the pedophile scandal in Lyon in a masterful film that mixes genres (melodrama, thriller and film-investigation). For Première, he returns to what he presents as the French Spotlight.
France 2 will broadcast this evening, for the first time in clear, Thanks to God, the acclaimed drama by François Ozon, for which Swann Arlaud received the César for best actor in a supporting role. We had met the filmmaker a little before the film's release in theaters, in early 2019. Here is an excerpt from his interview.
Thank God: Ozon films with faith [Critique]
Interview of February 18, 2019: It is difficult to imagine François Ozon to lend himself to the exercise of the film "screen folder". The enfant terrible of French cinema likes nothing so much as to confuse his spectators; this disciple of the great American formalists (Hitchcock and De Palma in the lead) most of the time weaves sensory traps where he enjoys distilling feelings of discomfort – review The Double Lover. As a good filmmaker of the unconscious, he loves filming mental landscapes to let the public float, deprived of certainties, and to expose the most underground impulses of his characters. When we learned that this trompe-l'oeil genius was going to tackle a film on the pedophile scandal that splashed the bishopric of Lyon, many were surprised. And in fact, Thanks to God clash. Even surprises, more by its apparent classicism, its (all) relative formal atony and its concern for veracity (Ozon clearly borrows from the procedural genre). The links with his previous films are however evident from the first images. Faith and the fight against institutions, the oppressive suburban environment or the incredible direction of actors – which here pushes Melvil Poupaud, Denis Ménochet and Swann Arlaud into new territories and to unsuspected levels of performance. All this deserved to take stock with the filmmaker to explore his relationship to current affairs and trace the thread of his protean and abundant filmography. Meeting in his offices, in the heart of Paris, far, very far from the hustle and bustle of the world.
FIRST: The first surprise of Thanks to God is to see you tackle a hot topic for the first time. How did this desire come about?
FRANÇOIS OZON: To be honest with you, I never had the slightest desire to make a film on current affairs. After having spoken a lot about women of character, I wanted to develop a story about a man in suffering. And it was while looking for a subject that I stumbled upon the site of Speech freed. There I read the absolutely incredible testimony of Alexander, a deeply Catholic man who realizes, at 40, that the priest who abused him is still alive and continues to take care of children. And who suddenly wants to act.
Was it obvious to make a film of it?
Yes, but initially without necessarily linking it to the news. Until I met Alexandre, who arrived at our meeting with a large file containing all his email exchanges …
Did he entrust them to you without suspicion?
Yes, because Alexandre and his comrades have already encountered the press a lot. Their file is ready "turnkey"If I may say so. Once in front of him, I asked him to tell me his story before going to meet François, who continued the fight. Him, it was different: I found myself in front of a new character incredible, atheist, while Alexander is in the faith My desire to make a film of it grew even more.
Why did you choose to make it into a fiction rather than a documentary?
It was my first idea, but I felt that it was going to be complicated to make these men say in front of a camera everything they had told me during our exchanges. Their words were only released because they were sure that I was going to take hold of their testimonies to transform them into fiction. They had adored Spotlight [le film de Tom McCarthy sur le scandale d'abus sexuels couverts par l'Église à Boston] and they wanted their Spotlight ! As I come from fiction and that is precisely what I know how to do, I did not hesitate for long. While realizing that I was missing a character. Someone who is even more in pain to represent those who still haven't made it. So I asked them for advice and they directed me to Pierre-Emmanuel. I met him, along with a handful of others, to create a sort of patchwork character.
You have decided not to change the names of the various protagonists when the case has still not been judged on appeal. Didn't you fear possible legal attacks? (The film has since come under legal attack to delay its release. Despite these attempts by Father Preynat's defense team, the film hits theaters on February 20, 2019)
I obviously asked myself the question. But changing the names – and calling Cardinal Barbarin Baratin, for example – would have been completely hypocritical. Everything has already been told in newspapers, books, reports … I am not proposing anything new on the case. I was only interested in the victims and the repercussions of freeing their speech. This is why I chose to tell the story from their point of view and why I did not try to meet the people of the Church, which I would have done if I had dealt with the subject in documentary mode. I also had the script read to lawyers who assured me that there was no problem since everything that is said in the film is already known to everyone. I tell the facts without taking the place of justice. If I believe the victims, I even think I bring a certain humanity to the members of the Catholic clergy …
Have you taken up a current topic and changed the way you write?
I felt a responsibility: that of not betraying those I had met. I wanted to "heroic", as Soderbergh does in Erin Brockovich. But I did not have to add more. Because freeing one's word within a Catholic and conservative family is heroic! To carry out the fight they have led, it's heroic! To sue Barbarin and other members of the diocese of Lyon for non-denunciation, it's heroic! Reality brought me things so crazy that the writing was fast and clear The most complicated, ultimately, was the financing.
Swann Arlaud pays tribute to the victims in his César speech: "it's heroes"