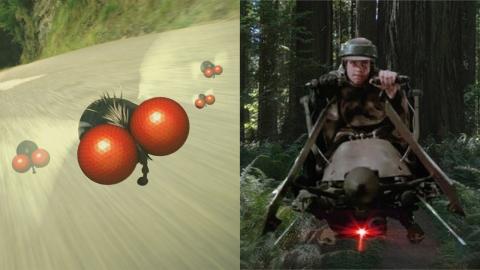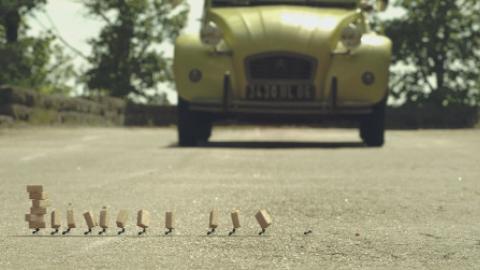 Minuscule pays homage … to the Lord of the Rings

Thomas szabo : "When we went around the possible co-producers, we added at the end of the presentation: 'Anyway, it's The Lord of the Rings with insects!' The combination of the two universes summed up our vision of the film well. We knew that there would be big brawls with thousands of ants and that the atmosphere would sometimes be a little dark. Moreover, to create the digital crowds of ants, we used the same software as Peter Jackson's team, namely Massive. "
Helene Giraud : "The great fear of our interlocutors was: 'How will they manage to go from very short versions of the series to a feature film?' And this comparison allowed us to show that we were aiming for an epic film, in the first degree. In fact, the film was originally called Valley of the Lost Ants. But to take advantage of the success of the series, our producers suggested that we put the title 'Minuscule' back. "
Minuscule pays tribute … to Star Wars

TS: "A New Hope is a film that I discovered in theaters at the age of nine and which traumatized me. I redesigned the head shots when I came back from the cinema. In Minuscule, the transitions with shutters between the sequences come from these films. , but also big productions from the golden age of Hollywood. And the insect chase scenes are reminiscent of the Star Wars trilogy, not least because I'm a huge fan of Ben Burtt (George Lucas' sound designer) and that I tried to find his approach to sound. But it's done in the first degree: we are not in parody or in cartoon. The chase scenes can also make you think of another of my favorite movies, Mad Max 2, especially with these low-level tracking shots, which accentuates the feeling of speed. "
Minuscule pays homage … to Délivrance

HG: "We were looking for an all-powerful, grandiose nature, unlike the small Norman groves in which the series takes place, or the Provence of the lavender fields. We therefore said in reference to the person responsible for locating the sets: we want Deliverance, transposed to the level of insects. People struggled a bit to understand, but then we explained that we wanted the same magnified nature, even though Boorman's film is more monochrome than ours. "
TS: "We had to find the Rockies in France! And we found our happiness in the National Parks of Ecrins and Mercantour"
Minuscule pays homage … to the Shining

TS: "The arrival of the car at the beginning of the film is in the tone of the opening credits of Kubrick. These aerial images have an aesthetic function. Our intention was indeed to find the same masses in the composition of all the shots, that one is on a human scale, or on the scale of ants. If we compare the aerial shots of the car with the aerial shots of the insects that arrive later in the film, we have the same set of volumes . A mountain on the scale of humans, is replaced by a rock on the scale of ants. So we filmed the car and then the humans, as if they were insects. And, shot after shot, we tighten the frame. until we get to the level of the insects. "
Minuscule pays homage to … Psychosis

HG: "For once, it was a reference that was there from the script and we went so far as to download the plans of the real Bates house decor to design a dollhouse from these elements. We imagined that, when it was bought, this dollhouse was very girly, and it had become gloomy when it fell into the sewers. "
TS: "And we even used the two shots that precede the assassination of Detective Arbogast in the Hitchcock movie. The idea was not to just have a wink for fun: we appeal to memory. collective of the spectator to instill a feeling of fear. At this moment of the film, the ladybug must overcome fear, it is a necessary step in the initiatory journey of the character. We really like this crossing of the shadows. the writings of Joseph Campbell and it very likely influenced us. "
HG: "These are things that we have integrated and digested, like Grimm's tales."
Ray harryhausen

HG: "The lizard was really a roundabout way of having a dinosaur in our movie. The lizard has a bit of a rubbery texture like Harryhausen's puppets. But like all the references in the movie, it all came together. done unconsciously. "
TS: "Indeed, we did not have this intention in mind during the pre-production, but when designing certain sequences, and in particular the lizard scene, the films of Ray Harryhausen were naturally grafted into our project. I was shooting outdoors, I had the impression of filming a cyclorama with this mountain in the background, in short, I had the impression of being in Gwangi Valley. We suddenly calibrated the scene so that it was monochrome , year 50 type. And we deliberately jerked the animation of the lizard, on the one hand to respect the real behavior of the lizards, on the other hand to find the frame by frame look of the Harryhausen films in Dynamation. "
Is Minuscule inspired by Dark Crystal?

Thomas: "We did not think directly of this film, on the other hand it is true that we wanted to make both a monster film and a fantasy film. For example, the mushroom scene which takes place in the rain, of night, with the arrival of the snails, is dreamlike. It's almost like we're on an alien planet. It's probably due to my liabilities, since I'm more from sci-fi and fantasy design. "
Helen: "That's your Metal Hurlant side (laughs)! But it's true that we had to add life everywhere to make our world exist."
This animated film returns tonight on Gulli.
On the occasion of its presentation in Annecy, in 2014, its creators had detailed for First the influences of Tiny, the adaptation of a feature film series from France 5 that won over animation fans when it was released. Moreover, following this great success, Valley of the lost ants was entitled to a sequel, which was also very popular with the editorial staff of Première.
Far from limiting itself to being an excellent children's film, Tiny, the valley of the lost ants is also, if not above all, a way for its directors Hélène Giraud and Thomas Szabo to revisit on a microscopic scale a whole section of genre cinema which is only too little represented in France. Organically integrated into their project, this set of cinephilic references is not only playful, but also nourishes the purely visual narrative of this silent film. The two partners explain themselves.
Interview by Julien Dupuy
Minuscule is an uppercase movie for everyone [critique]
The story of Tiny : In a peaceful forest, the reliefs of a picnic trigger a merciless war between two rival bands of ants coveting the same loot: a box of sugars! It is in this turmoil that a young ladybug will befriend a black ant …
Trailer :