Première met the director of the comedy event, broadcast Sunday on TF1.
Update of September 4, 2021: The Great Bath is broadcast Sunday on TF1, for the first time in clear. We had met its director, Gilles Lellouche, for the film's release.
Interview of November 2, 2018: He was first a popular actor, he became popular. Realizing The Great Bath, in which he does not play, he tries both to reconnect with himself and with the audience. Here is an excerpt from our meeting with an artist who is getting his head out of the water.
François Grelet & Christophe Narbonne
FIRST: One has the impression that the question which agitates Le Grand Bain would be: how to transform a film on depression into a popular film?
GILLES LELLOUCHE : Ah? It's bad, I never asked myself this question (Laughs.) I didn't try, in any case, to calibrate the film in that sense, to make a film about depression into an antidepressant. I especially wanted to mix genres. The idea was to be first of all in the privacy of my characters, at the service of a collective emotion and therefore popular. The problem is, the term "popular" is often associated with rough, staining, big stuff. This word has been harmed. Just as there are great legendary pop hits, there are mass-produced summer hits. At the moment, we have the impression that it is the second category that dominates. But there are also too many intimate films that do not speak to anyone… The truth of cinema, from my point of view, is at the confluence of these two extremes.
What is "popular cinema"?
In fact, in the film Mathieu Amalric perfectly illustrates the porosity between author and popular cinema that manifests itself on the screen.
Exactly. Amalric had never filmed with Benoît Poelvoorde and looked at him with the eyes of a child. It was my reward. The film was not designed with the idea of ​​bringing together a lot of big stars, but once Amalric and Poelvoorde, two of my idols, agree to you, you cannot go and look for strangers to surround them. And then times have changed… I am always criticized for working with Marion (Cotillard) and Guillaume (Canet) whom I knew eighteen years ago, at a time when we were all very small. I can't help it if things have changed for us. I'm not going to deprive myself of touring with people that I like or who are part of my life. If I had done The Great Bath twenty years ago, I wouldn't have had an all-star cast but actors in the making!
The film builds a bridge between two shores, between mainstream culture and trendy culture. It really manifests itself everywhere and especially in the musical references: we meet there as well Phil Collins and Julien Clerc as Jon Brion (the composer of the first films of PT Anderson).
It's my personality, I can't tell you otherwise. I like McCartney, Phil Collins, Tears For Fears, Julien Clerc… As for Jon Brion, I had saved up on overtime, that's why we were able to afford him as a composer. (Laughs.)
You don't play in The Great Bath. Does this fit into this logic of taking a step back?
It caressed my mind, I admit. As I wrote all the dialogue, I played all the characters. I would have interpreted that of Poelvoorde and, more strangely, that of Katerine. Finally, I decided not to play because directing has always fascinated me. It is not a posture. I wanted to devote myself completely to the film, to my executives, to directing actors. To train like them for five months to play a role, it was not possible. It's almost not the same job.
The interview with Gilles Lellouche can be found in full in the 489th issue of First (October 2018):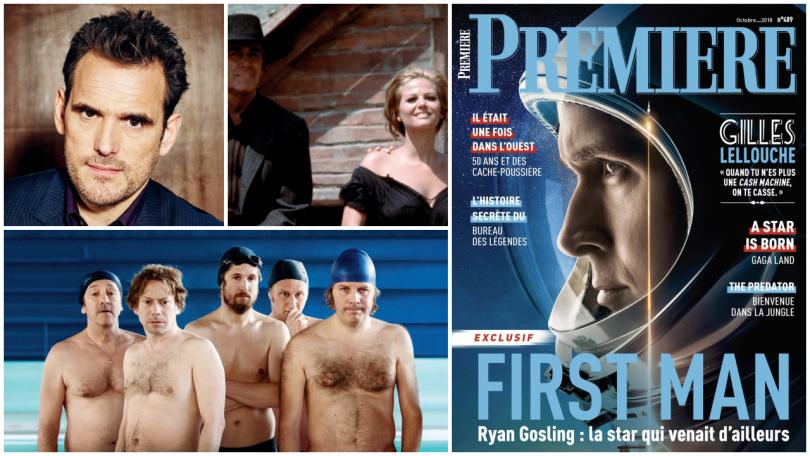 Summary of Première n ° 489: Ryan Gosling, Lady Gaga, Gilles Lellouche, Le Bureau des Légendes…
Trailer of the Large Bath :