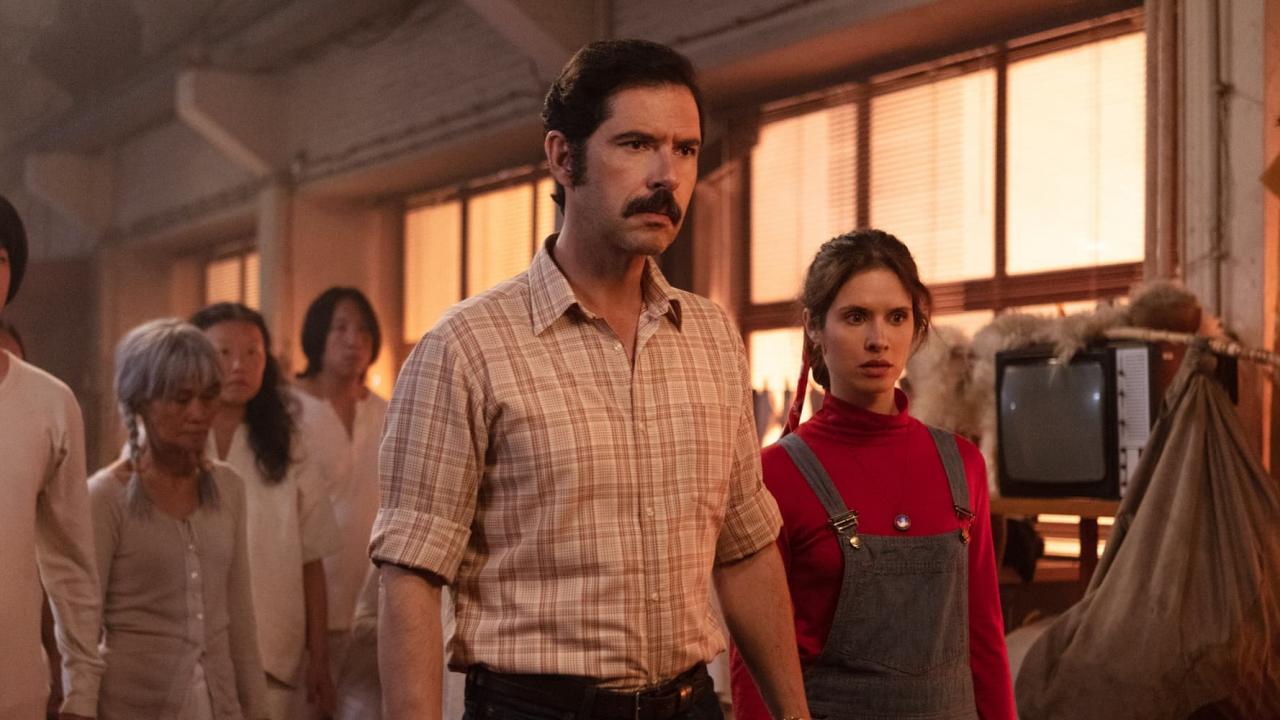 The exhilarating French science fiction comedy continues to happily collide with cultural references to deepen the existential quest for ever more out of step and endearing heroes.
Nice serial surprise of the year 2021, UFO(s) had shown in the first season a tasty tone and a sparkling visual touch, made of superbly digested fantastic references. We followed the setbacks of Didier Mathure (Melvil Poupaud), an upset space engineer and overwhelmed father, who found himself transferred to the head of an investigation office specializing in UFOs, the Gepan. Trying to give, in the France of 1978, scientific explanations for alleged appearances of flying saucers in the company of a team of nickel-plated feet with a tender heart, Mathure gradually abandoned his Cartesian certainties.
Season 2, which returns exactly a year later – from this Monday evening on Canal + in prime time – brings together the same artistic team: the creators Clémence Dargent and Martin Douaire direct the writing – with Maxime Berthemy – and the production of the twelve 30-minute episodes is again provided by Antony Cordier (Gaspard goes to the wedding). The plot picks up a year later, in 1979: Didier Mathure now firmly believes in UFOs, after seeing one at the end of season 1 under the influence of LSD. Alongside Véra (Daphné Patakia), he crisscrosses France in search of supernatural phenomena and seems more disconnected than ever from his children and his former companion, Élise (Géraldine Pailhas), who has become director of Cnes (the National Center for spatial studies). When a mysterious event occurs in a nuclear power plant, Didier quickly reconnects with his former colleagues from Gepan, such as Marcel (Michel Vuillermoz) or Rémy (Quentin Dolmaire). Together, they try to establish contact with an intelligence from elsewhere, closely watched by a newcomer, Claire Carmignac (Alice Taglioni), who manages communication for the Ministry of Development and Energy.
Under the assumed angle of comedy, the series always manages to bring out the most offbeat fantasy in the stuffy atmosphere of Giscard's France, plunged into the midst of the oil crisis. Guided in particular by an obsession with giant cotton candy, which places this season somewhere between Ghostbusters and an adventure of Spirou and Fantasio, the characters have as much trouble living a fulfilling love life as keeping their feet in reality. The search for meaning of these distraught individuals is even more precise than in season 1 and takes full advantage of the hybrid and colorful form of this amazing drama.
To references like Dating of the Third Kind Where Abyss that punctuated the first season are followed here by allusions to the Superman by Richard Donner (released in France in early 1979) and a taste for melancholic music; the melody of Devil by the tail (comedy by Philippe de Broca that director Antony Cordier adores), directed by Georges Delerue, thus accompanies in episode 6 a magnificent split-screen sequence.
By playing on the conflict between the rational and the irrational, UFO(s) takes on a very contemporary resonance when it comes to questioning the role of science in French society and evoking environmental scandals. This season also tackles the crisis of the boat people from Southeast Asia as a backdrop and insists on the feeling of personal exodus that affects each protagonist. If the series does not avoid a few repetitions, it is difficult to sulk one's pleasure in the face of this show which mentions pell-mell Marie Curie, Bernard Kouchner, The pink PantherArthur C. Clarke or Star Wars and who allows himself joyful and sensual audacity. Cosmic and celestial, this season 2 offers a dream way to keep in touch with our own humanity.
Season 2 of Ovni(s) is broadcast on Canal + from February 21, with 3 episodes per evening, and is available in full on MyCanal.