From 1979 to 1995, Jean-Paul Belmondo made the cover of Première five times. Small anthology of the confidences he had made us during these meetings, where we read between the lines the evolutions in the way of living his profession and carrying out his career.
This article is taken from our large file devoted to Jean-Paul Belmondo which appeared in issue 522 of Première, currently available on newsstands and on our online store.
Order number 522 of Belmondo Special Premiere

Premiere n ° 26 – March 1979: "Anti-heroes are snobbish"
It's for his first Lautner, Cops and robbers, that Belmondo appears for the first time on the cover of Première with a poster-interview in which he confides in his relationship to his profession and to the star-system.
"Today, everyone is talking about anti-heroes, anti-stars! It has become incredible snobbery! Because all the same, the cinema is ALSO to make people dream, isn't it? (…) When you are a child, you like to see heroes in the cinema and they are the ones who make you love the cinema. This is why I say that if we only made films with anti-heroes as we say or with ugly girls, we would end up killing the cinema!"
"Actors who say they don't like success, that they don't like to be recognized, are lying! If it was true, they would do something else!", also loose Bébel.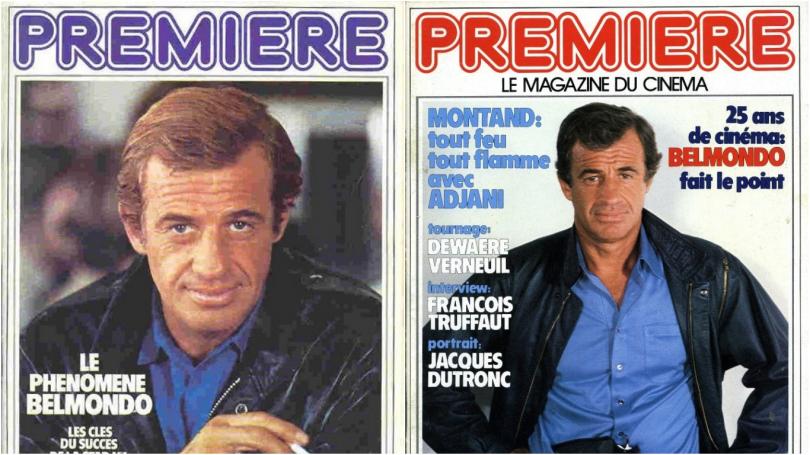 Premiere n ° 37 – March 1980: "In France, we lack writers"
While his second Lautner, The Guignolo, will enter the top 10 of the biggest hits of 1980 with 2.8 million admissions, Première deciphers in ten pages the Belmondo phenomenon to find out "how and why the rebellious young manBreathless has become in twenty years the star of French cinema".
"Find me in the French production of recent years a film that I could have made, that I was wrong not to make! There isn't one! Because in France, we lack writers, good subjects. Everything is here !"
"I can't fool those who pay to see Belmondo. Whatever the scenario, I always have to get out of it. I cannot be a loser. And if I die, I must end up as a hero, not a lousy one. However, in The Mississippi Mermaid, I was being led by the tip of my nose by a woman. The public did not like. "
Premiere n ° 55 – October 1981: "Mesrine, the Americans would have already done it"
18 months later, rebelote. Belmondo returns on the cover of First for the professional, and further criticizes the weakness of the scripts in French cinema. "When you see the pre-war films, apart from the star, there were a lot of characters around. Good and exciting. Today, it is already difficult to bring a main character to life. We are far from the time when we wrote films of the quality of Pépé le Moko, The great illusion or The day rises…"
The actor also tells us that he tried to adapt the story of Jacques Mesrine, in vain ("everyone is scared …"). A heartbreak for Belmondo, who is fascinated by"the cinematographic side of the character: his escape from Health… Unheard of! Who could have imagined that a guy could escape like that?… His passage in Canada, his exit… it is the French Dillinger (…) His death, for example, is an incredible death of cinema! Shot with 50 bullets, like Bonnie & Clyde… The Americans, they would have already done it…"
That is to say all the ingredients of Jean-François Richet's diptych, with Vincent Cassel, which will finally see the light of day in 2008, almost 30 years after this interview …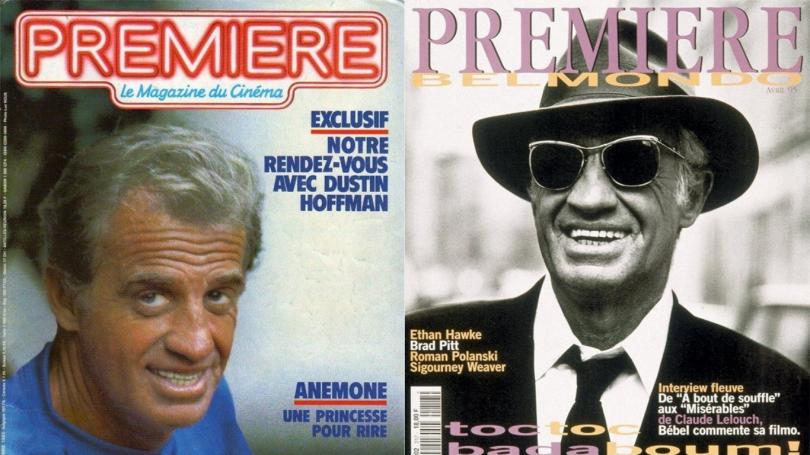 Premiere n ° 103 – October 1985: "I don't see myself with a fishing rod"
While tumbling down Back to the future and that Première landed an interview excluded from Dustin Hoffman, it is indeed Bébel who is on the cover with a river interview … after four years of cold between the magazine and him. A more memorable moment than Hold-up of Arcady, then not seen, where, we wrote, "all the ingredients seem together for a triumph". Lost bet.
"I would be lying to you if I told you that tomorrow, I would not want to play a character like Léon Morin or like that of A monkey in winter. But I still have to be offered it! People think I want to play Zorro at all costs and win all the time. Not at all !"
And no question of talking about retirement to Bebel: "Contrary to legend, I don't see myself with a fishing rod or retired to the islands!"
Premiere n ° 217 – April 1995: "I really have no regrets"
Belmondo comments on his career and comes back – the time for a sublime photo shoot – there
where the Michel Poiccard ofBreathless had fallen under bullets thirty-five years earlier. Our
final meeting with him, at the time of the release of Miserable by Claude lelouch. "I had the chance to tour with the greatest. All lovely people. Those who piss you off are the little starlets or the little actors of nothing at all who make you late! (…) Gabin, whether you were shooting at a quarter to twelve or a quarter to twelve, he was eating his chop on the set. They were pros, in a good way because at the same time they were having fun shooting and didn't pose any metaphysical problems.. "
"I never understood why I was criticized so much for my stunts. If I did them, it was because it amused me. (…) The cinema gave me the opportunity to do things that I would never have done. It started with The man from Rio then I found myself hooked up to a helicopter over Venice, Paris, Nepal … Where can I do that without finding myself at the station? I was having fun and people liked it …"
"I didn't have an American dream. If I had been screwed as a cowboy, that would have made people laugh!"
"I was very happy to tour with Godard, but also with Lautner. (…) I had the chance to be among the actors who were able to mix all genres, from the New Wave intellectual to frank laughter. I really have no regrets. And if you give me to choose between a damn career playing in front of 100 people with rave reviews and an overly popular actor, I don't hesitate, I'll start again tomorrow.. "