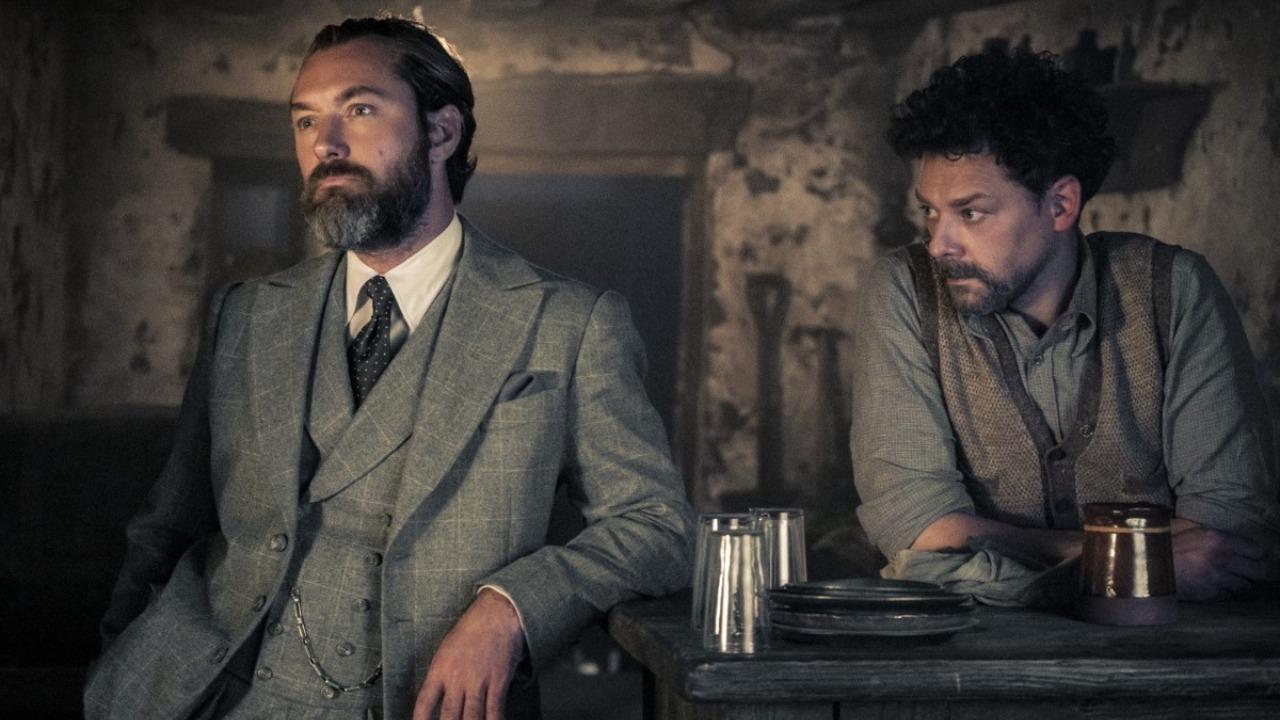 The actor says a little more about The Secrets of Dumbledore.
Gathered for the press conference of the Fantastic Beasts 3 – Dumbledore's Secret, Eddie Redmayne (Newt Scamander/Norbert Scamander), Jude Law (Albus Dumbledore) and Mads Mikkelsen (Gellert Grindelwald) explained that their characters would still evolve after this third installment. Producer David Heyman, director David Yates and screenwriters JK Rowling and Steve Kloves are therefore preparing at least one more film to link this saga to the plot of Harry Potter. Extracts.
Jude Law: "What David (Yates, the director) advised me to do on these films is not to imitate the performances of Richard Harris and Richard Gambon (who played Dumbledore in the Harry Potter, note), but to assume that it is not the final form of Dumbledore that we see here. He is different from the character of Harry Potter, he is a man who seeks himself, who confronts his demons. In this film in particular, he feels guilt, but I already find qualities in him: he is also mischievous, full of humor and he sees the good in everyone. He will also do it in the future: Dumbledore believes in Draco (Malfoy), he even believes in Tom Riddle (the Hogwarts teenager who will become Lord Voldemort, editor's note). He sees the potential, the positive, and I think he's always had that in him. I believe that I prepared myself to play it, unconsciously, since I read the Harry Potter to my children. There's so much for an actor to explore in such a rich character. There is of course the whole magical universe, which is very fun, but also as a human being.
Fantastic Beasts 3: Dumbledore finally declares his love for Grindelwald on video
Eddie Redmayne: "I love the relationship between Norbert and Dumbledore. For me, it's the complexity of a relationship between a master and an apprentice. It evolves over the films to become more brotherly. More like a big brother with his younger brother. And there is a moment in this movie where Norbert sees Dumbledore's vulnerability and tries to help him. Norbert is an introvert, more comfortable with his creatures than in the human world, but here Dumbledore saw that he had the potential to be a leader. An unconventional leader. Who makes a team of underdogs."
Mads Mikkelsen: "They had all been there for two films when I arrived. For me, it was like a visit from family, from the in-laws: you're new, you hope they adopt you. That's what they have done: this team is fantastic, David the first. If we were a family, he would be the godfather, the one who makes everyone feel good. My experience on this film was quick, and they They agreed right away. Grindelwald is very connected to Dumbledore. We obviously talked about that, how he fits into this world. No one thinks: 'I'm going to be the bad guy.' We must ask ourselves: 'why does he act like that? What is his goal ? Why does he want to make the world a better place, but this way?' They had the same goal when they were younger, and then their way of achieving it changed."
The trailer for Fantastic Beasts 3at the cinema on April 13: