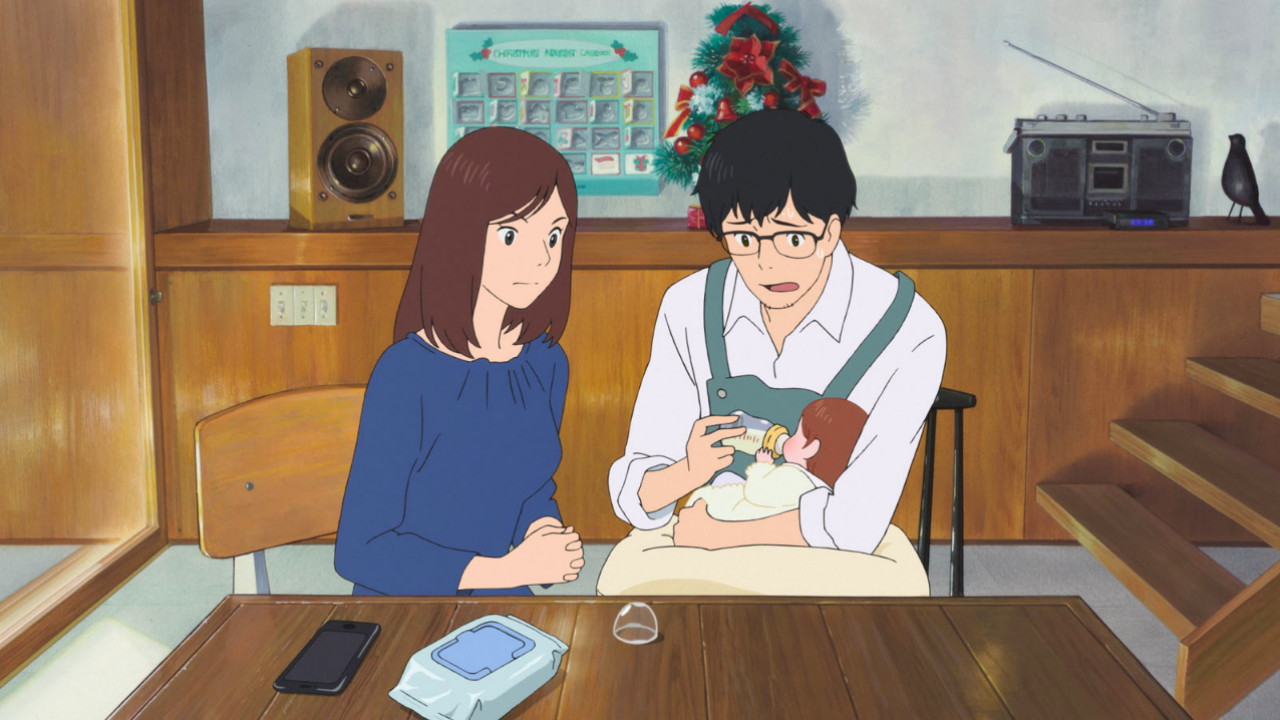 This beautiful animated film can be seen on Arte.
Mirai, my little sister released on December 26, 2018 in France, and it was to critical acclaim. Presented in competition at the Annecy Animation Film Festival and at the Directors' Fortnight in Cannes that year, the animated film by Mamoru Hosoda, director of Summer wars and Wolf Children, is an incredibly rich family and magical chronicle. We had met the director, also incredibly rich, as part of the Annecy festival, and are sharing his interview today, on the occasion of the film's broadcast on Arte.
Miraï, my little sister will surprise you [Critique]
Miraï, my little sister, gives the impression that there are several films in one: family comedy, fantastic adventure, a realistic chronicle …
Usually, I always compose my films in three chapters. Here I added sub-chapters … It's a first for me. In fact, the invisible structure of the film is that there is one episode per family member. If there is no apparent structure, it's because I really wanted to be interested in details of everyday life.
In animation cinema we are less used to realism and everyday life.
When you look at the history of Japanese cinema, there is a kind of school of everyday life. We cannot ignore the cinema of Yazujiro Ozu, who influenced me enormously for Miraï, my little sister. I watch his films regularly. In life, the details of everyday life are extremely momentary events, which are quickly forgotten. I wanted to show them in a movie before I forgot them, so that I could remember them later. Now I have two children; I started to work on Mirai when my eldest daughter was born, who served as a model for me.
There is also a very moving passage on the story of the grandfather, injured during World War II. Is this a true story?
Yes, in part. My wife's great-grandfather really lived in Yokohama, near the sea. He made engines for warplanes, he was recruited into the navy, he was injured but he survived. On the other hand, the episode of the bicycle is a pure invention: I wrote it because I would have liked to learn something from my great-grandfather.
We obviously think of Isao Takahata, the realist of Ghibli. What influence has he had on you?
On May 15, there was a tribute to Takahata at the Ghibli Museum, I was unable to attend because I had to leave for Cannes … He is a director for whom I have the greatest respect. He taught me everything: in 1979, I watched the series directed by Takahata Anne, the house of green gables, on Japanese TV. It is a classic of children's literature which has been adapted a lot, including for the cinema. Takahata's version is extraordinary because it doesn't stay from Anne's point of view like the previous versions, it detaches itself from it, it flies over everything with a lot of humor and visual ideas, details of a incredible accuracy. I really learned everything from watching this series: how to tell a story, how to make movies without any spectacular subject matter. And above all, how to illustrate everyday life with thoroughness and emotion. Takahata's series is even superior to the original book, in my opinion. It is a model of adaptation. His death saddened me a lot.
Did you show him some groundwork to Mirai ?
No, I don't think he saw anything Mirai. But members of my team were also working with him in parallel, and maybe through them Takahata knew what I was doing. Afterwards, I wouldn't spontaneously come to see him to show him drawings or even a trailer. He was going to discover films at the cinema, of his own accord. Now, I wish I had shown him anything. Maybe I should have come to his house to present something to him …
The motto of your animation studio, Studio Chizu, is "the smallest studio in the world". What does it mean ?
Chizu only produces one film every three years, and never a commissioned film by big investors or television. Studio Chizu is absolutely not stable, commercially speaking. I don't know until when we can continue, but I don't think that many of us have the chance to work in this kind of studio.
You have worked a lot for animated TV series: what memories do you keep?
Lots of things … I worked for 14 years for Tohei Animation which made both films and series. Each episode had its own director, and so it felt like working on real short films every time. In other studios there is a director for the whole series. So I was able to make several short films within Tohei.
Was one episode more memorable than the others?
Ahah, yes! I remember an episode of the series Ojamajo Doremi. Just before, I was part of studio Ghibli where I had to direct The Howl's Moving Castle. But for X reasons, I was fired. I came back to Tohei and did this episode right after: everything I wanted to do in The Howl's Moving Castle, I put it in this episode.
You say "a film every three years" … Are you already preparing your next film?
You know, even the Japanese need to take a vacation! I intended to rest after the promotion of Miraï, but by dint of doing interviews, listening to journalists, ideas came to me for my next film … Some journalists even come to see me to tell me what my new movie. I think about it. I have a direction. So no vacation.
Do journalists give you advice for your next film?
Maybe not advice, but they give me ideas, that's for sure. (laughs) I have a vague idea, but giving interviews gives me a huge creative boost.
Cannes 2021: the Japanese animated film Belle added to the selection