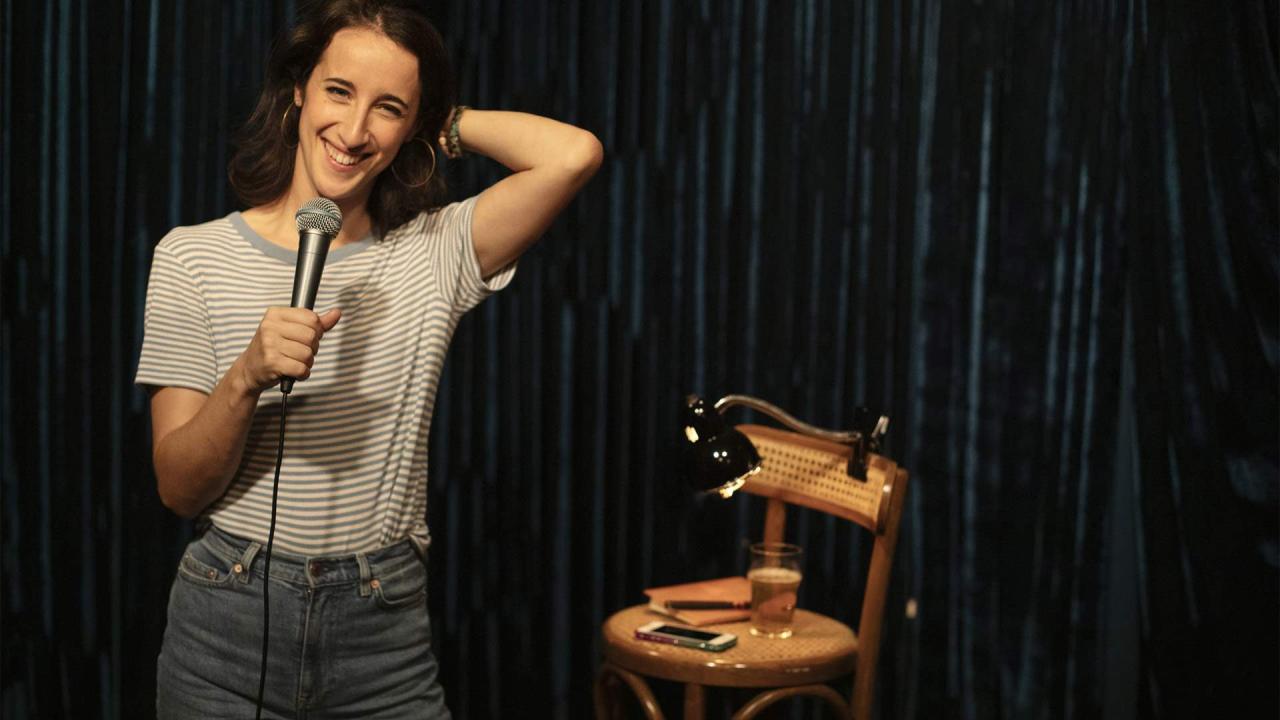 His stand-up series is presented at the Séries Mania Festival before it arrives on OCS on September 2.
Actress, humorist and columnist on France Inter, Agnes Hurstel arrives on OCS with its first series, Young and Golri, selected in official competition at Séries Mania. The story of Prune, a young stand-up shoot, who is trying to make her mark on the underground scenes of Paris. A trendy subject and totally in line with the Lille festival since the stand-up will be the common thread of this 2021 edition.
FIRST: In Young and Golri, you tell the story of Prune, a young woman who tries to stand out in the humid and friendly cellars of comedy clubs in Paris. Is it based on your own experience?
AGNÈS HURSTEL: Yes, I wanted to show this underground universe of the night that I discovered at the age of 25. A kind of super brutal gym where you spend five minutes every night. Either you flop or you become the king of the world. I tried to be as realistic as possible, that's why I took real stand-up actors [Paul Mirabel et Nordine Ganso, notamment]. There are lots of different profiles in these cellars. Nordine has been there for years, he is very strong, but he takes a long time to move on to the stage of the show. Whereas a girl like Lison Daniel, who comes from Instagram, is able to do something in five minutes and blow it straight up.
How did you become a comedian? Was it a vocation?
No, I wasn't predestined at all for that. I was studying literature. I was preparing Normal sup. I wrote very serious plays, I was rather anxious, very academic. And suddenly, at 23, something changed. I understood that everything I said in a dramatic way could be said in exactly the same way, orally, on stage, in front of people. And how funny it could be! It unlocked my life, actually! In reality, I never understand anything. And then, I just have to write it down for me to understand what I'm going through. I tell it and, suddenly, I no longer saw it …
Plum, is that you?
Let's say it's my fictional double. In truth, I would like to be like her, but I have much less panache! I would love to do stupid things, spread poo everywhere, but I'm actually wiser … less immature too.
OK, it's you without being you. But I was wondering … Do you, like her, have this little notebook in which you take daily notes?
Ah ah, well seen! Yes, I still have a notebook with me. I draw a lot in it. I tell my dreams there, I write stuff … Yes, yes, I have this little notebook. (Laughs.)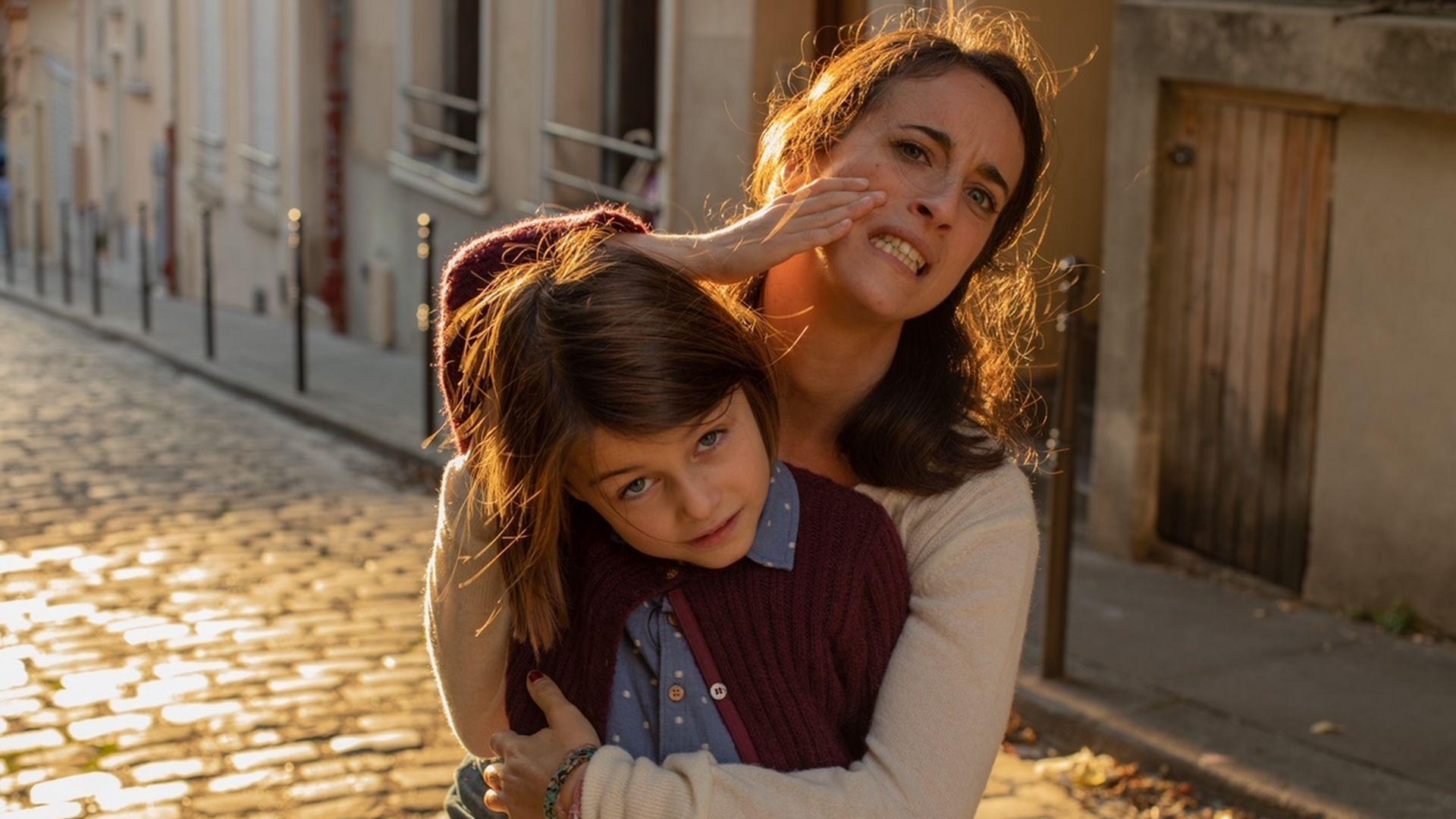 What have you kept from your years skimming the little Parisian stand-up scenes?
This is where I learned the most. When I was in the comedy club, I was also a waitress. The two best gaming schools of my life! Because it's a bit of a weird thing. You're at home, it's 11 p.m., your alarm is ringing and you have to take your bike to go play at 11:30 p.m., do a five-minute performance, in a place you don't know … exhilarating, but it's super weird, when you also have a job during the day, a life on the side. There are evenings when it's galvanizing, and evenings when you do four performances in a row, playing the same skit, and where the reactions are different because people do not have the same alcohol level, or are not in the same state of mind! (Laughs.) It's a routine to take. It's hard, but it's also adrenaline! I haven't been going there for two years. And I admit that to write my second show, I will no longer go through the comedy club box. I will rather go to a writing residency.
In the series, one thing struck me, it is the competition that exists between the stand-up comedians. Is there really this kind of rivalry?
Absoutely ! This microphone cut side, red light that puts an end to your set earlier than expected … I was a little hazed like that. Often more by women than by men, moreover … I do not know how it is today. There are plenty of new places that have opened up, with a very different mentality, and I find that very positive. There are more sweet, lunar comedians, a bit off their pumps, the way Paul or Nordine are shown in the series.
What prompted you to make this universe a series?
My first stand-up show was the most rewarding thing of my life. But also a very lonely thing. You are alone to write, alone to play, alone in front of the audience. I really wanted to play with my friends again. And above all, I wanted to continue this self-fiction process which fascinates me.
The big stake of autofiction is the staging of oneself and those around them. And Prune's big dilemma, the question she asks herself, is how to make people laugh at the expense of those close to her. Is that a question that concerns you?
I think that from the moment you put words on a feeling, an event, it is no longer reality. She is transformed. These are conversations I often have with my girlfriend Marina Rollman, for example. By listening to his show, you can't know what his life is like! Me, I admit that I play a lot on this trick of making people believe that I am telling my life story … I like this "true lie". It has fascinated me for ten years. When you say something true, it's so big people think it's wrong. And right after, you say something completely made up, but as you say it in a super natural way, people think it's true! I am always between these two waters.
It never happens, when you write, to say to yourself that you are going too far, that the joke is not worth it?
Of course yes! What Prune does on the show, I could never do in reality. She's going way too far. It's a drama what she does. It is a betrayal. All the way for this character is to understand – as I understood by doing stand-up – that she protects herself by being provocative, by being tough and cynical. While in truth, you have to manage not to make fun of others, but to make fun of yourself, through a much more tender humor. It is always a very bad sign, if you laugh in vain. If there isn't a loving foundation behind it. I have a hard time with things that are too cynical. I started like that, doing very hard improvisations, in cellars, taking the public to task. I was shouting "Shut up!" When it spoke in the audience. It was rubbish …
Stand-up actor and comedian, is it the same job?
I never understood the vocabulary of this profession. I can't even say if my show was stand-up. Because in the middle of this self-fiction thing, I would transform into a character and do a skit. I have the impression that stand-up is simply talking to people without a fourth wall. In fact, to be honest, I don't think I know how to manage the lexical field of this environment! (Laughs.)
In two or three years, you went from the cellars of Paris to the stage, then to France Inter, to the cinema, to your first series. Does everything go very quickly when you are a successful comedian?
Me, I do not live it at all like that! Because I've been trying to do this job for ten years, by all means. And it is not easy. (Laughs.) I can see that now I have a lot of work. But in fact, it's like a craft that sets in. It took me a long time to find what I wanted to say, my voice, my identity.
And when you knew that Young and Golri was selected at Séries Mania, what did it do to you?
It's a sick thing. When I saw that I was in competition with series of big chains, in particular that of Valérie Donzelli (Nona and her daughters), it made me very proud. I don't really realize. And then the 2021 edition of the festival gives a large place to stand-up. I was even offered carte blanche to talk about the series that inspired me. It's crazy! I still can not believe it…
Plum interpreted by Agnes Hurstel, young and golri, and Jonathan Lambert Francis, old and vexed, present their new guide to parenthood. Jeune et Golri, September 2 on OCS. pic.twitter.com/o6ybU2K8a1

– OCS (@OCSTV) August 26, 2021