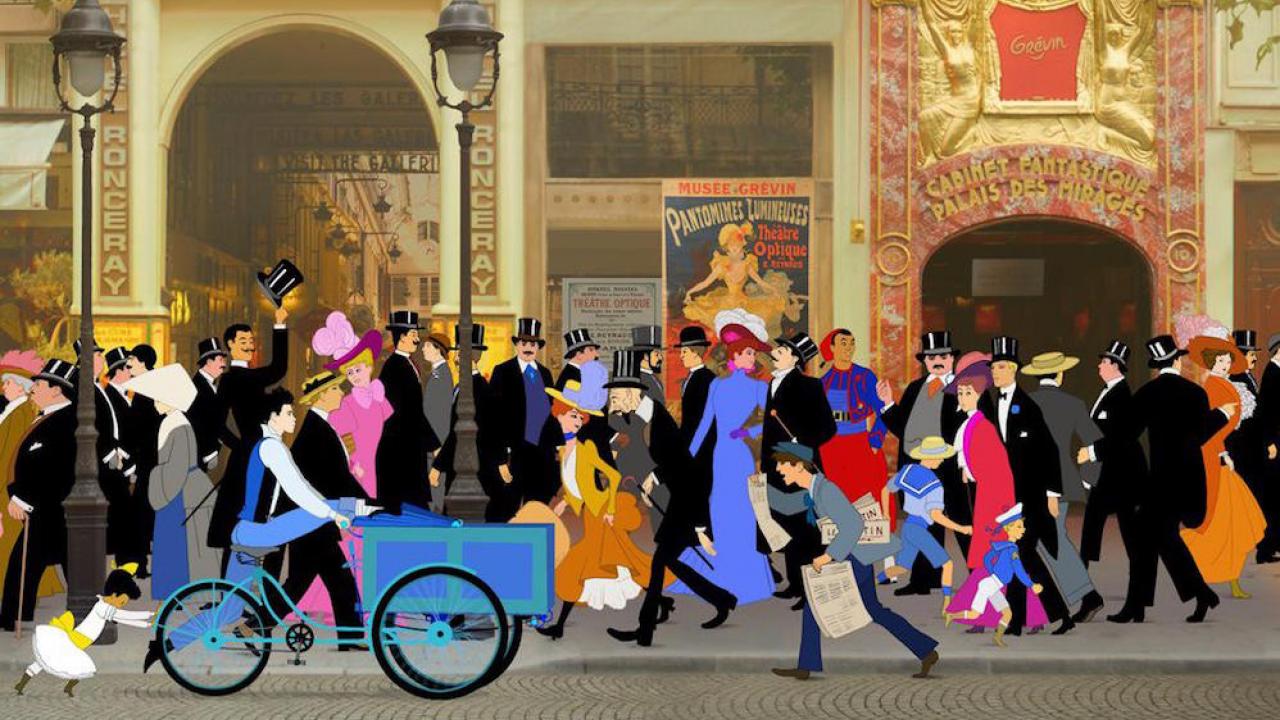 Dilili in Paris opened the Annecy Festival in 2018. Michel Ocelot was kind enough to tell us about it.
Update July 28, 2021: The creator of Kirikou (winner of the Crystal of the Annecy festival in 1998), Michel Ocelot, had answered our questions within the framework of the presentation of his film Dilili in Paris, in 2018. On the occasion of its broadcast on Arte, this evening, we are sharing this interview.
Dilili in Paris: Lively and committed [Critique]
Meeting of June 11, 2018: We therefore had to wait twelve years to see an unreleased feature film by Michel Ocelot –Tales of the night and Kirikou and the Men and Women were compilations of short. Twelve years to equal, perhaps, the splendor ofAzur and Asmar. In Dilili in Paris, the director of Kirikou and the Witch features a Kanak child who investigates mysterious disappearances in Paris during the Belle Époque. The first images suggest the best.
How was this Dilili born?
I first wanted to locate the action in Paris, during the Belle Epoque. Then I realized that people were whitish back then. Was I going to make a film where there would be only whitish people? (laughs) I would have been disappointed as well as part of my audience. Dilili, a mixed-race girl who escaped from one of the indigenous villages reconstituted at the time in public parks, was needed. She understands and speaks French because I discovered that the anarchist Louise Michel, deported to New Caledonia, had learned, on the spot, to read and write to children. Dilili can thus lead the investigation into kidnappings of little girls.
Is it a film about the status of women?
Everywhere and at all times, men have behaved badly with women. It kills more than wars. It's everyday and sometimes when you don't die it's worse. This is an important thing that I wanted to address. In counterpoint, I also wanted to evoke the benefits of Western civilization, in particular in Paris, at a particularly open and creative time, with men and women living in harmony.
Kirikou and men and women: Michel Ocelot confirms his talent as an outstanding storyteller
I imagine that that period, where Art Nouveau flourished in particular and the elegant women's dresses, matched your universe perfectly?
It was good to show this artistic current which lasted very little time and which was innovative. I really enjoyed playing with colors and materials.
How does this translate visually?
As the city of Paris is beautiful, I did not redo it, I photographed it. The characters are animated in real-life settings. Everything that we see exists.
What does the Annecy Festival represent for you?
Annecy is a sacred place for me even if, for twenty years, I have not had the opportunity to spend a full week there. I look forward to it this year.
The Festival pays tribute this year to your friend Isao Takahata. A word on this great animation?
It's a dream for me to have been able to collaborate with such a master -Takahata adapted Ocelot's films into Japanese, editor's note. We saw each other as soon as he came to France, which he adored. We were mainly talking about life … His films are all discreet and we do not immediately perceive the audacity. I think he will last as long as his awesome classmate, Miyazaki.
The tales of the night: the new magic of the creator of Kirikou