Coming from a Pakistani family who immigrated to the USA and practice the Muslim religion, Kamala arrives on Disney + with the mission to represent the diversity of MCU fans, as explained to us by creator Bisha K Ali and directors Adil El Arbi and Bilall. Fallah.
The introduction of Kamala Khan in the Marvel Universe is not insignificant. Beyond presenting the future sidekick of Captain Marvel, the Disney+ series (which begins this Wednesday) is based on a Muslim superheroine for the first time. With her immigrant parents from Pakistan, balanced between American culture and Muslim culture, Miss Marvel comes forward as a new figure, in which many MCU fans around the world can identify.
How Miss Marvel Was Made Knowing Nothing About Captain Marvel 2
Like the screenwriter of Miss Marvel herself ! British – also from Pakistan – Bisha K Ali explains that, since Kamala never imagined becoming a superheroine, "I thought I would never be able to write this kind of series one day! It was completely out of reach, reserved for other people. When she gets her powers, Kamala feels like an impostor. I have a bit of the same syndrome… I'm a second-generation immigrant, I've always been torn between two countries. I've always had trouble finding my place. I've always been torn between two worlds, two cultures and I think that's why I find myself so much in this series."
The same for Adil El Arbi and Bilall Fallah. The Belgian directors and producers of Miss Marvel tell us that they were able toidentify very easily with Kamala Khan. Because we are Belgians of Moroccan origin! And at 16, we were also looking for our place in this world. Kamala is going through the same kind of identity crisis that we had back then."
This representation of the Muslim community within the MCU then transforms the little kiff Miss Marvel in crucial series. It suddenly becomes the pavilion of universality of the Marvel Universe. "Because Marvel is a hyper-dominant franchise in the world", decrypts Bisha K Ali. "His audience is so vast. Suddenly, it must show superheroes from all kinds of external origins. Stories created and told by people who come from these origins!" For the screenwriter, the stakes are huge because it allows us to "simply show these people in a human light. For instance, Miss Marvel allows the world to see Muslims differently. I grew up in a post-September 11 world. In 24 hours, everything changed for us. The way people look at me, my family, my loved ones, has changed drastically. Of course, I'm not saying Miss Marvel is going to solve this. But the series may be part of the solution, by humanizing my Muslim community. While being a gift for children like me around the world, who will be able to recognize themselves in this character."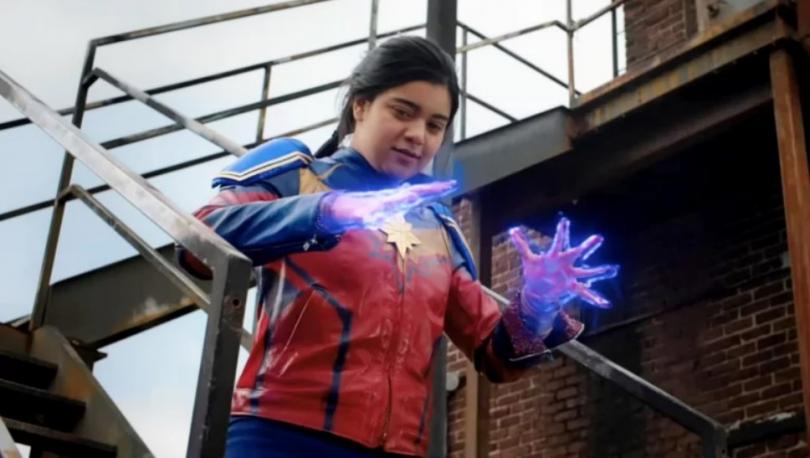 Adil El Arbi and Bilall Fallah are among them. The duo of filmmakers confirms by confiding to us that "many moments in the series echo our story. Kamala's father is very close to mine, for example. He has the same clothes, the same wisdom… And then, we too were not very popular kids in high school, a little clumsy, his head in the movies all the time…"
For them, the appearance on the scene of a Avenger Islam is an event with tremendous symbolism: "Muslims are already rare on TV or in movies. So there, it's a tribute to all the Muslim women in our lives: my sister, my niece, his wife… Above all, beyond the pretty symbolic representation, we wanted to create an endearing universal story, of empathy for Kamala, that everyone can recognize themselves in her, even if you are not Muslim. A bit like everyone manages to project themselves into Peter Parker, this little guy from Queens, we hope that everyone will manage to connect with this girl from New Jersey…"
Miss Marvelin six episodes, will be on view from Wednesday on Disney +.