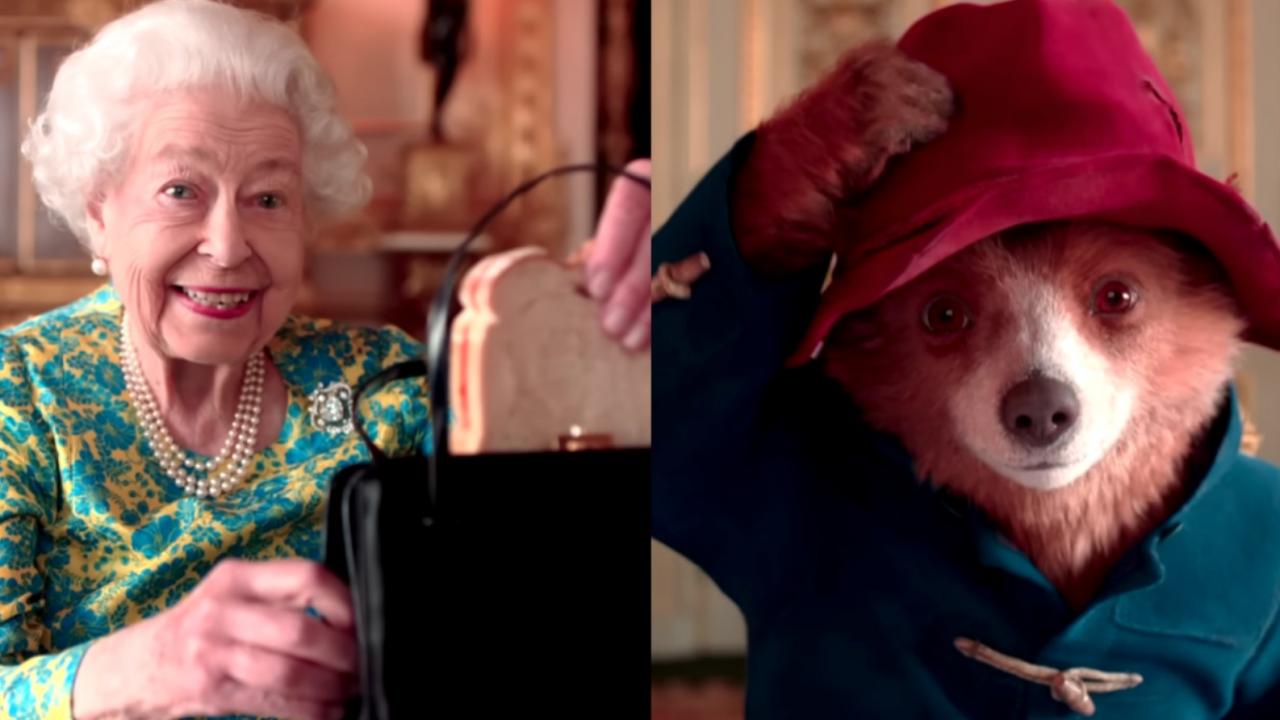 Buckingham Palace, the BBC and StudioCanal prepared this lovely surprise for several months. A sketch as strong as the opening of the Olympics with James Bond, ten years ago…
It was the event of the weekend, in England: Queen Elizabeth II celebrated her 70 years of reign and to launch the Platinum Jubilee concert, which was attended by dozens of stars (Queen, Elton John, Alicia Keys , Craig David, Diana Ross, Hans Zimmer…), Buckingham Palace had organized a surprise sketch with the bear Paddington, very popular in England. We see the Queen welcoming the nice teddy bear for tea, then he wishes her "a happy jubilee" and thank her "for everything"with the voice of Ben Whishaw, of course: in original version, it is he who voices the hero in the two films released in 2014 and 2017. For the occasion, Elizabeth II finally reveals what she hides in her bag, then they tap their teacups with their spoon to the rhythm of "We Will Rock You"as the Queen concert is about to start… Here is the video:
This on by if not better than the Olympic James Bond scene.
The Queen having tea with Paddington – incredible that at 96 and after 70 years on the throne she still has the power to surprise #platinumpartyatthepalace pic.twitter.com/88NP1ScpXx

—Michael Cowan (@mrmikecowan) June 4, 2022
Paddington 2 is a delight [critique]
This is not the first time that the Queen has broken the usual protocol to lend herself to the game, for the time of a sketch. In 2012, she opened the London Olympics ceremony with Daniel Craig, alias 007, appearing with her husband and their corgis, then even jumping out of a helicopter to join the stage! An idea that had amused the public a lot, then which had been deciphered by the interested parties: the actor had reacted in the press, just like the lining of Her Majesty. Craig also took part in the Jubilee this weekend, by recording a message for herwhere he thanks her and affirms that he will follow her everywhere, "even on board a helicopter".
An animated Paddington series with Ben Whishaw
Here, Simon Farnaby plays a butler alongside the Queen and Paddington. A role that is not secondary, since it was he who was chosen to imagine this sketch: he was already in the casting of Paddington, and even co-wrote the second installment with director Paul King. This time, he imagined this tribute in collaboration with Buckingham Palace, BBC Studios, Heyday Films (the company of David Heyman, the producer of Harry Potter) and StudioCanal. All had been in on the secret for several months, reveals Deadline, which collects their reactions following the broadcast of the sketch. And its crazy success! The jubilee concert was attended by 13 million Britons, a record for a televised event in the country.
"Her Majesty is famous for her sense of humour, it shouldn't surprise you that she decided to take part in this skit, comments the Buckingham Palace spokesperson. She was interested in the filming and animating process, and she jumped at the chance to invite this famous bear cub over for tea. It was too much fun to miss. Although the Queen cannot attend the concert in person, she was very happy that people understood how much it means to her, and that the public had a good time."
Mark Sidaway, responsible for producing this "Platinum Party" for the BBC, adds: "We were really thrilled and honored when we learned that Her Majesty had agreed to join us in bringing this joyful idea to life. Well, we were also a little nervous to run the show smoothly afterwards, when Queen and Adam Lambert started their live performance."
Rosie Alison, who works for Heyday Films, remembers her"a very moving shoot for the whole team. We were all under the spell of the Queen, her aura and her human warmth when she patiently struck up a conversation with our polite, clumsy but very caring teddy bear. Obviously, she shone and put Paddington (and all of us) at ease. Filming this adorable encounter was an exquisite moment for all of us. A unique privilege. So in the words of Paddington: 'Happy Jubilee, madam. And thank you. Thank you for everything.'"
Anna Marsh, at the head of StudioCanal, is also very proud to have been able to organize this surprise in partnership with Buckingham Palace and the creators of Paddington. "Shooting with Her Majesty and Paddington Bear at the Palace is a memory we will all cherish. Her Majesty was so generous and kind, it was a joy to be part of it. What better way to thank her than Paddington, tea, a marmalade sandwich and a little bit of madness? Aunt Lucy would be proud."
Paddington 3: 'I don't think Paul King will direct it'