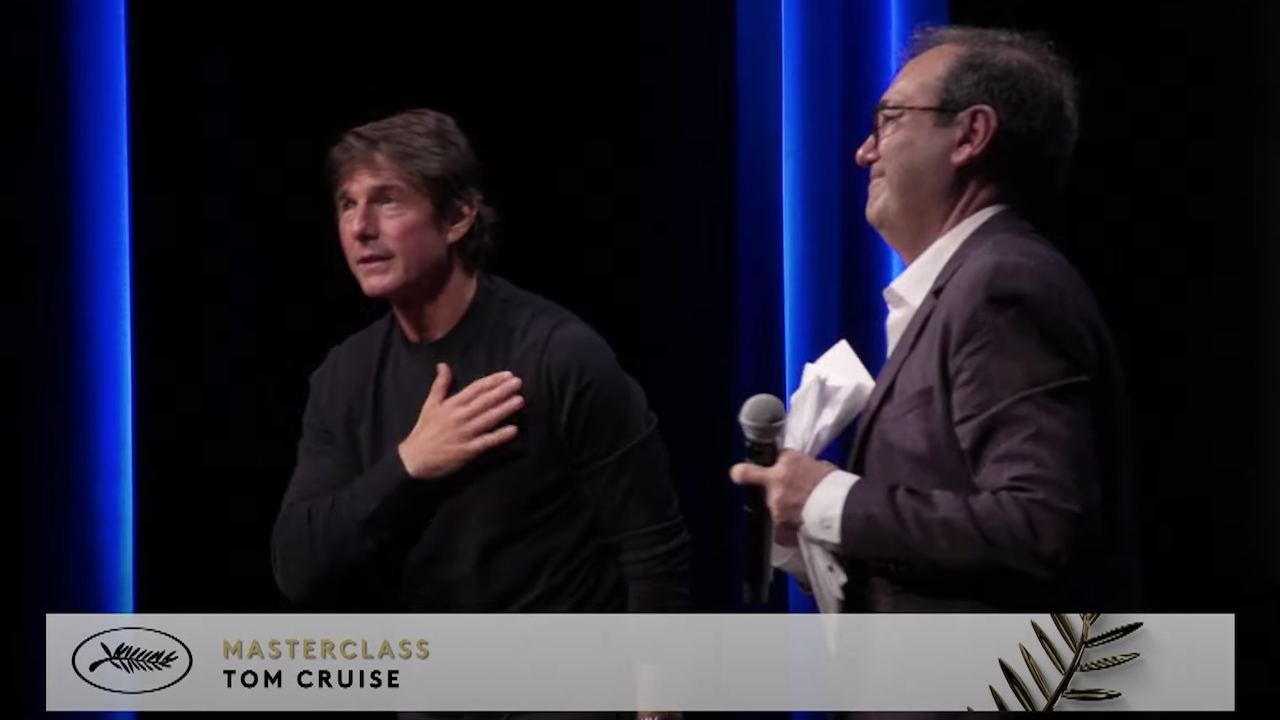 The actor confided for 45 minutes.
Tom Cruise created the event yesterday in Cannes, chaining photocall, climb of the steps flown over by the Patrouille de France and surprise Palme d'Or before the screening of Top Gun: Maverick. But perhaps the most memorable moment was the masterclass he gave to a packed Debussy hall, where he was greeted with a standing ovation. The opportunity for the star, who had no time to give to the press during his visit to the Croisette, to take the floor to proclaim his passion for cinema and the big screen. Selected pieces :
He wanted to make films from the age of 4
From Didier Allouch's first question, Tom Cruise plunged into his memories to talk about his love of cinema. And he went far, very far.
"I remember, as a child, I was 4 years old. I wanted to make movies, I wanted to fly planes. I was thinking about my life and I wanted adventure. I was always a daredevil kid, I climbed the tallest trees, I was a big dreamer. I did odd jobs, mowed the lawn, shoveled snow, sold cards door to door, and saved money to go to the movies. Then I found myself at the age of 18 playing in Taps." He will say later in the master class he did on the set of Harold Becker's film, released in 1981, that he wanted to do this job all his life.
Cannes 2022: Tom Cruise received a Palme d'Honneur at the presentation of Top Gun: Maverick
Don't talk to him about streaming movies
Tom Cruise is a fan of the big screen. As Didier Allouch reminded him, he even performed at a screening of tenetby Christopher Nolan, at the start of the pandemic, to promote indoor cinema.
"We are all united, we speak a different language, we have a different culture, different ideas about art, cinema and how to tell stories, but we are all united and being able to meet and share an experience together, these are amazing times", explained the star. "Cinema is my love, it's my passion, I always go to see films in public, I put on my cap and I sit among people. I wanna see the trailers, know where we at."
Also, despite the Covid-19, which postponed the release of the new Top Gun, he never considered that the film could switch to a streaming platform. "I would never let this happen, never", he repeated several times, provoking applause from the audience.
Why does he do his own stunts?
Despite the danger and financial risks, the soon-to-be-60 actor continues to perform his own stunts. And if he would almost be surprised to be asked why he does this:
"Nobody asks Gene Kelly why do you dance? Why do you do your own dance scenes? Why are you singing? If I had to do a musical, I would want to dance and sing, see how I managed to manage. When I did Mission Impossible, which was the first film I produced, I was advised against doing it because it was a television series adaptation. And I wondered how I was going to be able to immerse the public in this action film, how I was going to be able to entertain them".
And Tom Cruise to remember his very first stunt, at the age of 4 and a half: "I remember the time when I wanted to parachute: I took the sheets from my bed, I climbed on the roof… And just when you jump into the void, you say to yourself, but it's completely dumb."
Watch the replay of Tom Cruise's master class in full (it's also available in original version without translation):