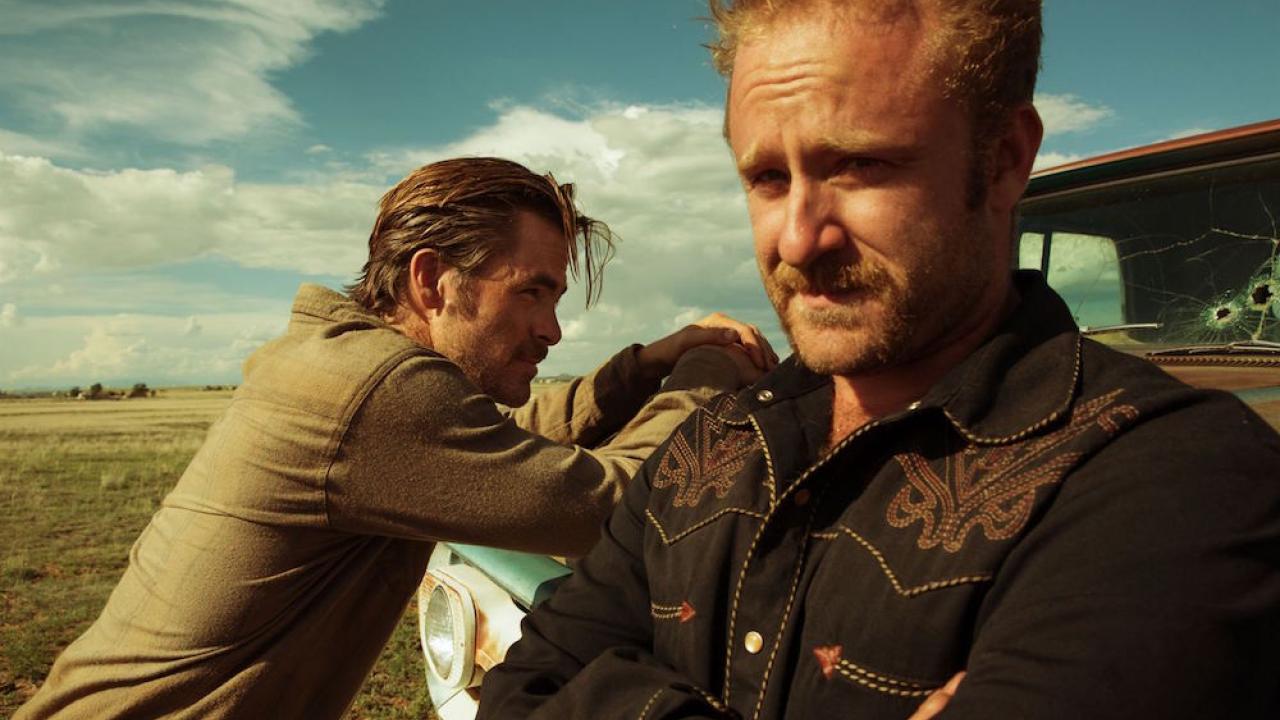 The prodigy screenwriter unveils his "master plan" of which Comancheria, his western directed by David Mackenzie, is only the second act.
Arte is organizing a beautiful movie night, offering the western Comancheria documentary follow-up Senna, both very successful. In September 2016, Taylor Sheridan recounted the creation of her film worn by Chris Pine and Ben Foster in First. It has since released as planned Wind river, and also toured more recently a thriller with Angelina Jolie, Those who want my death.
Angelina Jolie: "It's good to fight again"
First: The tone enters Sicario and Comancheria is radically different. The first is dark, suffocating. The second is much lighter … What's the connection?
Taylor Sheridan: Sicario and Comancheria are the first two parts of a trilogy that will end with Wind river, my next movie (Editor's note: a killer hunt in Utah with Jeremy Renner and Elizabeth Olsen). It is an exploration of the new American frontier, of the consequences of the conquest of the West that we still suffer today. Arizona in Sicario, West Texas in Comancheria. The tone is different because each of the films reflects different ways of dealing with the tragedies of life. There was no way to treat the horror of the war against the cartels with the same kind of cold humor as that of Comancheria. But we can react to suffering with humor, like the characters in Chris Pine and Ben foster, it is a good defense mechanism. They don't feel sorry for themselves, they try to do something good before they go through it. It's pretty representative of the mindset of West Texas guys. And that's it, Comancheria. Here.
We think of Duckling.
Ahahah! It's a great compliment.
And beyond to a whole cinema of the 1970s, frontal, violent, without concession …
Totally. The 70's are my golden age of cinema. The perfect combination between screenwriters, directors and actors … There is a naturalism and a rejection of melodrama in the films of the 70s and the beginning of the 80s which inspire me enormously in my writing. I haven't written command scripts, so I can do whatever I want, what I really want to see on screen, so I take inspiration from what I like.
And Cimino, is he a reference? The new frontier, the contemporary western …
Obviously. But if it's in terms of directing, it would be better to talk to David Mackenzie, the director. But impossible to miss Journey to the end of hell. A small town, characters who create their own morals, the specter of war, the vision of America … There are these themes in common, of course.
Comancheria is both a western and a film about the financial crisis and its impact on normal people.
My goal is really to make a film that we will talk about for a long time after its theatrical release. I find that American cinema no longer really manages to make this kind of films. (He gets enthusiastic) I want to see films which surprise, which take detours, which are ruptures! When you say to yourself "wow, I wasn't expecting that", so banco, you made it.
Ben Foster: "Comancheria is the best script I have ever read"
Have you written your films with the vision of a screenwriter or director?
Wind river, as a director. With this one, I had a very precise vision of what I wanted to do visually. The film concludes both Sicario and Comancheria, and talks about family, poverty, violence.
Was it hard to get your films financed?
Not that much. There are people who want to make these kinds of films, bold, grown-up, with a vision, who confront contemporary problems. David Mackenzie and Denis Villeneuve make these kinds of films. But you are not going to propose Sicario at a big studio, for sure, you're looking for independents.
Do you have a writing method?
I need to know where my characters will end up. To write is to write a trip to a destination. I'm not a textbook or writing method, you just have to know how to take the audience by surprise. And today the audience is very sophisticated, they know the storytelling stuff, they are jaded. In Sicario I abandon the main character throughout the last act … The challenge on Comancheria was to make love the two brothers, even if they are killers and robbers. And it was especially important that the conclusion does not sound like a happy ending. No one wins in the end, all does not end well, because no one is all white.
You talk about a trilogy but you wrote Soldado, Following Sicario. In fact it is a tetralogy?
Yes, filming begins at the end of the year with Stefano Sollima (ACAB, Suburra) as a director. We talked about a sequel before the release of Sicario, a bit like that. Soldado focuses on Alejandro (Benicio Del Toro) and Matt (Josh brolin). In Sicario they fought under the control of a higher authority. There they don't. It's the same tone as the first movie, it's not a big brainless action movie even if the scale is bigger, the movie more expensive. What Denis, David and Stefano have in common is that they understood that violence in my scripts is not free. The violence of Sicario, it's like a thunderclap, in Comancheria it's a storm.
Speaking of climatic comparisons, according to the first shooting photos, Wind river looks very snowy.
Yes, and I have my reasons. The film is set in a difficult environment where you have to fight to survive. In my films, the landscape is a character in its own right. I grew up in Texas and spent a lot of time alone, outside, looking at the horizon. This is where my inspiration comes from. Loneliness.
I found a curious project in your CV, an unrealized TV movie called Olympus. The pitch: an ex-soldier turned secret agent discovers that he is descended from the gods of Olympus …
Ahah, yes! It was too ambitious for a TV channel. But it's a great storyline, really, and absolutely serious. The Greek gods and the CIA. We don't get more serious.
Our review of Comancheria
The movie trailer: