Jungle Cruise and Old complete the podium. (Source: Le Film Français).
Five years ago, Suicide Squad, by David Ayer, was off to a strong start at the US box office, raising $ 133 million in the first weekend, despite mostly negative reviews. This summer, it's the opposite: The Suicide Squad, by James Gunn, started below expectations, earning $ 26.5 million against 30 expected, despite receiving positive reviews. Among the reasons for this strange situation, there is of course the Covid-19 epidemic, which has been exploding in the United States for a few weeks, because of the Delta variant. It should also be noted that the Warner Bros. super-film was released at the same time in theaters and in streaming, at no additional cost to HBO Max subscribers. A strategy shared by several studios (Disney notably released Black Widow and Jungle Cruise in "premium", either at a price of $ 30 each in streaming), which is causing a lot of noise across the Atlantic.
Scarlett Johansson at war with Disney: she sues after the release of Black Widow on Disney +
Under these conditions, it is difficult to predict what will be the final score of this superhero film, which was offered on 4,002 screens across the country and which cumulates with its results abroad only 72.2 million greenbacks. for 185 million budget. It seems difficult to reimburse, and will certainly not reach the 746 million accumulated by the first film in 2016. Its final score will undoubtedly be closer to that of Bird of Prey, who had spent the 200 million revenue at the start of 2020?
The Suicide Squad is in any case the only novelty of the top 10, the thriller John and the Hole and the green documentary Bring Your Own Brigade being only in 24th and 25th positions with 16,500 and 7,000 dollars. The other films are therefore continuations released in previous weeks, like Jungle Cruise, who was in the lead last weekend and earns an additional $ 15.6 million on 4,310 screens, a total of $ 65.3 million in ten days, orOld, by M. Night Shyamalan, who completed the podium with an additional $ 4.1 million (38.5 cumulative). Only two films are grossing over $ 100 million in the United States at the moment: Black widow and Fast & Furious 9, whose scores at the end of 5 and 7 weeks are around 170 million.
American ranking for the weekend of August 6 to 8, 2021: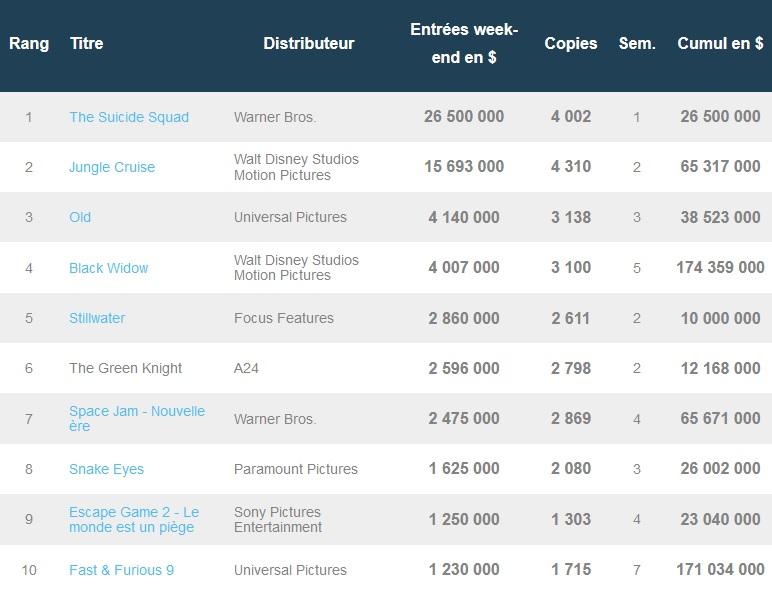 David Ayer defends "his" Suicide Squad and his "Ayer Cut" which has never been shown