"Back to the source" for Neo, Trinity and Morpheus.
So far, the posters of Matrix Resurrections were playing with the concept of choice, showing the red and blue pills that are at the heart of the first movie. A new poster of Lana Wachowski's blockbuster has just been unveiled by Warner Bros., and it finally highlights its heroes. Here is the return of Neo and Trinity, still played by Keanu Reeves and Carrie-Anne Moss, but also of Morpheus, now played by Yahya Abdul-Mateen II, as well as two mysterious female characters.
Dive back into the Matrix with this new Matrix Resurrections poster.

Exclusively at the cinema on December 22. #Matrix pic.twitter.com/btRfjdqr34

– Warner Bros France (@warnerbrosfr) November 17, 2021
Matrix Resurrections: Yahya Abdul-Mateen II says more about his "new Morpheus"
This image partly takes up the visual codes established from the first Matrix, recalling in particular one of the original posters where the three heroes were already present, as well as the traitor Cypher (Joe Pantoliano). In the center, Neo also takes a defensive pose, dark glasses on his nose and long coat of the same color – a posture that specifically recalls the way he had stopped the bullets at the end of the first opus), but Trinity, who was already in "back up" at his side, is walking here and Morpheus, about to shoot someone off camera, has a very colorful outfit: the red of his costume no doubt has a meaning, linked to the famous choice of pill? Unless it is a nod to the Joker's outfits ?, as Internet users amuse themselves under the official post of the film. It contrasts in any case with the blue hair of Jessica Henwick, which we see several times in the trailer, and which embodies, according to IMDb, a certain "Bugs" (the film would therefore remake us the blow of the bugs in the Matrix?!).
Finally, who is the fifth character partly hidden by Neo? The actress looks like Eréndira Ibarra, who played in Sense8, but the studio is silent on his role in this sequel. The other intriguing element is the light that emanates from this poster, and which eclipses the dark side of the original visuals of Matrix. We know that Lana has changed cinematographer for this opus, Bill Pope being replaced by Daniele Massaccesi, who contributed to give a very bright aspect to the series. Sense8. However, the hook promises a "back to the source", but paradoxically, this poster also announces something new.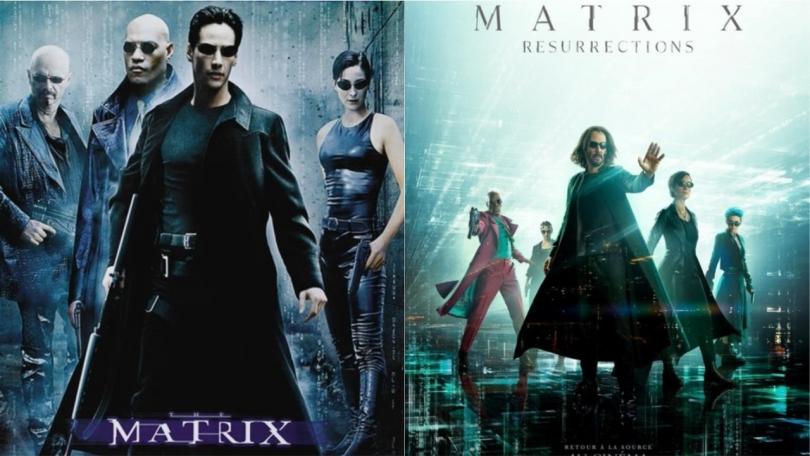 Matrix Resurrections will be released on December 22 in theaters. Here is his trailer:
Will there be a Matrix 5? "As soon as Lana wants to make a film, we follow her"