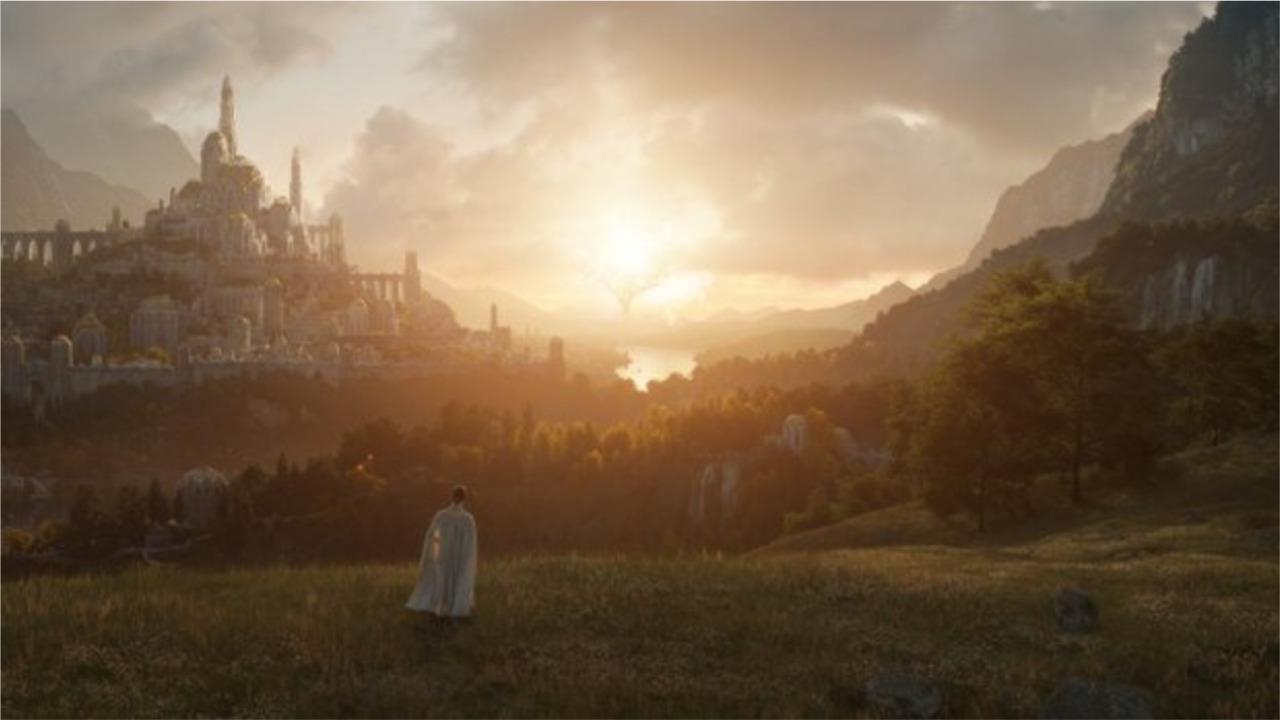 This first image is inspired by the Silmarillion.
Amazon Prime Video unveiled the first photo in the series last night The Lord of the Rings, with its release date: "On September 2, 2022, a new adventure begins." The episodes will be broadcast on a weekly basis.
On September 2, 2022, a new adventure begins. pic.twitter.com/uc92woy4MH

– Amazon Prime Video France (@PrimeVideoFR) August 2, 2021
The crazy budget of the Lord of the Rings adaptation
We will therefore have to be patient, the most expensive show in history must first go through a long post-production phase. This will leave time for fans of this universe to reread the books, including The Silmarillion (published posthumously in 1977)?
This setting was immediately recognized by fans of the world of JRR Tolkien as being a first glimpse of Valinor, with the city of Valmar in the distance and on the right two emblematic trees described precisely by the author in the Silmarillion. It is inhabited by the Valar, the most powerful beings in the kingdom, kinds of divinities of Middle-earth.
The streaming platform has spent significant sums (we are talking about $ 250 million) to create this series, which has been in the works since 2017 and whose filming ended yesterday, Monday, August 2, in New Zealand. In the press release accompanying this image, the production gives the official synopsis: "For the very first time, the upcoming Amazon Studios series brings to screen the heroic legends of the fabulous Second Age in Middle-earth history. This epic drama takes place thousands of years before the events of The Hobbit and The Lord of the Rings by JRR Tolkien, and will take viewers to an age where great powers were forged, where kingdoms rose to glory and then ruin, where unexpected heroes were put to the test, where the hope hung by a thread, and where the most powerful adversary to ever spring from Tolkien's pen threatened to cover the world in darkness. The series, which begins in a period of relative peace, follows a A panel of characters both familiar and new, who must face the return of long-feared evil in Middle-earth. From the darkest depths of the Misty Mountains to the majestic forests of the elven capital of Lindon, the incredible island kingdom of Númenor to ex furthest hemispheres on the map … the legacies of these kingdoms and characters will endure long beyond their demise. "
Cynthia Addai-Robinson (Spartacus), Robert Amarayo (Game Of Thrones), Morfydd Clark (Saint maud) or Peter Mullan (Top of the Lake) are part of the cast of this series directed by JD Payne and Patrick McKay, famous writers for the series Star Trek Beyond and Jungle Cruise, which has just been released at the cinema. Juan Antonio Bayona (The Impossible, Jurassic World: Fallen Kingdom) is directing the first two episodes of the first season, which will be eight.
Galadriel, Elrond and Sauron in The Lord of the Rings series?