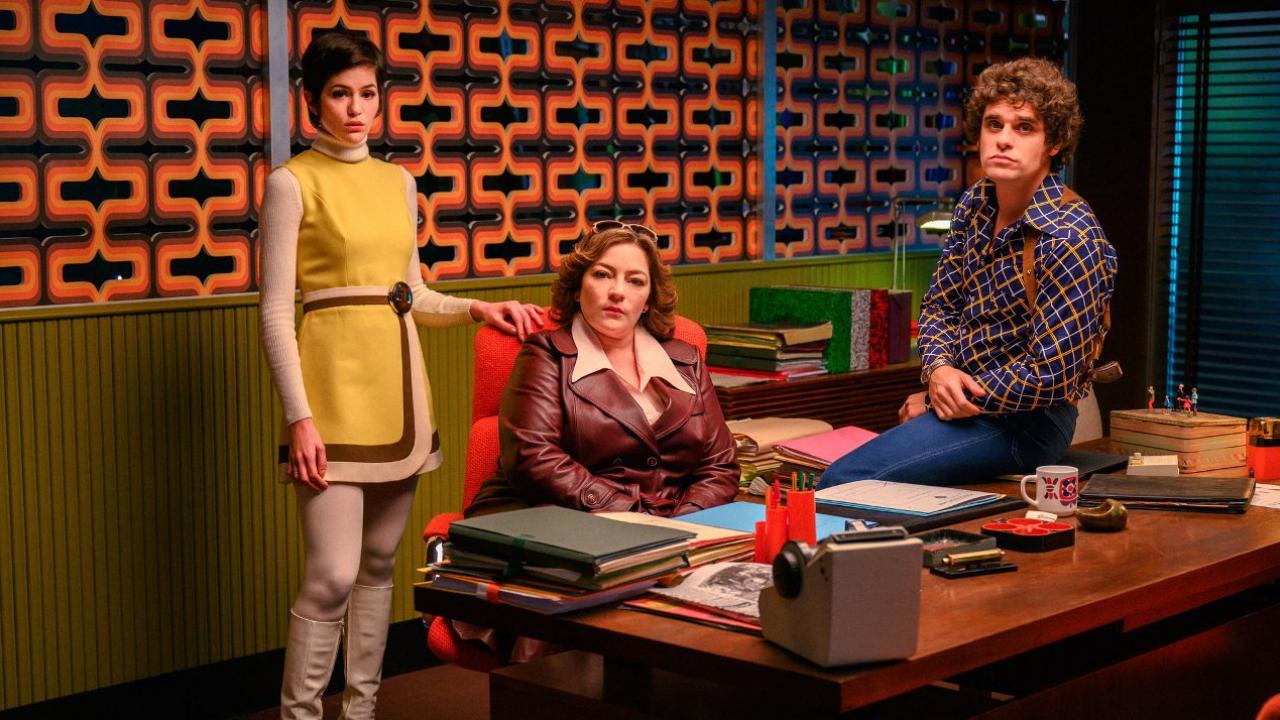 Beretta-Gréco-Bellecour have taken up the torch. Meet the three new faces of the successful detective series of France 2.
Last January, Samuel Labarthe, Blandine Bellavoir and Élodie Frenck handed over the Small Murders to a new trio of investigators. Emilie Gavois-Kahn (Annie Gréco), Chloe Chaudoye (Rose Bellecour) and Arthur Dupont (Max Beretta) are the new faces of the detective series, now set in the 1970s. After two first episodes at the beginning of the year, they are back this evening, for "Le Vallon", a new adventures of the Small Murders. Encounter.
How did you take up the torch from the previous trio? Did you meet them to talk about the series?
Arthur Dupont : We did not meet them. Never. What makes the link between Small Murdersis the producer, Sophie Révil. This is her baby, this series. It is she who carries the project. The technical and artistic team has also been there for a long time. We were thus easily able to integrate into a well-established team.
Chloe Chaudoye : We watched season 2, to see the tone, the rhythm. And afterwards, it is the writing mechanics that makes the mark of the series. From season 1 to season 3, it is this rhythm that makes the strength of the Small Murders.
Does this season 3 not move further away from the work of Agatha Christie?
Emilie Gavois-Kahn : But if we are no longer in Agatha Christie stories in the literal sense, because Sophie Révil had the authorization of the heirs to distance themselves, we remain in this Cluédo spirit. There is elegance, mystery. Sometimes it's scary, sometimes it makes you laugh. We stay in this atmosphere.
Arthur Dupont : And what we like, what everyone is suspect (laughs). We take a greedy pleasure to suspect everyone. And then everything is foiled in an incredible way.
How did the chemistry between you three come about?
Chloe Chaudoye : It's the writers who make this trio work. We did not especially try to develop a particular chemistry between us …
Emilie Gavois-Kahn : No, this alchemy, it is done through work. It's not fair we get along well and we are going to drink shots. The first time we saw each other, we went to lunch and immediately afterwards, we read the scripts. And there, we realized, that we had the same feeling about work. This is what brought us together from the start.
Chloe Chaudoye : Alchemy is also done in a hurry. The shooting is very dense and we have to be on top all the time, all three of us. We are together all the time, reviewing the texts etc. This is alchemy.
What did the 1970s represent for you? Rather, it was your parents' time, right?
Emilie Gavois-Kahn : For me, it's that you could smoke everywhere! It's crazy today to see that … I was born at the end of the 1970s and in pictures of me, baby, we see parents and grandparents with a cigarette around … Today , we would call DDASS for that (laughs). We smoke in the morgue, in the hospitals. There really is this smoky thing and it's normal.
Arthur Dupont : For, these are silhouettes and this Woodstock atmosphere. That's what I have left.
Chloe Chaudoye : Me too is music, obviously …
The 70's style is very present in this new season. Is it cool to wear all these crazy clothes?
Chloe Chaudoye : It's pretty, but it's not comfortable.It's not at all comfortable to wear. We are in a hurry. In the image, it looks good, it helps for the role. After, we arrive, we are very makeup, very stylish, we are clearly no longer us. It's the period that wants it, but a day of filming with these heels …
Arthur Dupont : We (boys) are the problem with tight pants and shirts! Sometimes, when trying on, I hallucinate. I feel like I'm wearing compression stockings! Except that I'm going to have to move with it … But we have a great seamstress who has made lots of tailor-made things, so that they are clothes that are close to the body, but that we are still comfortable. Suddenly, I take great pleasure in disguising myself as Max. With his ankle boots, these placket pants, he has a dress class that I don't have in real life …
The previous trio stayed for many years. Do you see yourself doing so many episodes?
Arthur Dupont : I don't want to do all that. Having a recurring role, in which you take pleasure, is tempting. But in this profession, you can quickly be cataloged. Afterwards, this series gives us a lot of freedom. It's four months of filming a year. Two months in the spring, two months on the air. We do four episodes a year like this. And that gives us time to do different things on the side.