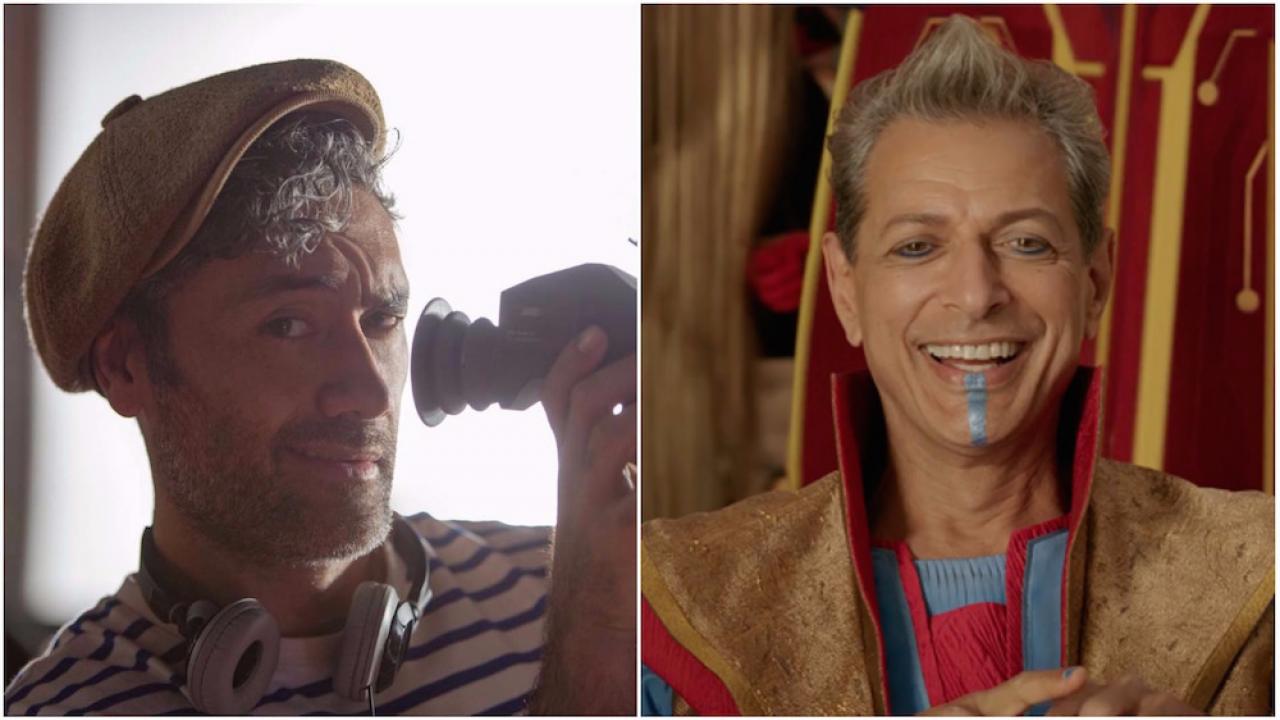 Meeting with Taika Waititi and Jeff Goldblum.
Update of August 27, 2021: Thor: Ragnarok arrives in the clear on television. The superhero film will be broadcast this Sunday on TF1, and to be patient, why not (re) read our interview with its director, Taika Waititi, and one of its new actors, Jeff Goldblum, who plays The Grandmaster. Note that a new sequel is currently in the works at Marvel, still with the same team in front and behind the camera.
Interview of October 23, 2017: Difficult to place one when Taika Waititi and Jeff Goldblum are in the same room. On the one hand a gifted and funny New Zealand director / actor (Boy, Vampires in complete privacy, Hunt For The Wilderpeople), who takes his first steps in the blockbuster world with Thor: Ragnarok ; on the other, a living legend who comes to illuminate the new Marvel Studios production with his expertly crafted eccentric dandy coolness. Between two anecdotes and a discussion about Children of Paradise as a preamble, we try to start a discussion with the duo.
Thor Ragnarok: fun above all (review)
Working for Marvel means having amazing toys at your disposal but also being limited to a very specific framework. Taika, you who come from independent cinema, what made you want to go towards such a blockbuster?
Taika Waititi : In my opinion, all films are independent. Sometimes there is more money available and more people working on the set, but that doesn't make a big difference to how I operate. I always look for privacy on a shoot, discussions with three or four people. With Thor: Ragnarok, I just wanted to tell the best story possible, the budget was secondary. I quickly forgot the hundreds of people around me. With Jeff, we did joke contests, we deviated a lot from the script. So much so that what had originally been written was only a vague memory.
Has the film changed its face with improvisation?
Jeff Goldblum : I had never really worked like this. I made totally improvised films but Taika, you were the most imaginative and energetic of all. Even though it was a $ 200 million operation, we were joking like nothing had happened!
TW : I felt like there were three or four kids playing, while 400 adults waited wondering, "What are they doing?"
JG : It's thanks to you. Your creativity and your will.
TW : A craftsman is never as good as the tools they use.
JG : Um, what kind of tool would I be?
TW : You would be a wood lathe. You turn the raw material into something smooth and beautiful (laugh)
JG : Ah ah, I see.
Strangely, this is your first Marvel, Jeff. Yet that seems to be logic itself.
JG : I have the impression that it happened exactly at the right time. You haven't done one before either, Taika.
TW : No, and it happened just when they needed a little shake after ten years of existence. This film is unique in the history of Marvel Studios, it is the first time that the boat has changed direction so abruptly. I was the captain but I was lucky that Marvel was right behind me, watching over my shoulder. I was spinning the boat and I was like, 'Oh that sounds interesting, let's see what it is'. They would say to me: 'Be careful Taika, it's an iceberg, we don't want to sink'. And sometimes we got very close!
JG : Kevin Feige, Louis D'Esposito and Victoria Alonso from Marvel, they know what they're doing. They manage to handle those $ 200 million movies with absolute confidence, but they still let you do what you want to do. It's a pretty brilliant process that they've put in place.
TW : Actually they have a recipe, and they ask you to bake a delicious chocolate cake. Except that sometimes we have too many ingredients and we come across vegetables: 'Oh, a piece of broccoli!' And you have to make choices and know what you want to keep.
And is it okay with you to have to constantly reconcile with the production?
TW : Totally. I signed up for a chocolate cake, not a broccoli stew.
Thor Ragnarok – Cate Blanchett: "Sometimes I felt like I was in a video game"
I noticed that several scenes from the trailers are not in the film, or at least differently. The assembly was complicated, there were a lot of modifications?
TW : I come back to my analogy of the cake: sometimes there are too many eggs, you have to find a balance. We were in editing and post-production for a year. I have seen the film hundreds of times. I loved him, I stopped loving him, I hated him, I wanted to separate, I asked him to stay with me and now… We're moving away from each other but we are still very good friends. We cut so many great jokes and awesome scenes that will be on the DVD. There was this crazy moment with Jeff and Rachel House where he was acting out stuff and she had to guess what he was doing. It never ended, it lasted ten minutes! I was there laughing, and then I turned my head and realized that there were two hundred people behind us.
JG : We were really free, it was great.
TW : Earlier I was asked if I had been afraid at the idea of ​​making a film like that. A little at first. But I became a director by mistake, not like JJ Abrams or Spielberg. I didn't make movies with a Super 8 camera when I was a kid. I started when I was 28 or 29, I forced myself to like it, it was like an arranged marriage. Now I love it. But every time I tell myself that it could be my last movie. I don't care about my career, because if it ends I'll go do something else. Paint or whatever.
JG : By the way how did you fall into it?
TW : I was an actor but I studied plastic arts, especially painting. I tried the photo and as many things as possible. I found that cinema combined everything I liked. I could be a jack of all trades in this great industry.
Besides, you put your stamp on all aspects of the film, even the music.
TW : The soundtrack is by Mark Mothersbaugh, a great composer. If you want something different in Hollywood, this is the one to go see. I told him that I needed a Jean-Michel Jarre kind of sound, a very space opera thing. A bit like in Peter Weir's Gallipoli. A sci-fi feeling from the 70s with lots of synthesizers. He was very generous in what he offered me.
How was your meeting with Jeff?
TW : We met over tea and I asked him if he wanted to star in the film. At the end of this first date, I sensed that something was going on. Some time before, Kevin Feige and I were talking about the Grandmaster during the casting process and we were given these cards with the names of the actors in alphabetical order. At the same time, when we got to one of the pages, we looked at each other and said, 'Jeff Goldblum'. And the decision was made! We never thought of anyone else.
JG : It's true ? I would love to have the names of the other people on the list! (laughs) I told him about things that I had seen from him before, Flight of the Concord and Vampires in complete privacy. We discussed his way of playing which I love so much. Moreover it is hilarious in the film, the character of Korg (Editor's note: an alien that Taika Waititi doubles) is brilliant. Did you improvise a lot by the way?
TW : Each line of dialogue is improvised. Most of them are jokes I made on set to make others laugh. I was amazed that they let me put some stuff in the movie!
The trailer for Thor: Ragnarok :
Thor 4: Taika Waititi teases an extravagant scenario, less wise than Ragnarok