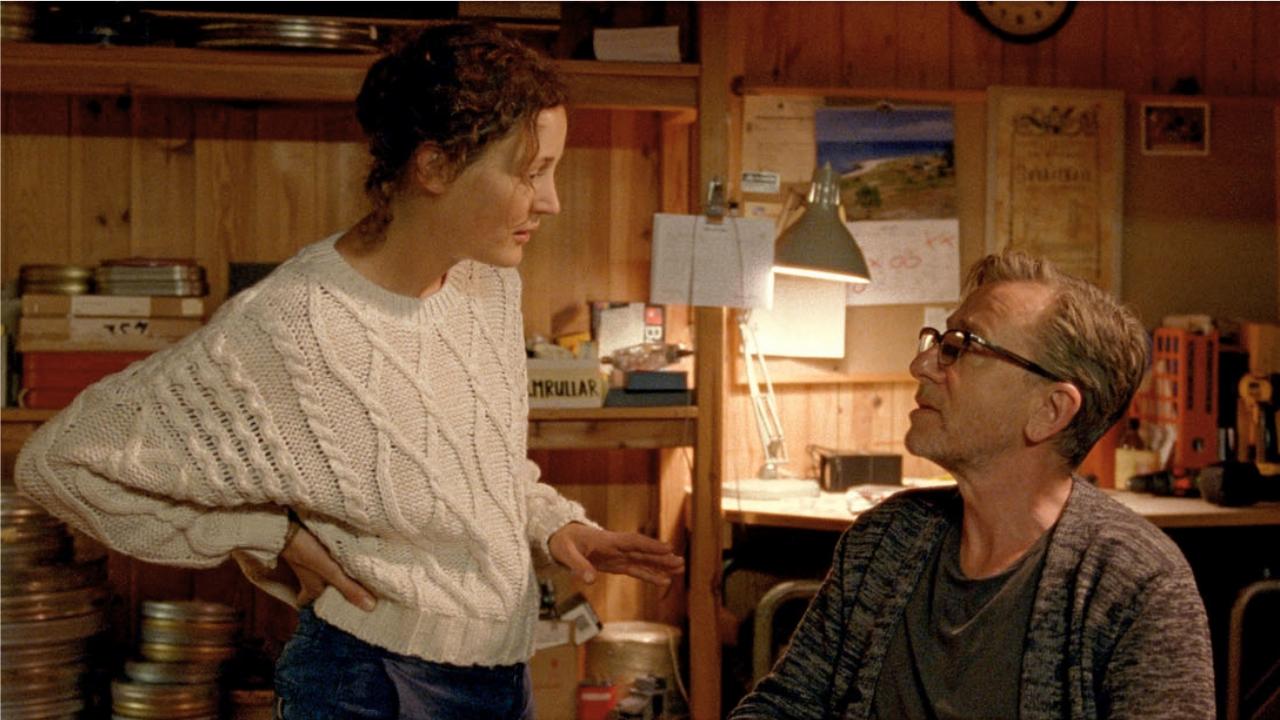 Meet the revelation of Phantom thread that lights up Bergman Island, the film by Mia Hansen-Løve presented today in competition at Cannes.
First : How was the meeting with Mia Hansen-Løve when she had to find a new lead actress, after the departure of Greta Gerwig to direct The Daughters of Doctor March ?
Vicky Krieps: First by an email that she sends me to suggest it to me. And reading his name took me back years! Because long before I thought of becoming an actress, I went to see The Father of my children and I came out of this room dazzled. Because it was the first time that a staging impressed me so much, that I understood all the choices made behind the camera, while I was totally layman in the matter. And then I became an actress. But I would never have imagined filming with her. That's why even before reading his screenplay, I knew I would make his film! And then we met. The great thing is that we are poles apart. Mia fascinates me with the quality of her dialogues, her extremely generous cerebrality. And I think that I am chosen more for my silence than for my words. We are totally complementary. Because as an actress, I need such a brilliant architect as she is flawless in the construction of the story. And the precise structure it proposed here only increased my creativity. Because her self-confidence made me go with my eyes closed where she wanted to take me. This trip will remain an unforgettable memory.
How exactly did you create your character, this young filmmaker who accompanies her husband, also a director on the island of Bergman, Fårö, where she will both write her screenplay inspired by her first love that haunts her and see his couple fall apart?
Vicky Krieps: For each film, my method is … not to have any if not to be as open as possible to follow the wishes of my director. But here, I especially chose to follow my intuition: not to do my homework as a disciple of Bergman! I had seen two films of him but I did not really know his cinema. When I was younger, I had knowingly kept my distance because he was telling things about humans so true that it hurt as much as it scared me. Faced with Bergman, I therefore decided to take David's position vis-à-vis Goliath, daring to confront him without mastering his work on the fingertips. I was the only one on this island of Fårö who knew so little about him. And so I consciously put myself in a very vulnerable place, with the risk of getting lost. But the circumstances played a role for me: as in the whole first part of the shoot, I only had to act alone scenes without the character of my husband, I was able to create little by little this bond with Bergman and the Isle. I discovered Bergman by discovering his house, the places where he lived … Through his daily life and not through his cinema. And I have the feeling that he accepted me like this by betting that dead he would have become a little softer! (laughs) I wouldn't have been able to feel this kind of blank check if I had arrived too prepared with my certainties. For this character, I have never stopped looking in the eyes of others. Those of Mia, those of the director of photography Denis Lenoir, those of the people of the Bergman Foundation who welcomed us.
And for the second part of the shoot, a year later, Tim Roth arrives …
And there we are still on another planet! Tim may be English, but he really works like Americans: you don't tell an actor what to do because the actor knows! So it's obviously difficult for him to face a job with Mia where everything is built with so much detail. It goes against its logic. He may even think that this extreme precision could be a way for Mia to correct her interpretation which would be missing the point. Which is obviously not the case. But this clash of cultures contributes to the singular beauty of this film: these two very different planets had to meet and find a common language. Mia had to agree to let him do things his way like in life, you accept things over which you have no control. The weather, for example. There you go, Tim Roth, it's the weather! So Mia had to let go more than usual and had to give up some of her usual freedom. And I was in the middle, communicating with everyone with their language. Like a transmission belt. It was passionate.
Cannes 2021: Bergman Island is Mia Hansen-Løve's best film [critique]