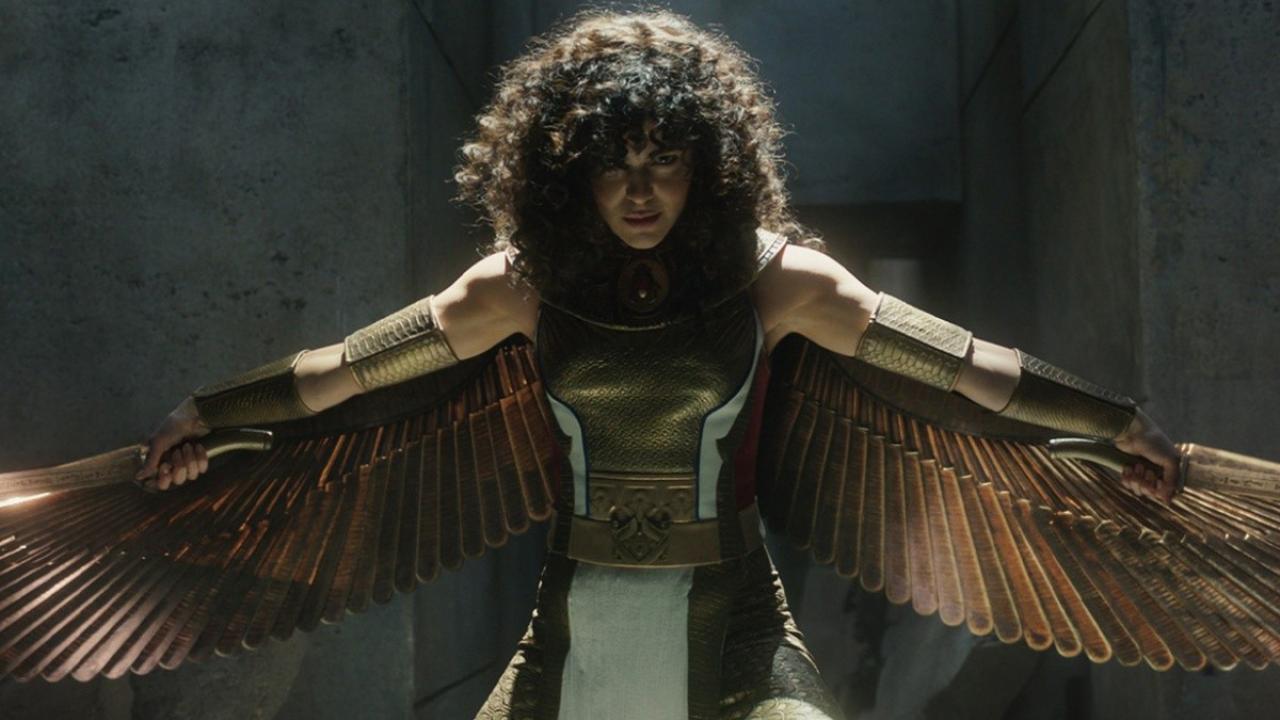 May Calamawy officially embodies a powerful new figure in the Marvel Universe. But who is she exactly?
The Marvel Universe gained not one, but two more heroes, with Moon Knight. Because alongside the Knight of the Moon embodied by Oscar Isaac, fought, in the final, Scarlet Scarab ! Who ? Spoiler alert!
In fact, it is Layla El-Faouly, the wife of Marc Spector, who obtained superpowers from Taouert, when she agreed to become the avatar of the hippo goddess. In the series, we never hear her stage name pronounced, but Marvel later confirmed that El-Faouly had officially become Scarlet Scarab, the first Egyptian superheroine of the MCU. His powers ? Almost those of Faucon! She can fly, protect herself with her wings, but also has superhuman strength and speed.
May Calamawy is Scarlet Scarab. Watch all episodes of Marvel Studios' #MoonKnightnow streaming on @DisneyMore. pic.twitter.com/JHNvgkzp5y

—Marvel Studios (@MarvelStudios) May 6, 2022
"First of all, I want to thank the authors who brought up this idea that Layla is an Egyptian", comments the director Mohamed Diab, also Egyptian, in Variety. "When I came to the show with my wife, we helped develop the character as Egyptians. When actress May Calamawy arrived, she became Layla's biggest ally. The most important thing for us was not just the idea of ​​a superheroine, but the idea of ​​making her the absolute opposite of all the clichés of the Arab woman, submissive or weak. I have made three films: the women in my films are completely fierce and strong – like my mother, my sister, my wife and my daughter!"
Thus, Scarlet Scarab is a "historical superheroine! We knew this was going to be historic. My daughter, when she was five years old, really wanted to straighten her hair. I had to take her to Disneyland and ask the princesses Elsa and Anna to assure her that her hair was beautiful like that. The thing is, she had never seen anything on TV that looked like her. So today, with Layla, we show people who look like us and you don't know what what it means to us is very important. Moon Knight becomes a national pride in Egypt. They believe they can do anything now. I'm very proud of that."
It must be said that in the comics, Layla does not really exist. He is a variant of his father, Abdul Faoul (Abdallah El-Faouly in the series), who was the man behind the mask. He played a much different Scarlet Scarab, wearing a red scarf and portraying some kind of Egyptian Captain America during World War II. He had gained superhuman powers through the Ruby scarab, an ancient artifact that had made him Egypt's first protector.
"Honestly, it wasn't me who made the connection between Layla and Scarlet Scarab. Sometimes Marvel chooses a name and then gives it to the character that is developed. We created Layla without thinking about all that… The name for me is not important. What she represents is what is most important. I especially can't wait to know if she will still be a temporary Avatar in the MCU sequel… Will she accept it? What will happen with her?"
Now that it is officially introduced, we imagine that Scarlet Scarab will point the tips of its wings again, one day, in the Marvel Universe.