A cult character from The Clone Wars, he finally appears in the flesh in the saga.
There was a cascade of returns, surprises, cameos, in episode 6 of the Boba Fett book, going live this week on Disney Plus. But if there is an appearance that we did not expect at all, it is that of Cad Bane ! Spoiler alert…
At the very end of this chapter, he landed on Tatooine, to do battle with Marshal Vanth. And he was terrifying! With his sharp teeth, his red eyes, his sadistic air, that renegade cowboy look… no doubt, he is indeed the character introduced in the animated series Star Wars: The Clone Wars. Cad Bane is a ruthless bounty hunter who, after Jango Fett was beheaded by Mace Windu in Episode II, rose through the ranks. He suddenly became the most efficient bounty hunter in the galaxy and quickly rose to prominence during the Clone Wars and the chaos that followed. A lover of Wild West hats, he didn't hesitate to unsolder four of his colleagues to steal their headgear.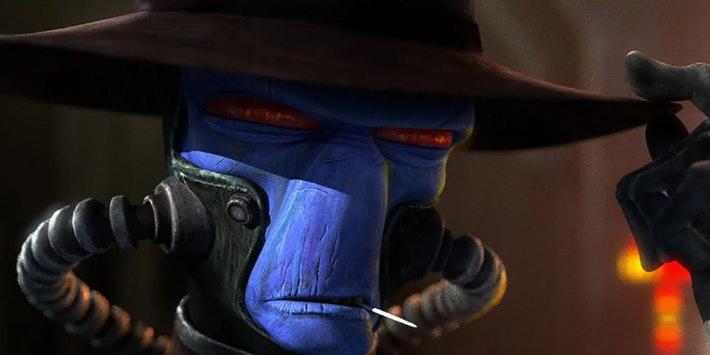 So is Bane powerful? Ask Obi-Wan Kenobi! Known for being able to stand up to Jedi, he fought several battles against the Master and his padawan Anakin Skywalker. So much so that he was hired by Darth Sidious to go and steal a Kyber memory crystal, in the heart of the Jedi temple, containing a list of Force-sensitive children. He also worked for Jabba the Hutt and allied himself with Count Dooku towards the end of the Clone Wars, as part of a plot to kidnap Palpatine…
And then came the time of the Galactic Empire. Cad Bane was then hired to capture Omega (a unique clone of Jango, the one seen in The Bad Batch) but was stopped before he got there by Fennec Shand. But then what is his relationship with Boba Fett? In the saga's mythology, Cad Bane once crossed paths with Jango's "son" and even helped train him as a bounty hunter. It is therefore a kind of mentor that the hero of the Boba Fett book will find in the series finale.
And it won't be easy to kill! Because Bane is a sniper, with his blasters. He also uses jet boots, a flamethrower, and a whip thrower like the one used by Din Djarin. Beyond the duels to the death, he is also an excellent strategist, capable of leading a battalion and will certainly be in command of the troops of the Pike Syndicate, when it comes to facing the Boba team.
Will he stay there? That's the whole question. Because we can see Cad Bane (played by Corey Burton) fleeing at the end of the Boba Fett book to become the big bad The Mandalorian in season 3. Indeed, Moff Gideon is stuck in a New Republic prison and Mando will need a new nemesis. And knowing that the blue-skinned bounty hunter just (possibly) murdered his pal Cobb Vanth…