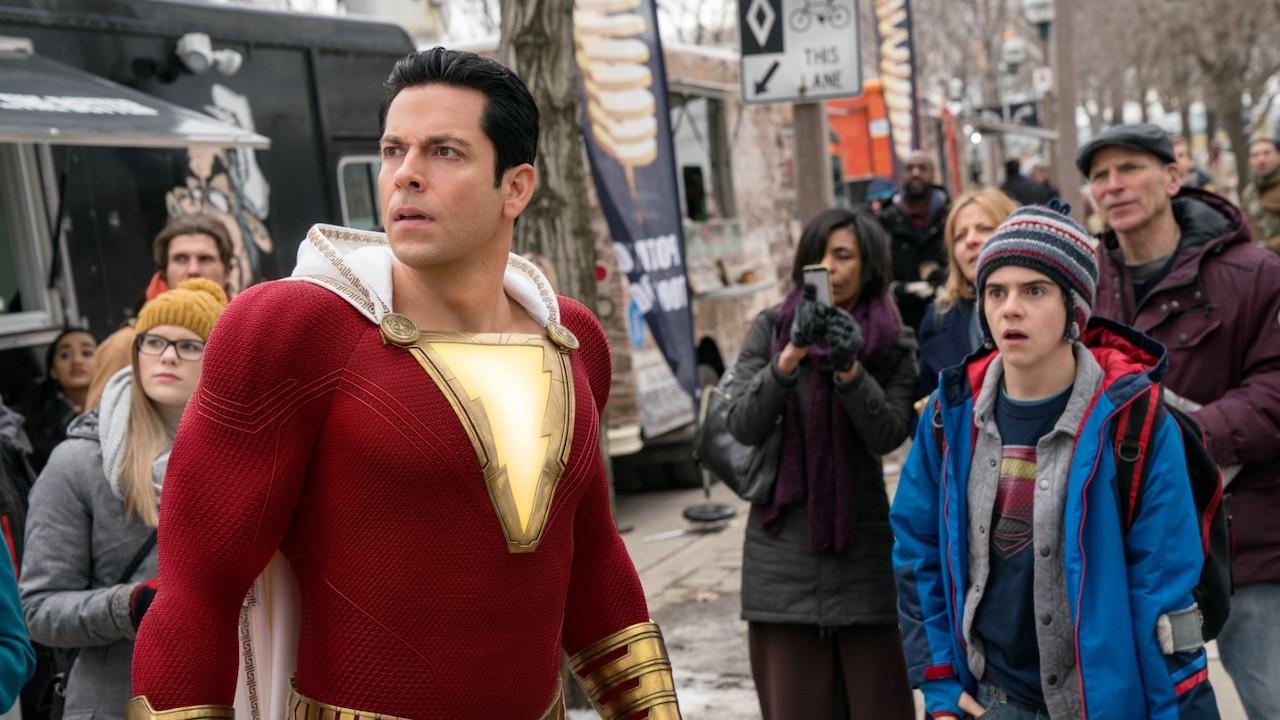 In 2019, Première met the star of Shazam! An interview to reread before its first broadcast in clear, this Sunday on TF1.
Whereas Shazam! is coming to television this weekend, a look back at our encounter with Zachary Levi in April 2019, when the film was released in theaters. Generational star thanks to the series chuck, Levi was moving up a gear with this role of pop and crazy superhero, obviously cut out for him. Of course, it was more complicated than that…
Here is his interview, while we wait for news of the sequel to Warner's blockbuster, Fury of the Godsshot in Atlanta and again directed by David F. Sandberg, which will be released in theaters in June 2023.
First: Shazam! is about a teenager who grows into adulthood without having really understood how, but who remains a kid deep down inside. It is the story of your life in fact.
Zachary Levi: (Laughs.) Good point. Time has flown, I'm 38 but I'm still a big kid who plays video games and reads comics.
The role was made for you…
Not at all. I was asked to audition for the role of Shazam, but decided against it. At the time I knew that Dwayne Johnson had signed on to play Black Adam, who is the evil version of Shazam [le film Black Adam est toujours en développement]. In the comics, the two characters are supposed to have exactly the same face! Let's be honest: I've put on muscle, but I'm not at The Rock's level! Two months later, I landed another audition for a supporting character. I put my phone on a dresser, filmed myself and sent the video. My agency called me a few hours later: They think you'd do for Shazam. Can you do other scenes? "I had an audition by Skype, then camera tests. The next day I was Shazam. It happened in an extremely short time and it was really at the last second: they had seen everyone before me.
What made the difference with you then?
I think they detected in me what I did not see, or no longer wanted to see. I hadn't realized that they were looking for someone with a certain sensitivity and humor. Not necessarily a bodybuilder's physique, because that can be worked on. Believe me: I went to the gym for several weeks! What they needed was an actor with the mind of a 14-year-old kid. It's funny, because I've been involved in a lot of very mainstream projects, like chuck, Rapunzel Where Alvin and the Chipmunks. But I had come to a point where I didn't like that side of me anymore, I didn't want to be sent back to it anymore.
Tired of being the nice guy and a little geek that everyone likes?
Yes, because I wanted to be taken seriously.
You feel a need for recognition.
I've always sought validation from the public, as if that gave me the right to exist. Since childhood, I felt like I was only loved by entertaining people… In recent years, I started to feel frustrated, I wanted to play darker roles. I remember seeing breaking Bad and said to myself: Whore ! That's what I need! Something dark, cool, edgy. »
Do dark roles still appeal to you?
From a creative point of view, yes. But this is nothing new. After Shazam!depending on the success of the film, it may be easier to choose my roles.
How His Failed Guardians of the Galaxy Audition Made Zachary Levi Become Shazam
You are one of the rare actors to have had a role at Marvel and at DC.
It's crazy, right? At Marvel, I had a lot of fun playing Fandral [l'un des acolytes de Thor], except that they never really used the character to its true worth. Pity. In Thor: Ragnarok, I got killed at the very beginning without having time to say a word. (Laughs.) But symbolically, it's so cool to die on screen at Marvel to be resurrected at DC! As far as I know, I'm the only actor in the world who's been in the Marvel, DC, and Disney universes [Raiponce]. Nothing remains but Harry Potter and Star Wars and we'll be good. (Laughs.)
Are Marvel's and DC's ways of working very different?
No, not so much. But of course, Shazam! is completely different from Thor: The Dark World. It's a origin story, something rooted in reality. The story takes place in Philadelphia, it is the quest for identity of a teenager. Thor: The Dark World was a… I don't want to say "damn", but a little anyway. And then Kevin Feige had promised me that I would be in about 60% of the film. In the end, what did I get? 10%, roughly. Throughout the filming, we never had a definitive script. They kept changing things, rewriting… It was crazy. For Shazam!, it was totally different: everything was ready, everyone felt good and I knew exactly what I was getting into. From a personal point of view, it was a much more enriching experience.
The DC Universe is in turmoil. These big productions now seem to leave – a little – more room for the director's vision.
May be. All I know is that the producers of Shazam! trusted David F. Sandberg. They let him make the movie he had in mind and David knew exactly what he wanted. His tone and way of framing are different from those of other DC film directors. At Marvel, it's something else, because they try to bring all of their characters together in the same universe. The result is that their films all look a bit alike.
You play the same character as the young Asher Angel but with an adult body. Did you work in pairs to coordinate?
I would have liked that we could have had a year to observe each other to completely merge, except that this is not how it happens in the cinema. Asher was still in a TV series when filming began. We had little time to hang out together, but we tried to have lunch and do some joint rehearsals. He sent me several videos of him so that I could see him play, I wanted to understand what he intended to bring to the role. We also realized that we had common facial expressions. The problem is that we were almost never on set at the same time, since the principle of the film means that when I arrive he leaves, and vice versa.
So you had to find inspiration elsewhere…
I ironed myself Big on a loop, and it had a big impact on my performance. And even, Big is not quite like Shazam! because we only see the child at the beginning and at the end, whereas here, there are round trips. I tried to be impulsive and have as much fun as possible. Nowadays, kids don't hesitate to rush headlong without asking too many questions. (Laughs.) But it wasn't very complicated to get into the role, to rediscover this enthusiasm inherent in childhood. I think deep down, I've always been a happy guy.
The good Shazam surprise! [Critique]